Summer Science Squad
Adirondack Interpretive Center
Spend a day exploring and learning at the ESF Newcomb Campus!
The Adirondack Interpretive Center at ESF's Newcomb Campus is now offering a 4 week series of kids programming: the Summer Science Squad. On Fridays from July 22 through August 12, students from 7-12 years old can experience a day of hands-on learning on the beautiful trails and lakes of ESF's Newcomb Campus. Class topics range from Feathered Friends to Animal Detectives, and run from 9am-4pm. For more information and to register, or contact Environmental Education Coordinator Erin Griffin at (518) 582-4551 x106, or aic@esf.edu.
Class Information
Fridays: July 22, July 29, August 5, August 12
9am-4pm
Drop-off and pick up at the Adirondack Interpretive Center, 5922 State Route 28N, Newcomb NY 12852
For students age 7-12.
Bring your own lunch and snacks.
Cost
$40/day
$140/all 4 sessions ($20 discount)
Sibling discount - $5 off additional children in same family
Questions?
Contact Erin Griffin
Environmental Education Coordinator
(518) 582-4551 x106
aic@esf.edu
Class Descriptions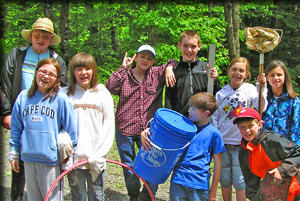 Friday, July 22
A Day in the Life of a Field Scientist
Calling all future scientists! Come to ESF's Newcomb Campus and experience a day in the life of a field scientist. Explore the beautiful lakes and forests of the Huntington Wild Forest using science tools. Practice observing and thinking like a scientist to make discoveries about the world around you, and design your own experiment. Go out in the field with one of our field researchers to see what a scientist's work is like!
Friday, July 29
Fantastic Forests
Do you like maple syrup, fresh air, or campfires? If the answer is yes, than you have enjoyed some of the many benefits of the beautiful Adirondack forests. Get up close and personal with the deep Northern forest in this science-based class. Learn to identify some common trees, watch how foresters measure trees, and try out some of the tools yourself.
Friday, August 5
Animal Detectives
Come decipher the mysteries of the Adirondack's woodland creatures. Learn what tracks and traces these animals leave behind. Explore the woods and trails of ESF's Newcomb Campus and see if you can discover what animals have either passed by or made their homes here. You may become an expert animal tracker before you know it!
Friday, August 12
Feathered Friends
Ever been captivated by the sound of a loon call or by watching a hawk soar overhead? In this science-based class, learn about a few of the feathered friends that call the Adirondack's home. Search for birds in the trees and on the water – maybe we'll even see a loon!