SHARE: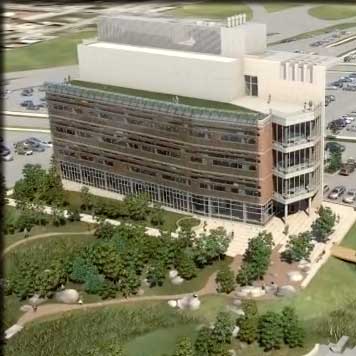 Headline News
Friday, November 27, 2015
Subscribe (News reader required)
ESF Partners in $15M NYSUNY 2020 Challenge Grant
State funds Institute of Environmental Health and Environmental Medicine

6/7/2013
Four Central New York SUNY institutions- the SUNY College of Environmental Science and Forestry (ESF), SUNY Oswego, SUNY Upstate Medical University and Onondaga Community College-have been awarded $15 million through a competitive SUNY grant program to create the SUNY Institute of Environmental Health & Environmental Medicine. The announcement was made June 3 by Gov. Andrew Cuomo.
The funding comes from the NYSUNY 2020 Challenge Grant program in which SUNY campuses developed and submitted collaborative economic development projects for funding. In addition to the Institute, three other projects representing 15 other SUNY campuses also received $15 million grants.
The institute to be developed by ESF, Oswego, Upstate and Onondaga will be the first of its kind in the nation, intersecting medicine, environment, engineering, entrepreneurship, technology and education. The institute will address issues of global health and expand new research, provide academic and industry collaborations, and offer associate through doctorate degrees with a focus on improving health through understanding the environment's impact on health and medicine.
The institute will leverage the strengths of the four SUNY campuses and other regional partners to support teaching, research, health care and entrepreneurial activity. The institute will collaborate with area industry partners including Welch Allyn, Colden Corp., C&S, O'Brien & Gere, and ConMed Corp. The institute will also provide new opportunities for development within existing partnerships such as the Central New York Biotechnology Research Accelerator and the University Hill Collaboration in Environmental Medicine.
The proposal to create the institute complements the Central New York Regional Economic Development Council's (REDC) Five-Year Economic Development Strategic Plan. The project expects to create 400 construction jobs, 651 permanent jobs in the wireless technology field and other areas of development, and expanded student enrollments. It also expects to contribute to 20 patents and at least 22 new start-up companies in five years.
At ESF, the institute links to the college's recently approved academic program in environmental health, which will begin enrolling students in 2014.
"We at ESF are pleased to work with our colleagues at Upstate Medical University, SUNY Oswego and Onondaga Community College in developing the SUNY Institute of Environmental Health and Environmental Medicine," said SUNY-ESF President Cornelius B. Murphy, Jr. "The institute partnership will ask big questions and seek bold solutions that will improve the health of the residents of New York state and beyond."
Murphy pointed out that the World Health Organization has estimated that 80 percent of chronic diseases are either initiated or aggravated by environmental vectors. In addition to having potential to improve global health, he said, the funding announced by the governor and the collaborations will create economic opportunity in the Central New York region and beyond.
"The institute will further help advance the Central New York REDC plan, supporting the biosciences, clean energy and environmental systems and the health and biomedical cluster," he said.
The award is expected to help strengthen the REDC plan by leveraging the regional industry concentrations that already exist, encouraging cross-industry collaboration and attracting outside investment and interest.
A key piece of the new program at ESF will be the construction of a new academic research building on campus; the joint proposal sought $4.5 million to help outfit labs in the building for work in environmental toxicology and environmental health. Research in the ESF facility could include topics such as chronic wasting disease, Lyme disease, biological switches and bone marrow testing for environmental chemicals. Learning and working in the building will prepare students for employment in private industry, government agencies and non-governmental agencies concerned with pollution abatement, protection of public health and research in health science or for advanced study in the science of environmental health or the allied health professions.
The six-story building, estimated to cost approximately $44 million, is still in the planning stages and the first phase of construction could be completed in 2015. Institute facilities within the building will include spaces for translational research, where scientists work to apply discoveries to improve health problems, bring new solutions to market and leverage competitive funding.
The academic research building will contain eight laboratory research modules along with three core laboratories to support the modules. Plans also call for a greenhouse laboratory and project equipment that includes a molecular/parasite lab and environmental monitoring equipment.
The building will include an advanced energy management system, a series of on-site brine/brackish wetlands designed to handle and treat all the stormwater generated from the site and most of the deicing-laden snow removed from the campus. This wetland could become a future research site for the Institute of Environmental Health & Environmental Medicine.
The project received support from a diverse group of leaders in government, business and education, including:
Joseph Martens, an ESF alumnus and commissioner of the New York State Department of Environmental Conservation, whose endorsement stated, "New York State has long been a leader in environmental protection and health. The creation of the SUNY institute will add to this rich chapter in the state's history and poise New York to be a national leader in this field, which can help create jobs and a new cadre of academically trained professionals who can join with us to chart a sustainable future for the state that is protective of our environment and public health."
Robert Simpson, president of CenterState CEO, who said, "This proposal will help the community generate the talent it needs. Many of these businesses are hampered by the talent shortage issues in higher skilled positions, and the institute would generate graduates to meet the needs of others in these areas."
Randy Wolken, president of the Manufacturers Association of Central New York, who said, "We believe this institute will contribute to the innovative biotech cluster of companies in the Upstate New York Region… . It can help provide the human capital needed by these companies, as well as provide new research-based solutions that can be commercialized by this industry."
Office of Communications
SUNY-ESF
122 Bray Hall
1 Forestry Drive
Syracuse, NY 13210
315-470-6644