SHARE: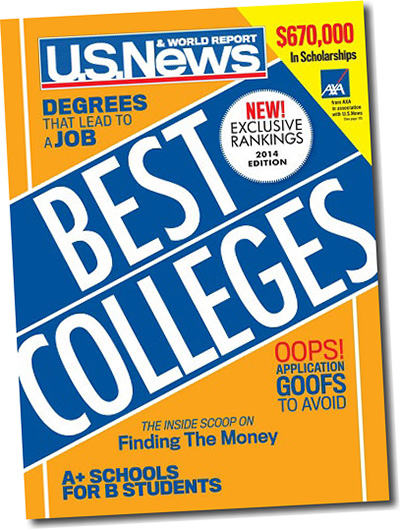 Headline News
Tuesday, November 24, 2015
Subscribe (News reader required)
SUNY-ESF No. 36 on U.S. News List of Top Public Universities
College Earns Place on 'Best Value' List

9/10/2013
The SUNY College of Environmental Science and Forestry (ESF) has again earned a place among the top universities in America as ranked by U.S. News & World Report.
ESF is ranked number 36 among the nation's top public universities in the magazine's 2014 edition of Best Colleges. When both public and private universities are included, ESF is listed as number 86.
The magazine says the National Universities category consists of the 281 institutions (173 public, 101 private and seven for-profit) that offer a wide range of undergraduate majors as well as master's and doctoral degrees.
ESF was also recognized as one of the best college values in the nation, earning a ranking of 46 on the magazine's Best Value Colleges list. ESF is the only SUNY campus listed among 50 schools selected for this recognition. ESF is also listed at number 51 on the U.S. News list of colleges whose students graduate with the lowest student loan debt.
The calculation to determine the best-value schools takes into account a school's academic quality, based on its U.S. News Best Colleges ranking, and the 2012-13 net cost of attendance for a student who received the average level of need-based financial aid. The higher the quality of the program and the lower the cost, the better the deal. Only schools in or near the top half of their U.S. News ranking categories are included because U.S. News considers the most significant values to be among colleges that perform well academically. The magazine pointed out that 58 percent of ESF students receive need-based grants.
ESF was also recognized for its small classes, being ranked at number 33 on the magazine's list of national universities with the highest proportion of classes with fewer than 20 students - 65 percent. ESF tops the SUNY campuses on that measure.
"This is another strong ranking for the College of Environmental Science and Forestry," said ESF President Cornelius B. Murphy, Jr. "We are pleased to see that we rank highly among the nation's finest universities. This ranking, when combined with the recognition of the value we provide our students, demonstrates that ESF continues to provide a remarkable education. We are, of course, pleased with this recognition from U.S. News & World Report but we must give most of the credit to our faculty and students, who focus their research and studies on improving our world."
SUNY Chancellor Nancy L. Zimpher said the rankings reflect the success of the 64-campus state university system.
"As we continue to work with Governor Cuomo to position SUNY and New York to lead in affordability, access, and quality, and President Obama puts these issues into focus nationally, we are proud to be recognized and ranked favorably by U.S. News & World Report," said Zimpher. "Congratulations to SUNY-ESF and the many campuses representing SUNY on this list."
Office of Communications
SUNY-ESF
122 Bray Hall
1 Forestry Drive
Syracuse, NY 13210
315-470-6644