Headline News
Sunday, August 30, 2015
Subscribe (News reader required)
Dr. Guy Baldassarre Honored with Conservation Award
Ducks Unlimited Wetlands Conservation Achievement Award in Research/Technology

4/7/2008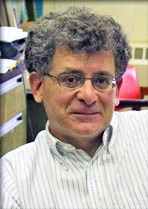 SYRACUSE - Dr. Guy Baldassarre, a professor at the SUNY College of Environmental Science and Forestry (ESF), was presented with the prestigious Ducks Unlimited Wetlands Conservation Achievement Award in Research/Technology for 2008.
Baldassarre, a distinguished teaching professor in the Department of Environmental and Forest Biology, was honored for his long-term contributions to the conservation of wetlands and waterfowl in North America.
A resident of Tully, Baldassarre's research interests have focused on aspects of waterbird ecology. His interests include waterfowl ecology and management, work with the Caribbean flamingo, shorebirds (piping plover), and wetland bird diversity in general.
The award will be presented during the annual North American Wildlife and Natural Resources Conference in Phoenix, Ariz.
Office of Communications
SUNY-ESF
122 Bray Hall
1 Forestry Drive
Syracuse, NY 13210
315-470-6644