Klaus Dölle
Assistant Professor
416 Walters Hall
1 Forestry Dr.
Syracuse, New York 13210
Phone: (315) 470-6531/470-6501
Email: kdoelle@esf.edu

Courses
PSE 200 Introduction to Papermaking
PSE 296 Papermaking Processes (ESF-Outreach)
PSE 468 Papermaking Processes
PSE 668 Papermaking Processes
PSE 498 Research Problem Paper Engineering
BPE 296 Research Problem (ESF-Outreach)
BPE 498 Research Problem Bioprocess Engineering
ENS 498 Research Problems in Environmental Sciences
ENS 797 Environmental Science Seminar
ENS 798 Problem Environmental Science
ENS 898 Professional Experience
Paper and Bioprocess Engineering Exchange Program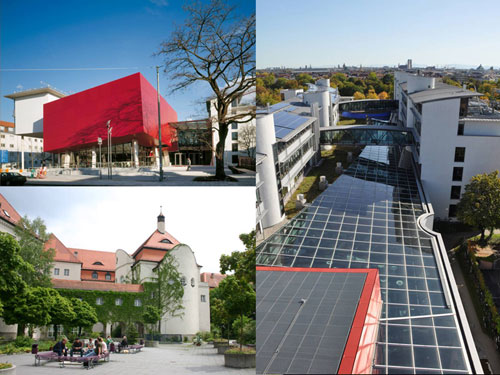 This program is open to all ESF students interested in studying at the Munich University of Applied Sciences (MUAS), in Munich, Germany.
MUAS is located in the heart of Munich. It is the largest university of its kind in Bavaria and is the second largest in Germany. Students can choose courses taught in English from among 14 departments, including the areas of technology, economy, social studies and design.
Munich is one of the most beautiful cities in the world with the highest quality of living and is ranked as one of the safest cities in Germany.
The city of Munich, capital of Bavaria, is a green city and major European culture center, with a reputation as a high-tech location, home to headquarters of leading companies such as BMW and Siemens. Bavaria is one of the strongest economic regions in Europe.
Munich's goal of being the first city with over one million inhabitants to supply electricity only through the use of renewable energies by 2025, is resulting in a massive implementation of renewable energy projects, including photovoltaic, wind, biomass and hydropower.
Interested students need departmental approval and to submit the MUAS online application material through our International Education Office.
Interested students should first schedule an appointment per e-mail.
---
Graduate Advisees
Degree Sought: PHD
Graduate Advisor(s): Doelle
Area of Study: Paper and Bioprocess Engineering
Previous Graduate Study: SUNY-ESF (PSE )
---
Degree Sought: MS
Graduate Advisor(s): Doelle
Area of Study: Water & Wetland Resource Studies
Undergraduate Institute: Seattle University (Biology)
---
Degree Sought: MS
Graduate Advisor(s): Doelle
Area of Study: Water & Wetland Resource Studies
---
Degree Sought: MS
Graduate Advisor(s): Doelle
Area of Study: Paper and Bioprocess Engineering
Undergraduate Institute: HN University of Commu.&Trans. (Mechanical Engineeri)
---
Degree Sought: MS
Graduate Advisor(s): Doelle and Volk
Area of Study: Coupled Natural and Human Systems
Undergraduate Institute: Beijing Normal University (Environmental Science)
---
Research Interests
Papermaking:
Papermaking & related processes,
Paper Recycling,
Bleaching,
Filler materials,
Energy savings.
Engineering, machine design & processes in the papermaking field
Environmental Sciences:
Constructed wetlands and biofilters,
Water and waste water treatment,
Renewable energy & processes including hydropower,
Recycling,
Engineering, machine design & processes in the chemical, bioprocess, and waste water field.
Research Projects
Projects are available for undergraduate, graduate and internship levels as well as for BS, MS and doctoral research based on available funding.
Paper Engineering:
Novel Paper Filler Development
Pulping Process Development
Bleaching Process Development
Recycling
Bioprocess Engineering:
Biomass Prepreparation
Anaerobic Fermentation
Biogas Clean Up
Gasification
Energy Conversion
Environmental Science:
Recycling and Waste Repurposing
Waste Water Treatment Process Development
Subsurface Biofilters
Constructed Wetlands
Leachate Treatment
For more Information please contact Dr. Klaus Doelle.
Education
Ph.D., Agricultural Engineering, Department of Biological Systems Engineering, 2002, University of Wisconsin, Madison.
Dipl. Ing. Mechanical Engineering, 1990, Aalen University, Baden-Württemberg, Germany.
Professional Experience
Assistant Professor 3/2008-present, SUNY-ESF
Professor 3/2007-2/2008, University of Applied Sciences Brandenburg, Germany
Voith 05/1986 – 2/2007

Head Engineering and Technology, 10/2004 - 2/2007 Voith Fabrics Düren, Ravensburg, Germany,
Manager Research and Development, Center of Product Coordination, (09/2002-9/2004) Voith Paper Fiber Systems, Ravensburg, Germany
Manager Research & Development Engineering, (11/1997 – 08/2002) Voith Paper Inc. Fiber Systems, Appleton, Wisconsin.
Development Engineer / Special Product Group Leader, (01/1995 – 10/1997) Voith Paper Fiber Systems Division, Heidenheim and Ravensburg, Germany
Design and Development Engineer, (10/1993 – 12/1994) Voith Paper Inc. Fiber System Division, Appleton
Design and Development Engineer. (10/1990 - 9/1993) J.M. Voith GmbH, Paper Stock Preparation Division
Machine Fitter Apprenticeship J.M. Voith GmbH, Heidenheim, Germany
Memberships, Activities, and Awards
New York Water Environment Association (NYWEA)
Water Environmental Federation (WEF)
American Society for Testing and Materials (ASTM)
Technical Association of the Pulp and Paper Industry (TAPPI)
ESF in the High School (ESF-Outreach)
ESF - SUNY Senator
United States Patent and Trademark Office, Certificate of Appreciation, 7/2001
Publications
Number of refereed publications, patent applications, articles, seminars, etc.: >395; Number of Issued Patents: 60
Selected Publications
Doelle K., Amaya J.J., (2012), "Application of calcium carbonate for uncoated digital printing paper from 100% eucalyptus pulp", TAPPI JOURNAL, Jan. 2012, Vol. 11 No1, pp 41-49.

Doelle K., Giarrusso, S., Johnson, D.L., (2011), "Zero Waste: Sustainable Biomass Conversion ", New York Water Environmental Association Inc. (NYWEA), Clean Waters Magazine, Spring 2011, Vol. 41, No.1.

Doelle K., Giarrusso, S., Johnson, D.L., Peluso, C.R., (2011), "Omnivorous Closed Loop Sustainable Biomass Conversion for Cost-Effective Biofuels, Bioenergy, and value Added Products", Water Environment Association of Ontario, WEAO Technical Symposium and OPCEA Exhibition, April 10 to12, 2011, The Westin Harbour Castle, Montreal, Ontario, Canada.
J.H. Klungness, A. Ahmed, N. R. Sutherland, S. AbuBakr, K. Dölle, O. Heise, Lightweight, High-Opacity Paper by Fiber Loading: Filler Evaluation, STFI, Paper & Coating Chemistry Symposium 2000, June 6-8, Stockholm, Sweden
K. Dölle, O. Heise, J.H. Klungness, S. AbuBakr, Lightweight, High-Opacity Bible Paper by Fiber Loading, Intertech, Specialty & Technical Papers Europe 2000, June 21-23, Berlin, Germany.
K. Dölle, New Environmentally Friendly Process to Manufacture PCC and its Impact on Paper Mills' Water Resource Management, Water Resources and Environmental Research, ICWRER 2002 Dresden University of Technology, July 22 – 25, Dresden, Germany.
K. Dölle, Vergleich der Stickybelastung für europäische und nordamerikanische Papierproduktion, PTS-Sticky-Seminarreihe 2003, Bekämpfung und Vermeidung von Stickys für einen wirtschaftlichen Altpapiereinsatz, October 14 – 15, Heidenau, Germany.
K. Dölle, "A Green Future: Challenges for Paper, Forest, Chemical and Agricultural Applications", SUNY-ESF, 12th Annual Joachim Forum, June 4-5, New York City, New York, USA.
Selected Granted Patents
German Patents:
DE 602 9642 B3 Verfahren zum Beladen einer Faserstoffsuspension mit Füllstoff
DE 197 47653 C2 Sieb für Fasersuspension
DE 197 02043 C2 Vorrichtung zum Reinigen einer Faserstoffsuspension
DE 196 35156 C2 Verfahren zur Herstellung von Sieben
European Patents:
EP 1 318 231 B1 Vorrichtung yur Entwässerung einer Faserstofffbahn (Apperatus for dewatering a fibrous web)
EP 1 409 789 B1 Verfahren zum beladen einer Faserstoffsuspension mit Kalziumkarbonat (Method of loading a fiber suspension with calcium carbonate)
EP 1 101 858 B1 Stoffauflöser für eine Stoffaufbereitungsanlage und Verfahren zur Stoffauflösung (Pulper for a Stock Preparation System and method of pulping).
EP 0 982 433 B1 Siebkorb für einen Drucksortierer mit einem entfern- und ersetzbaren zylindrischem Sieb (Screening cylinder for a pressure screening device having a replacable cylindrical screen).
US Patents:
7,264,689 Method of Chemically Loading Fibers in a Fiber Suspension
7,179,347 Method for Fiber Stock Preparation.
7,013,287 Stock Preparation Monitoring System and Method of Same.
6,537,425 Process for Loading Fibers with Calcium Carbonate
6,524,443 Pulping System for a Paper Machine
6,451,165 Channel Pulper
6,422,496 Refiner for Refining a Fiber Suspension
6,413,365 Method of Loading a Fiber Suspension with Calcium Carbonate
6,395,132 Washing System and Washer for a Fiber Suspension
6,395,131 Flotation Machine for a Fiber Suspension and Method of Using Same
6,254,729 Pulper with Extraction Plate Assembly Having Removable Inserts and Method of Manufacturing Same
5,996,604 Apparatus and Method for Providing Process Water Used for Making or Processing a Fiber Suspension
Canadian Patents:
CA 2203325 C Process for the Manufacture of a Sifting Device with Slit-Shaped Openings and an Appropriately Manufactured Sifting