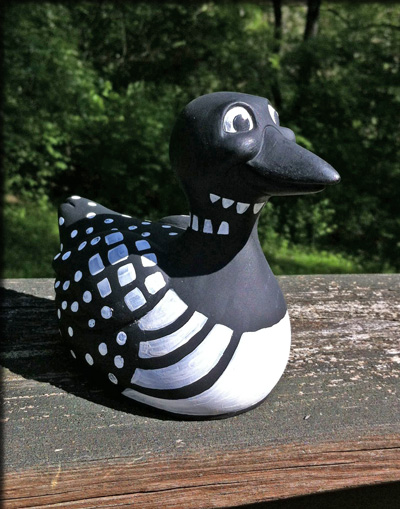 The Great Loon Race
Do you love the sight and sounds of loons? Enjoy the sense and feel of the Adirondacks? Are you passionate about nature-based education and recreation? If you answered "yes" to any or all of these questions we have an exciting and fun-filled way for you to get involved with the Adirondack Interpretive Center (AIC).
A flock of floating rubber loons, believed to be the world's first loons based on a traditional rubber duck concept, splashed into water May 26, 2012 for a race along the Rich Lake Outlet, part of the AIC's celebration of its first anniversary under the leadership of the SUNY College of Environmental Science and Forestry (ESF).
The loon race was the centerpiece of a day dedicated to programming about Adirondack loons and logging, celebrating the inaugural year of ESF's programing at the AIC, and simultaneously raising funds to support programming throughout 2012. A complete description of the Loons and Log Day is here, and information on purchasing one of your very own, is below.
If you are interested in sponsoring a loon in next year's race held on Saturday May 25, 2013, please stay in touch with the AIC on our homepage, Facebook and Twitter. You can also call us at 518.582.2000 or email us at aic@esf.edu.
Loons and Logs
Adirondack Interpretive Center
Buy a Loon for the AIC!
Thank you for your interest in supporting quality educational outreach at ESF's Adirondack Interpretive Center by purchasing your very own rubber loon! We have a limited number of loons available for direct purchase, which are $20 each, plus shipping and handling if not being picked up at the AIC at your convenience.
If you are interested in purchasing a loon, please fill out the form below. We're not able to process payments electronically at this time, and will contact you shortly to complete your order.