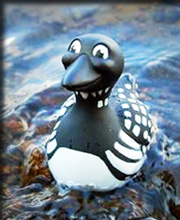 The Great Loon Race
The loon race was the centerpiece of a day dedicated to programming about Adirondack loons and logging, celebrating the inaugural year of ESF's programing at the AIC, and simultaneously raising funds to support programming.
Please stay in touch with the AIC on our homepage, Facebook and Twitter. You can also call us at 518.582.2000 or email us at aic@esf.edu.
Sponsor or Buy a Loon for the AIC
Loons and Logs at the Adirondack Interpretive Center
Sponsor a loon for $10—100% of proceeds support ESF's Adirondack educational programs!
Buy a Loon for $20 (plus shipping/handling OR pick up at the AIC at your convenience)—limited number available.
To sponsor or buy, complete the form below. We're not able to process payments electronically at this time, and will contact you shortly to complete your order.