Past Moonlighting Sessions
Ethics and Earth Day Finding Environmental Justice in a Complex World
April 22, 2016
Sanjit "Bunker" Roy is the founder of the internationally acclaimed Barefoot College in India. He was featured in the "2010 Time 100" list of influential personalities for his work in educating illiterate and semi-literate rural Indians. He was also listed in 2008 on The Guardian's list of "50 people who could save the planet." His development of the only college built by and for the rural poor has transformed the lives of more than 3 million rural people across 75 countries in the developing world. The "solutions" he espouses center on solar energy, water, education, connectivity, health care, handicrafts and the empowerment of women.
Meagan Fallone is CEO of Barefoot College International. She joined Barefoot College in 2011. She has guided expansion of Barefoot College to more than 68 countries. She manages international operations, strategic planning and development for the College and speaks regularly on the power of women as agents of sustainable change and poverty reduction.
Samuel Gorovitz is a professor of philosophy at Syracuse University and a leader in the development of medical ethics. Gorovitz is the former dean of the Syracuse University College of Arts and Sciences. In addition to his work in the field of medical ethics, he has published extensively on other topics in philosophy and public policy. His advice on college governance and on health policy has been widely sought, and he has given more than 200 invited lectures in many countries on five continents.
Heaven and Earth: The Relationship between Religion and Science
October 21, 2015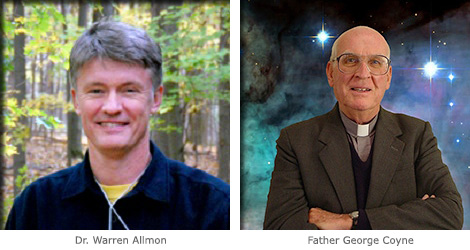 Featuring Father George Coyne (LeMoyne College faculty, former Vatican astronomer) and Dr. Warren Allmon (director of the Paleontological Research Institution in Ithaca and professor in the Department of Earth and Atmospheric Sciences at Cornell University)
As director since 1992 of the Paleontological Research Institution, Warren Allmon has led the organization in its ambitious renovation and expansion, including the design and construction of the Museum of the Earth. In addition to his technical research, he writes and speaks frequently on the history of science, evolution and creationism, natural history museums and collections, and Earth science education.
Father Coyne is a Jesuit priest, astronomer, and former director of the Vatican Observatory and head of the observatory's research group which is based at the University of Arizona in Tucson, Arizona. Since January 2012, he has served as McDevitt Chair of Religious Philosophy at Le Moyne College in Syracuse, NY.
Raising the Dead: Bringing Extinct Plants and Animals Back to Life
2014
Featuring Professors: William Powell (SUNY-ESF), Cathryn Newton (Syracuse University) and Samuel Gorovitz (Syracuse University)
Resources:
About the Moonlighting Series
"Moonlighting" is a series of informal discussions, debates and interviews hosted by Dr. Quentin Wheeler, president of the SUNY College of Environmental Science and Forestry. For centuries, the university has been the place where freedom of speech and thought are cherished, but also where ideas and assertions are freely challenged through open, respectful discourse that knows no disciplinary boundaries. Moonlighting is intended to foster such discourse and create an enjoyable, intellectually stimulating evening.
Moonlighting is held 7 to 9 p.m. on announced dates on the ESF campus. The location varies to suit the size of the audience but the original name, chosen because the conversation was an after-hours event held in Moon Library, has stuck.