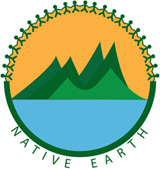 Native Earth Environment Youth Camp
August 7-16, 2013
Join us for a summer camp experience for indigenous youth focused on land skills and environmental stewardship, using both traditional ecological knowledge and environmental science.
The camp brings together Native youth of the region to learn traditional cultural philosophies and practices and environmental science tools for caring for Mother Earth.
Instructors include Native elders, teachers, and environmental science professionals from throughout the northeast.
Open to...
All Native American Youth, grades 9-12 in the Northeastern Region are invited to apply.
Sponsored by...
The camp is sponsored by the Center for Native Peoples and the Environment at the SUNY College of Environmental Science and Forestry (SUNY-ESF) in Syracuse NY in partnership with the Haudenosaunee Environmental Task Force with a grant from the National Science Foundation
Application
2 methods:
Application Deadline is July 1, 2013

The program application consists of three parts:
The information form supplying your contact information, affiliation and educational and extracurricular background. The application can be submitted online here
A one page essay describing why you would like to participate in the camp
One letter of recommendation from a teacher or community leader
Students will be selected primarily on the basis of their application, their interest, motivation and match to the program objectives. Students should enjoy outdoor activities, meeting new people, have an interest in traditional culture, enjoy science and nature, and be willing to experience rustic living conditions.
Cost
Funding from the National Science Foundation will support twenty Native Youth with a full scholarship to the camp, covering room, board and program fees. Should enrollment exceed the 20 scholarships available, support for student attendance will be requested from Nation communities.
When and Where
August 7-16, 2013
The camp begins on Wednesday morning August 7, but accommodations can be made for arrivals on Tuesday evening August 6 if that is needed.
The camp meets initially at the Thompson Island Youth and Elders Camp at Akwesasne on the St. Lawrence River and then travels on August 12 to the SUNY-ESF Cranberry Lake Biological Station in the northwestern Adirondacks and ends at the SUNY-ESF campus in Syracuse New York on Friday, August 16.
Native Earth Program Objectives
Renew cultural and traditional relations to the earth
Cultural sharing between Northeast nations/tribes
Educating our youth on traditional ecological knowledge
Education on environmental science and field ecology
Promote environmental leadership among our students
Program Elements
Traditional Land Skills
Indigenous Philosophies of caring for the environment Wildlife Ecology
Plant and tree identification
Forest Ecology
Medicinal and edible plants
Interpretation of nature through art, writing, and photography Aquatic Ecology
Wetland Ecology
Basket making
Birding and birdsong identification
Meetings with tribal environmental professionals
Native leadership in environmental protection
Careers for the Environment
Canoeing, Hiking, Swimming
Evening programs with elders and science professionals
Facilities
The first five days of the program are spent at the beautiful THOMPSON ISLAND YOUTH AND ELDERS CAMP located at Akwesasne which is run by the Mohawk Council of Akwesasne. Bob Stevenson directs the camp and is an award winning environmental educator and teacher of land skills. Students and families have enjoyed the educational opportunities at TIYC for many years. The teaching trails run through diverse forests and shoreline communities. The camp is accessible by boat from Akwesasne. Students will sleep in tents and prepare meals in an outdoor kitchen. Indoor plumbing is not available.
The second half of the program will be hosted at the Cranberry Lake Biological Station on beautiful Cranberry Lake in the northwestern Adirondacks. The Biological Station is operated by the SUNY College of Environmental Science and Forestry. Accessible only by boat, the Biological Station has conducted environmental education and research in a remote wilderness setting for college students and the public since 1911. At CLBS students will sleep in rustic cabins, eat in the dining hall, utilize laboratories, classrooms, computer facilities and 25,000 acres of streams, forests, wetlands and lake habitats. Swimming, hiking and canoeing are available. The program finishes with a day on the SUNY-ESF campus in Syracuse where students will get a taste of college life.
Transportation
Students and chaperones will meet at the Thompson Island Youth Camp at Akwesasne. Directions will be provided upon acceptance to the program. A bus or vans will transport students from Thompson Island to Cranberry Lake and then to Syracuse during the program, The two camp facilities are approximately 70 miles from one another. We do not have funds to support airfares for students coming form outside the region, but you are welcome to participate if you can fund your own transportation, as some students have done in past years.
Community Support
Each community sending students to camp is asked to provide transportation to the camp or arrange to ride share with others. Chaperones from the community to accompany students are welcome, but not required. Should the number of students wishing to attend the camp exceed the scholarships available, communities may fund the participation of additional students. We also ask that each community agree to work with the students returning from the camp to support them in sharing their experience with the community and in becoming active in environmental activities in the community.
Questions?
If you have any questions or comments, please do not hesitate to ask! We will be happy to help. Contact: