Putting Renewable Technologies to Work
Thursday, November 5, 2009
(with a Wednesday, November 4th evening open forum)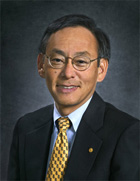 U.S. Secretary of Energy and Nobel laureate Steven Chu visited SUNY-ESF, touring the College's sustainable energy facilities and calling for the United States to become a leader in high-technology manufacturing.
We are proud to announce that this year's 5th SURE program is offered by SUNY-ESF as a collaborative effort of the Sustainable Enterprise Partnership (SEP). The SEP, a collaborative effort led by SUNY-ESF, the Whitman School of Management (Syracuse University), and the Syracuse Center of Excellence in Environmental and Energy Systems, takes a distinctive, transdisciplinary approach to world-class education and research on sustainable enterprise.
Sustainable Enterprise Management: Current economic conditions require sustainable enterprise management. Sustainability-focused management promotes practices that benefit the environment, society, and the organization's bottom line in such areas as product manufacturing, service creation, information technology, supply chain management, building design and operation, materials sourcing, waste and transportation.
SURE 2009 is supported, in part, by a NYS Department of Labor grant in partnership with CNY Works as part of a five-county regional coalition involving the Workforce Investment Boards of Onondaga (CNY Works), Cortland, Madison, Fulton and Oswego Counties, the Metropolitan Development Association, and other organizations.
SURE 2009 program co-chairs are:
Michael Kelleher, Director of Renewable Energy Systems at SUNY-ESF. He is focused on expanding the use of sustainable technologies and energy efficiency to reduce the College's carbon footprint. Prior to joining ESF, Mike served as an executive with National Grid and Niagra Mohawk.
Timothy Volk, Ph.D., Senior Research Associate at SUNY-ESF. He is actively involved in research and development of sustainability assessments of bioenergy systems, regional woody biomass resource supplies, and harvesting systems for short rotation woody crops.
Please mark your calendar, bookmark this page, and revisit soon for program details and to register.
Contact us with questions at (315) 470-4882 or elgillis@esf.edu
You should participate in this program if you are:
Interested in getting into new renewable energy business (e.g. growers, farmers, re-sellers, wholesalers, products, etc.)
Wanting to incorporate renewable technology into your current business
Involved in or interested in agriculture, forestry and/or land management
An entrepreneur
A small business owner
A non-profit organization
An architect, engineer, planning, or other professional
An elected or government official
A community leader & policy maker
An economic developer
A green residence owner
A green alliance & organization
A college/university student
A pre-K - 12 educator
A building or district administrator
Related Programs: