Relationships drive Ben Carguello's decisions. He's watched his dad build a successful medical practice as a family practitioner in upstate New York and attributes much of his dad's success to his constant pursuit of meaningful relationships with his patients and their families. Through personal experiences, Ben has found satisfaction in supporting others - an activity that has helped him forge some powerful relationships of his own.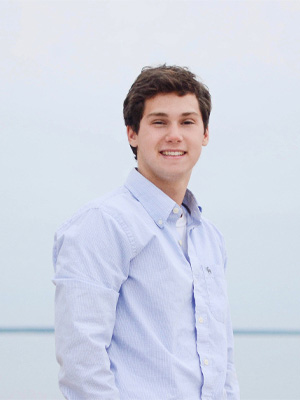 These first-hand experiences were central to Ben's decision to follow in his father's footsteps and pursue a medical career. The decision to start that career at the College of Environmental Science and Forestry has its roots in relationships, too.
"I've always known about ESF," said Ben, who grew up a few miles away in Pulaski, N.Y., and has family members who are alumni. "When I toured the campus, it just clicked. I could tell it was a close-knit community, which is important to me. It reminds me of home."
In a conversation with Dr. Lee Newman, Ben learned about ESF's relationship with Upstate Medical University and the Upstate Accelerated Scholars program, and his decision was final.
"Knowing that as long as I meet all of the criteria I will be automatically accepted to Upstate - no more admissions applications, no MCAT - is a huge weight lifted," said Ben. "I can focus on my grades, plan for my future and have time to be involved as a volunteer in the community."
Ben will be a sophomore at ESF in August 2020 and is a biotechnology major. When he's not studying, he enjoys hiking, biking, kayaking and running.