2021 Annual Rubber Loon Race Saturday, July 16th 2022
3 p.m.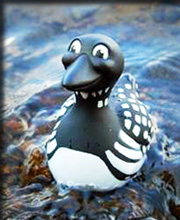 Release the Loons! The only race of its kind, our custom designed and made in America loons tumble into Rich Lake outlet and race 400 yards to the finish line. Prizes will be awarded to the first three loons across the finish line.
Prize Packages
1st Place — $100.00
2nd Place — Rubber Loon
3rd Place — Choice of ESF bandanna or T-shirt
Sponsoring a Loon in the Race
Sponsor a loon and you can be a winner! As you watch the front runners swim through the finish line, have your fingers crossed that it's your sponsored loon. Sponsors of the top loon finishers win a prize.
Sponsor a Loon
Buy a Loon
You can also purchase your very own loon for a $20 donation (plus shipping/handling OR pick up at the AIC at your convenience). By doing so you are not only bringing home a piece of the Adirondacks, but you are also supporting the one-of-a-kind programming offered here at the AIC!
To buy a loon, complete the form below. We're not able to process payments for loon purchases electronically at this time, and will contact you shortly to complete your order.
All funds raised through the sponsoring and purchasing of our rubber loons directly support the unique, exciting and place-based public programming we offer at the AIC.
More Information
What is the difference between sponsoring and purchasing a loon?
By sponsoring a loon, you will be assigned to a specific loon in the race. If your sponsored loon is one of the top finishers on race day, you will win one of our fantastic prizes!
By purchasing a loon, you will be receiving your very own rubber loon to call your own!
Do I get to keep my sponsored loon?
No - We keep these loons so we can use them from year to year. To bring a one-of-a-kind rubber loon home, you will need to purchase one.
How do I know if my sponsored loon won?
Just like a 5K or a bike race, every (loon) athlete in the race has a number.  After sending payment, you will receive an email letting you know what loon athletes (numbers) you are sponsoring. After the race, we will announce the top finishers by their number.
Do I need to attend the Rubber Loon Race to sponsor and win the race?
No – You are not required to be in attendance on race day to sponsor a loon. If your sponsored loon is one of the top finishers, we will email you directly to coordinate receiving your prize.
Can I enter my purchased loon into the race?
No - In an effort to keep race preparation simple and fair, only the numbered, sponsored loons will be entered into the race. To have a loon in the race, you will need to sponsor a loon.
How do these rubber loons benefit the AIC?
All of the profits from loon purchases and 100% of the proceeds from sponsored loons in the Rubber Loon Race are directly used to help fund educational programming for the general public, and academic and professional groups at the Adirondack Interpretive Center.
The AIC is a year-round outdoor education center, drawing on the local landscape for programs on the natural and human history of the Adirondacks.  To learn more about our programs you are supporting, check out the "Programs" page on our website, or visit us on Facebook!
Have a question that wasn't answered here? Feel free to contact us at aic@esf.edu or 518-582-2000!