SHARE:
Exchange Program Brings Ukrainian Students to ESF
Students bring different perspectives from their homeland

7/3/2013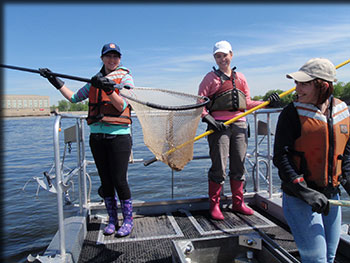 Five students from Ukraine are bringing a different perspective on environmentalism to ESF while earning their master's degrees.
Through an exchange with the National University of Kyiv Mohyla Academy (NaUKMA) the Ukrainian students are completing a two-year program with the first year in Kyiv (frequently spelled Kiev in the United States) and the second at ESF. At ESF they will complete the master of professional studies degree and secure a master of science degree from their home institution.
The program had its genesis in 2011 when Dr. James Gibbs of ESF was recruited to serve as international scholar for Russia-Ukraine-Moldova. His host institution, NaUKMA, is a distinguished and old academic institution in the center of Kyiv.
"I think of it as a small 'Harvard' of Ukraine," said Gibbs.
A strong and shared interest in environmental biology and application to problem solving for society overcame the obvious differences in geography, culture, language and history, said Gibbs.
"Although Kyiv is a world away, travelling through the surrounding countryside is not unlike traveling through Central New York," he noted. "We have many common problems to solve from urban environments, biodiversity conservation in forest-agriculture mixes, maintaining functional aquatic systems, dealing with polluted waters and soils."
"The students come here for graduate coursework, improving their English, broadening their professional network as we expect them to conclude an internship, for example, and understanding the U.S. perspective on environmental science," said Gibbs.
The students in the program are highly motivated and bring important and different perspectives from their homeland. "The valuation of ecosystem services which is a major occupation around the world got its start in Ukraine back in the 1970s and now the world is trying to figure out how to implement those concepts more broadly. So combining their background with our system can produce very effective new globally functional environmental biologists."
"Studying at the ESF will be a great opportunity for me to discover the excitement of the academic and intellectual world," said Olga Shevtsova. Shevtsova graduated with a bachelor's degree in ecology from NaUKMA in 2011. While studying in Ukraine she became interested in environmental protection, especially the economics of conservation biology.
"A big interest for me is to know how to respond to changes in demand for natural resources and the environmental pressures created by increasing industrial and agricultural activities," she said.
Her fellow students have similar dedication to their areas of interest.
Darya Karpenko is interested in applied ecology with a focus on invasive species, especially the zoological aspects. With a background in monitoring soils for heavy metals, she is also interested in permaculture and the community's role in maintaining ecological balance.
"I love being in the wild and exploring around so I really like some practical aspects of conservation biology," she said.
At NaUKMA, Nataliia Shynkarenko's major was ecology, environmental protection and sustainable management. While there she did research on a bioremediation method of cleaning water ecosystems from oil.
She participated in a joint project at NaUKMA and University of Oklahoma on "Non-linear response of a Ukraine grassland to altered precipitation." And in 2012 she was an intern at United Nations Development Program office in Ukraine.
"My primary interest in this field relates to the problem of species conservation. In the project I was responsible for research of the possibility of establishing the green tourism to Ukrainian reserves and took part in creating the book of Ukrainian reserves," she said.
"Now, in ESF I am especially interested in studying such courses that are related to fundamental ecology aspects," Shynkarenko said. "On my return home I plan to become a postgraduate student, continue my investigations in chosen direction, and share the gained experience with Ukrainian scientific community."
For Ielizaveta "Liza" Iegorova, inspiration comes from taking theory and putting it into practice.
"I really like being outdoors and exploring nature. For me personally the most valuable areas for upgrading and developing my expertise are restoration ecology, constructive ecology, water science, and, of course, conservation biology as a whole," she said. With a background in organizing open-air eco-events for non-governmental organizations she is also interested in environmental activism.
Having completing her bachelor's program in ecology, environmental protection and sustainable management at NaUKMA, Anna Ganzia is looking at issues in fundamental ecology and climate change.
She was involved in the scientific research related to assessment of energy flows in ecosystems and influence of altered precipitation on grasslands.
Her interests in ecology are not limited to research, however. Ganzia is also looking forward to being involved in campus activities dedicated to environmental issues. "I wish to gain new experience and knowledge, meet new friends and see new places. That's why I am happy to be among the students of ESF!" she said.
The program is made possible via the International Office of the NaUKMA, the students themselves, the support of the Ministry and ESF.
"We hope, too, that some ESF students and faculty will be interested in visiting Ukraine as part of a larger collaboration," said Gibbs. "There are enormous opportunities for environmental restoration and sustainable management. It's my hope this becomes a much larger collaboration with exchanges in both directions. We continue to look for funding to expand it."
Recent ESF News
News Archives
Communications & Marketing
SUNY-ESF
122 Bray Hall
1 Forestry Drive
Syracuse, NY 13210
315-470-6644