SHARE:
Sierra Club Says ESF is Cool
ESF tops other SUNY schools

8/25/2009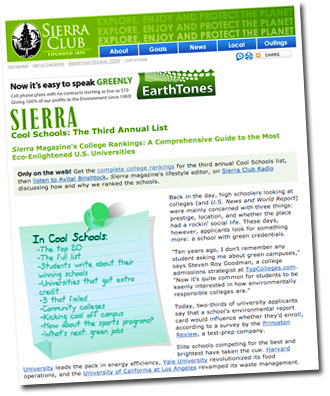 The SUNY College of Environmental Science and Forestry (ESF) has earned a place on the 2009 Sierra Club list of "Cool Schools," earning a rating which puts the College in a tie for 33rd place.
The list was compiled after the Sierra Club surveyed hundreds of colleges and universities to gather information about campus environmental practices, green initiatives, and quality of sustainability-oriented education. The survey looked specifically at energy efficiency and supply sources, food sources, academic programs and research, purchasing, transportation, waste management, and administration. Schools could earn up to 10 points in each category, and up to five bonus points for additional green initiatives. The information provided was used to rank 135 colleges and universities.
ESF received a perfect mark of 10 for academics based on the College's broad range of environmentally related degree programs and the quality of faculty research in the field. ESF was one of only four schools to earn a perfect mark for academics. The others were Georgia Tech, Columbia University and the University of Georgia.
ESF also scored a 10 on the administration rating, which reflects the College's institutional commitment to campus sustainability. ESF was one of only five schools to earn a perfect mark for administration.
The College was disappointed to score only a four in the survey's energy supply category, most likely resulting from the current use of oil and natural gas to heat campus buildings. This is expected to improve in a few years as the College builds a new heat and power plant that will be fueled primarily with wood pellets.
ESF is the highest rated State University of New York campus on the Sierra Club list this year, which also includes SUNY Binghamton and SUNY Albany.
Recent ESF News
News Archives
Communications & Marketing
SUNY-ESF
122 Bray Hall
1 Forestry Drive
Syracuse, NY 13210
315-470-6644