SHARE:
Walk on the Wild Side
Fellowship Funds Trip to South Africa

3/6/2017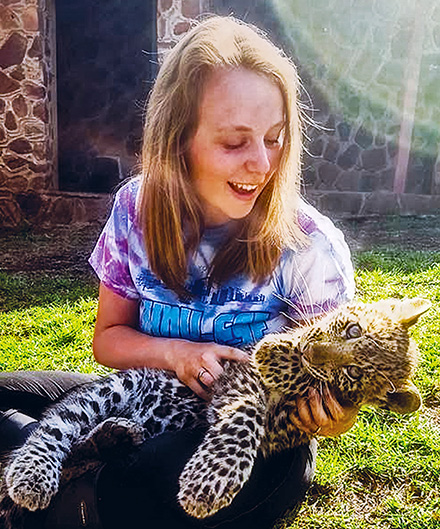 Walking with lions is an experience ESF senior Kristine Earley won't forget.
The four weeks that Earley, an environmental education and interpretation major, spent on an animal reserve in Hartesbeespoort, South Africa, was teeming with memorable moments.
During her stay, made possible through a Rosen Undergraduate Fellowship from ESF, Earley worked on various "life improvement projects" for the animals in rehabilitation care as well as upkeep of the reserve grounds. She also learned caretaking skills for animals that were unable to be sent back into the wild.
Working on the reserve gave Earley the chance to experience animal care practices that differed from those she was familiar with at her job with the Rosamond Gifford Zoo in Syracuse.
"Practices on the animal reserve are very different from the United States," she said. A notable difference was the amount of hands-on interaction she had with the animals. "I was able to walk the lions," she said. "In the United States, that would never be allowed."
At Rosamond Gifford Zoo, Earley works in the domestic animal barn with the smaller species. Her responsibilities involve taking care of owls, alpacas and goats. She is also tasked with keeping the animals busy and training the pigs to sit, stay, lay down and roll over.
In South Africa, she helped train the lions and tigers. "I had meat on a stick and would lead them through training to work their leg muscles," she said. "We were taught not to be loud and distracting when working with the big cats. The biggest part was to remember where I was and not to put your back to a lion."
The different attitude toward interaction with the animals required some adjustment. In the United States, zoos favor a no-touching, no-interacting approach toward the animals, she said, but that was not the case in South Africa. "My first reaction was, 'Holy cow!,'" she said. "I had a lot of conflicting thoughts coming from [working at] the zoo. "
As she gained experience at the reserve, Earley became more comfortable working so closely with the animals. "I knew what I was doing was really special," she said.
Earley worked with the park rangers and animal caretakers on animal rehabilitation. One of the animals was Bailey the three-legged cheetah. "Bailey came from a different reserve where he was in a small enclosure next to lions that ate his leg," she said. Earley described the 16-year-old cheetah as "a sweetheart who gave kisses as you walked by."
Along with working with the big cats, she enjoyed working in the primate park where hundreds of capuchin monkeys lived. The capuchins, she said, are "talented pickpockets" and wasted no time rifling through her bag when she was working in their living quarters. Such moments and connections, she said, "make scooping poop worth it."
Earley also participated in game drives searching for any animals that might have been poached on the borders of the reserve. "We didn't find any poached animals while I was there but we found traps people set," she said. The primitive wire traps were set outside warthog holes.
The Rosen Fellowship funded Earley's South African experience - from travel, food, medication, accommodations, equipment (new boots were needed to avoid transferring organisms from the United States to the reserve), and her passport. Since her return, Earley has shared her experience as a presenter at ESF's Internship Fair in hopes others will take advantage of the Rosen Fellowship program.
"I met a passionate group of people focused on educating the public about conservation," she said. "It's all about good tourism and leaving the world better than when you came," said Earley as she offered a final piece of advice. "Don't go into other countries with any preconceived notions. Go in open and receive everything while you're there. It goes by so fast."
Recent ESF News
News Archives
Communications & Marketing
SUNY-ESF
122 Bray Hall
1 Forestry Drive
Syracuse, NY 13210
315-470-6644