SHARE:
ESF Students Return from Puerto Rico
Students joined with SUNY, NYS, non-profits organizations to help rebuild Puerto Rico

6/6/2018
Copyright © All Rights Reserved by copyright holder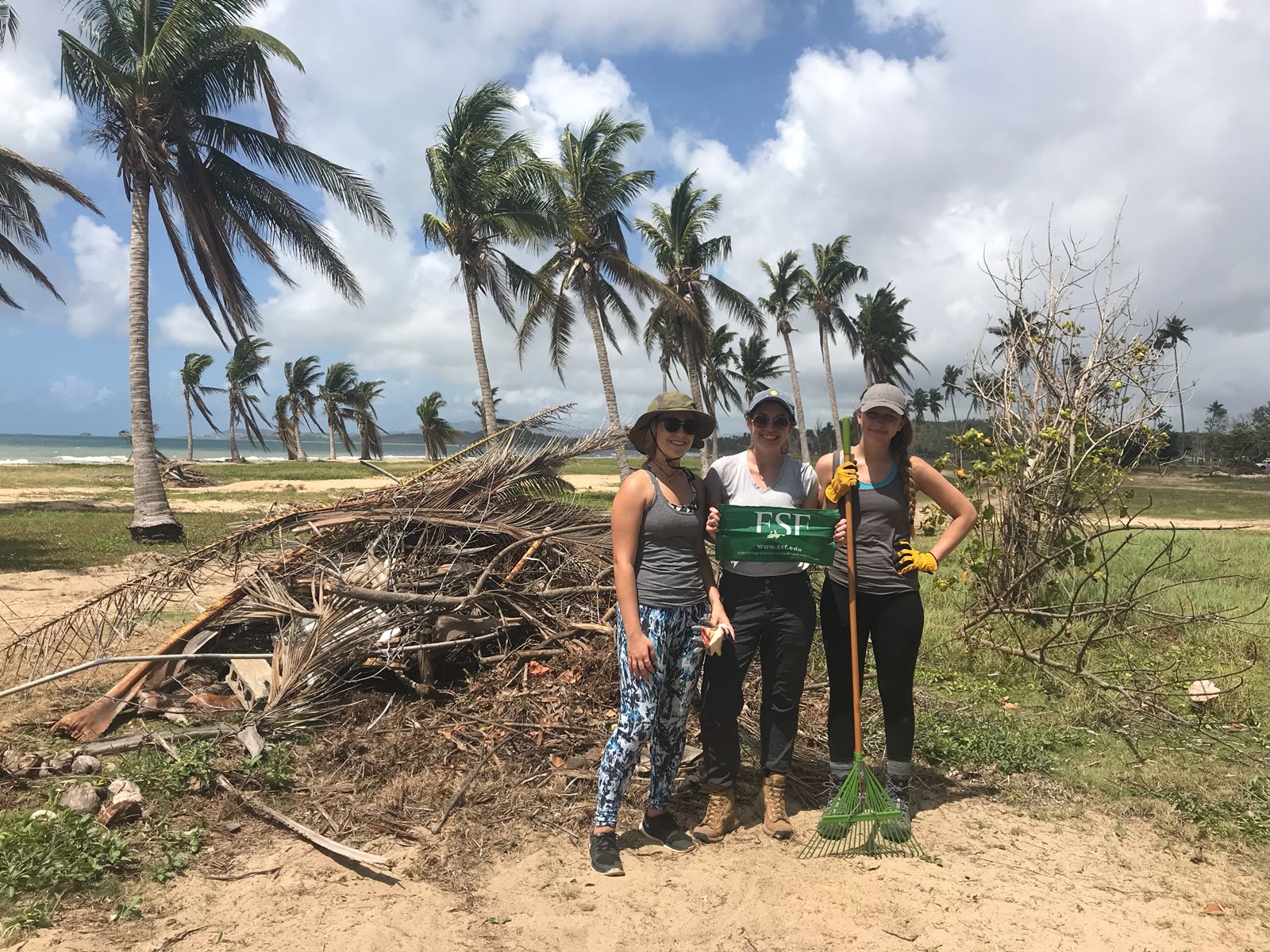 Fourteen students from the College of Environmental Science and Forestry (ESF) helped rebuild Puerto Rico following last year's devastating hurricanes.
The ESF contingent joined students from SUNY Albany and SUNY Maritime College as part of the NY Stands with Puerto Rico Recovery and Rebuilding Initiative inspired by New York Governor Andrew Cuomo.
The students stayed aboard the SUNY Maritime Training Ship Empire State VI during their stay in Puerto Rico. The ship left New York May 7 and arrived in San Juan, Puerto Rico May 20 as part of the summer sea term for its cadets.
ESF, Albany and Maritime students worked on projects focused on agriculture, tourism and construction throughout the metropolitan San Juan area and other regions of the island. Other groups of SUNY students will travel to Puerto Rico throughout the summer to continue the recovery and rebuilding efforts.
Centro Vacacional Villas Punta Santiago
Hurricane Maria made landfall in Punta Santiago, a beach located outside the town of Humacao on the east coast of Puerto Rico. Centro Vacacional Villas Punta Santiago, a nearby public beach resort sustained heavy damage from the storm. The resort employs many people from the region and has been closed since the storm. The students worked with non-profit volunteers from Relief4PR and municipal workers from Humacao on a number of projects including cleaning up debris on the beach front and painting exterior signage and buildings. Although much work remains to return the resort to its pre-hurricane condition, municipal workers and employees of the resort were grateful for the students' efforts and said the students essentially did two weeks' worth of work in three days.
Pedestrian Bridge Rebuild in Utuado
The day after Hurricane Maria, the Júa River which flows through the small mountain community of Antiguo located in Utuad, Puerto Rico, overflowed and washed away a pedestrian bridge that connects two neighborhoods. ESF students teamed up with students from Engineers for a Sustainable World based out of University of Texas El Paso to rebuild the bridge. The students helped build the base of the new bridge by collecting rocks and stones from the river and placing them into the base. This method will cut down on concrete and mortar costs. Once complete, the Hamaca Bridge will be higher than the previous bridge and made of wood and metal to better withstand future storms. Residents of Salto Abajo thanked the students as the bridge is crucial for residents to get from one neighborhood to the other. Employees from a local restaurant came to the work site and cooked for the student volunteers.
Eight months after Hurricane Maria hit Puerto Rico much recovery work remains. With many regions of Puerto Rico still without power, traffic lights do not work in some towns and cities and numerous buildings and store fronts remain boarded up. With recovery funds limited and municipal workers and resources stretched thin, the efforts the ESF students provided helped several projects get ahead of schedule.
"SUNY is proud for their relief efforts and hundreds of students who will be in Puerto Rico helping support this cause," said SUNY Chancellor Kristina M. Johnson.
Recent ESF News
News Archives
Communications & Marketing
SUNY-ESF
122 Bray Hall
1 Forestry Drive
Syracuse, NY 13210
315-470-6644