Staff Spotlight: Diana Jaramillo

10/4/2022
SHARE: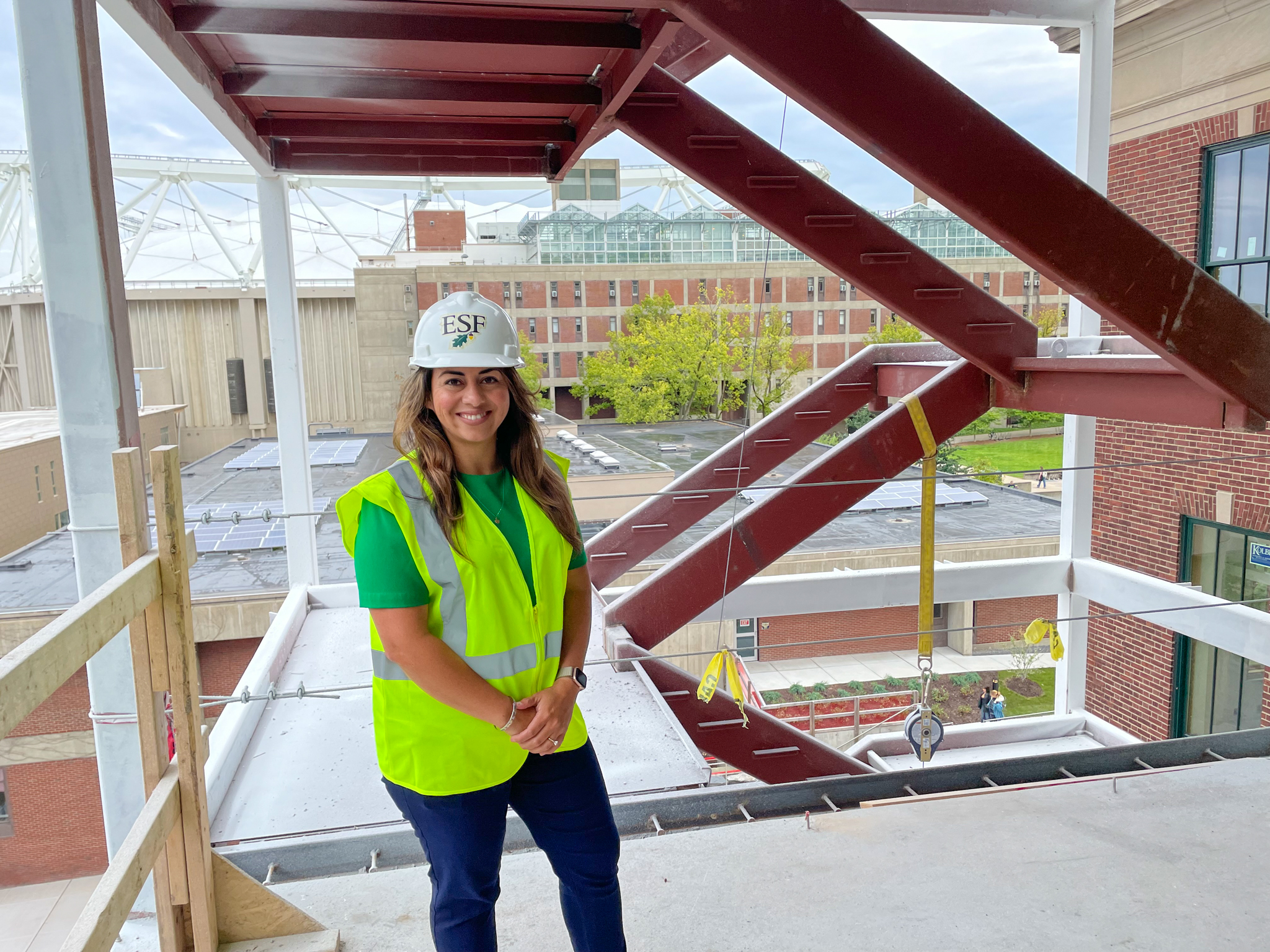 Diana Jaramillo was just 14 years old when her life in Ecuador took a pivotal turn that would come full circle more than two decades later. Her mother was awarded a Fulbright scholarship and she and Diana moved to Syracuse so she could pursue graduate studies at ESF.
The language barrier and culture shock made the transition challenging, but ESF soon began to feel like home. While her mother studied in Illick Hall, Diana explored the corridors and hung out in Nifkin Lounge, surrounded by laboratories and inspired by scholars. After her mom earned a master's degree and Ph.D., Diana's departure from ESF would turn out to be only temporary.
Diana's academic journey began at Onondaga Community College, where she earned an associate degree in architectural technology. She then obtained a bachelor's in architecture from Syracuse University. Several years into her career, she returned to ESF to pursue her own master's degree with a young daughter in tow—a story that mirrored one she shared with her mother.
"My daughter ended up along the same path I did, except she was running around Baker Laboratory instead of Illick Hall," Diana reflected. "Balancing everything was overwhelming, but joyful. My daughter was such an important figure in my ESF experience that she accompanied me when I walked the stage at graduation."
Just this year, Diana accepted the role as the College's Director of Facilities. She leads and supports facilities planning, design, and construction for ESF's Syracuse campus and satellite properties. Her job is to ensure that facilities-related efforts reflect the College's commitment to the environment, energy conservation and efficiency, and sustainability while helping lead the College toward achieving its zero-waste and net-carbon-negative goals.
Diana said that her work inspires her to be greener in her personal life. She's made changes to reduce the waste in her household and use more sustainable items.
"The mission-driven nature of the work we do here is why people have many years of service at ESF. I know it's why I will continue to stay here," she explained.
Since returning to campus as an employee, Diana is creating new memories at ESF, such as monthly staff lunches to celebrate birthdays and work anniversaries.
"It's a cliche to say, but the people who work here are truly awesome. I'm inspired by my staff with such long and dedicated careers," she said. "I feel like I've come full circle at ESF. I'm thrilled to be here and leading the very important efforts to help bring our campus into the next century."
Recent ESF News
News Archives
Communications & Marketing
SUNY ESF
122 Bray Hall
1 Forestry Drive
Syracuse, NY 13210
Communications@esf.edu