Faculty Profile


Lemir Teron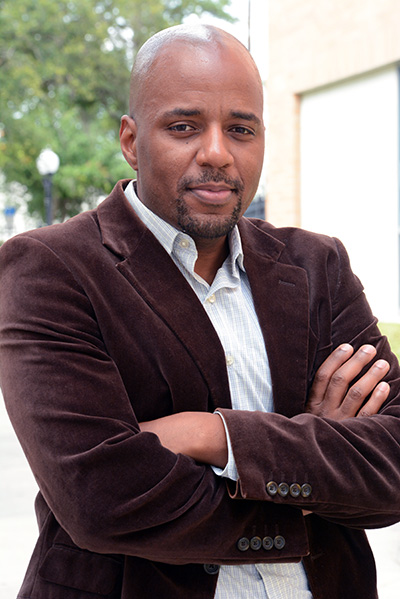 Lemir Teron
Assistant Professor
213 Baker Laboratory
Overview
Areas of research focus: Energy Policy, Community Forestry, Environmental Justice
2022 YWCA of Syracuse & Onondaga County Champion of Diversity
2020 MLK Celebration (Syracuse, NY) Unsung Hero Honoree
2019 Distinguished Faculty Member for Teaching Excellence Award
Tree Equity (Cheddar News)
Environmental Justice: New Policy Directions
PBS: Peril & Promise - Sweaty Penguin Pod
Keywords
Energy Justice, Urban Studies, Environmental Justice, Coastal Communities, Environmental Law, Community Forestry
Education
PhD Energy & Environmental Policy, University of Delaware
MS Urban Policy Studies, Georgia State University
BS Social Science Education, University of Georgia
Recent Publications
Barry, R., & Teron, L. (2023). Visualising Heritage: a critical discourse analysis of place, race, and nationhood along the Erie Canal. Local Environment, 1-14.
Louis-Charles, H., Teron, L., Douglas-Glenn, N. E., & Kalokoh, A. Unmasking disaster disparities and inequality in local emergency management. In Racial Equity, COVID-19, and Public Policy (pp. 11-31). Routledge.
Ekoh, S. S., Teron, L., Ajibade, I., & Kristiansen, S. (2022). Flood risk perceptions and future migration intentions of Lagos residents. International Journal of Disaster Risk Reduction, 83, 103399.
Teron, L. (2022). Deconstructing Inequality: Cumulative Impacts, Environmental Justice, and Interstate Redevelopment. Richmond Public Interest Law Review.
Khayat, F., Teron, L., & Rasoulyan, F. (2021). COVID-19 and health inequality: the nexus of race, income and mortality in New York City. International Journal of Human Rights in Healthcare.
With: Sterling, E. J., Betley, Teron, L., et al. (2021). Centering Equity in Sustainable Food Systems Education. Front. Sustain. Food Syst. 5: 737434. doi: 10.3389/fsufs.
Teron, L., Louis-Charles, H., Nibbs, F., Uppalapati, S. S. (2019). Establishing a toxics mobility inventory for climate change and pollution. Sustainability: The Journal of Record, 12(4).
Fortier, M. O. P., Teron, L., Reames, T. G., Munardy, D. T., & Sullivan, B. M. (2019). Introduction to evaluating energy justice across the life cycle: A social life cycle assessment approach. Applied energy, 236, 211-219.
Teron, L., & Ekoh, S. S. (2018). Energy Democracy and the City: Evaluating the Practice & Potential of Municipal Sustainability Planning. Frontiers in Communication, 3, 8.
Louis-Charles, H. & Teron, L. (2017). Environmental Migration, Public Perception and Immigration Policy: Examining the Hidden Environmental Toll of Terror Hysteria. Environmental Justice.
Teron, L. (2016). Sustainably Speaking: Considering Linguistic Isolation in Citywide Sustainability Planning. Sustainability: The Journal of Record, 9(6).
Teron, L. (2015). A Language of (In)Justice: Expanding the Sustainability Planning Lexicon. Environmental Justice, 8(6), 221-226.
Courses
Introduction to Environmental Studies (EST 133)
Environmental Justice (EST 415)
Environmental Justice (EST 615)
Affiliations
Urban Affairs Association
Black Doctoral Network
Association for Environmental Studies & Sciences
Current Graduate Advisees

Mabadeje Demu
mgdemu@syr.edu
Degree Sought: PHD
Graduate Advisor(s): Teron and Carter
Area of Study: ESC Environmental and Natural Resources Policy

Jimmy Andrianina Rakotovao
jrakotov@syr.edu
Degree Sought: MS
Graduate Advisor(s): Teron
Area of Study: FRM Natural Resources Mgt