Faculty Profile


Lemir Teron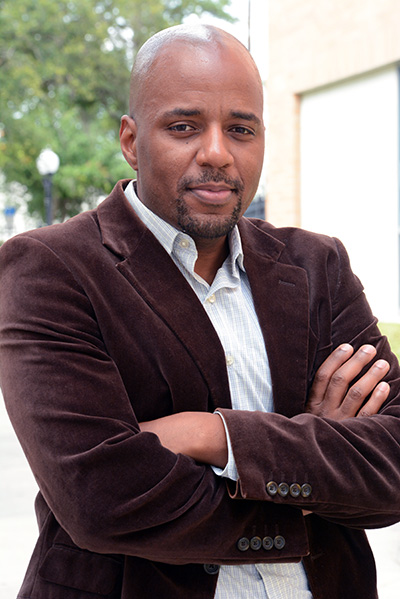 Lemir Teron
Assistant Professor
213 Baker Laboratory
Overview
Areas of research focus: Energy Policy, Community Forestry, Environmental Justice
2022 YWCA of Syracuse & Onondaga County Champion of Diversity
2020 MLK Celebration (Syracuse, NY) Unsung Hero Honoree
2019 Distinguished Faculty Member for Teaching Excellence Award
Tree Equity (Cheddar News)
Environmental Justice: New Policy Directions
PBS: Peril & Promise - Sweaty Penguin Pod
Keywords
Energy Justice, Urban Studies, Environmental Justice, Coastal Communities, Environmental Law, Community Forestry
Education
PhD Energy & Environmental Policy, University of Delaware
MS Urban Policy Studies, Georgia State University
BS Social Science Education, University of Georgia
Recent Publications
Barry, R., & Teron, L. (2023). Visualising Heritage: a critical discourse analysis of place, race, and nationhood along the Erie Canal. Local Environment, 1-14.
Louis-Charles, H., Teron, L., Douglas-Glenn, N. E., & Kalokoh, A. Unmasking disaster disparities and inequality in local emergency management. In Racial Equity, COVID-19, and Public Policy (pp. 11-31). Routledge.
Ekoh, S. S., Teron, L., Ajibade, I., & Kristiansen, S. (2022). Flood risk perceptions and future migration intentions of Lagos residents. International Journal of Disaster Risk Reduction, 83, 103399.
Teron, L. (2022). Deconstructing Inequality: Cumulative Impacts, Environmental Justice, and Interstate Redevelopment. Richmond Public Interest Law Review.
Khayat, F., Teron, L., & Rasoulyan, F. (2021). COVID-19 and health inequality: the nexus of race, income and mortality in New York City. International Journal of Human Rights in Healthcare.
With: Sterling, E. J., Betley, Teron, L., et al. (2021). Centering Equity in Sustainable Food Systems Education. Front. Sustain. Food Syst. 5: 737434. doi: 10.3389/fsufs.
Teron, L., Louis-Charles, H., Nibbs, F., Uppalapati, S. S. (2019). Establishing a toxics mobility inventory for climate change and pollution. Sustainability: The Journal of Record, 12(4).
Fortier, M. O. P., Teron, L., Reames, T. G., Munardy, D. T., & Sullivan, B. M. (2019). Introduction to evaluating energy justice across the life cycle: A social life cycle assessment approach. Applied energy, 236, 211-219.
Teron, L., & Ekoh, S. S. (2018). Energy Democracy and the City: Evaluating the Practice & Potential of Municipal Sustainability Planning. Frontiers in Communication, 3, 8.
Louis-Charles, H. & Teron, L. (2017). Environmental Migration, Public Perception and Immigration Policy: Examining the Hidden Environmental Toll of Terror Hysteria. Environmental Justice.
Teron, L. (2016). Sustainably Speaking: Considering Linguistic Isolation in Citywide Sustainability Planning. Sustainability: The Journal of Record, 9(6).
Teron, L. (2015). A Language of (In)Justice: Expanding the Sustainability Planning Lexicon. Environmental Justice, 8(6), 221-226.
Courses
Introduction to Environmental Studies (EST 133)
Environmental Justice (EST 415)
Environmental Justice (EST 615)
Affiliations
Urban Affairs Association
Black Doctoral Network
Association for Environmental Studies & Sciences
Current Graduate Advisees

Mabadeje Demu
mgdemu@syr.edu
Degree Sought: PHD
Graduate Advisor(s): Teron and Carter
Area of Study: ESC Environmental and Natural Resources Policy
Personal Statement
I face my challenges head on and do not blame others as the causes. I look at my past mistakes and laugh upon myself, at my elders� and say �wow�. As a researcher, I undertake the task of correcting on these mistakes and make them into a system to plan my life, so that those who are coming behind me could have models to study and analyze.
Research Interests
Environment and natural resources degradation that accelerates the three certainties of life: death, tax and changes; Environmental and Social Injustice in Nigeria; Renewable energy & the powering of information communication technology automation and digital devices.

Jimmy Andrianina Rakotovao
jrakotov@syr.edu
Degree Sought: MS
Graduate Advisor(s): Teron
Area of Study: FRM Natural Resources Mgt
LinkedIn
Web Link
Personal Statement
Fulbright scholar from Madagascar and MSc candidate within the GPES department at SUNY-ESF under the Policy, Planning, Communication and Society division. My area of interests revolves around environmental justice, forestry, sustainable management, green policy, and industrial ecology. Working towards becoming an advocate for science and policy to address local and global environmental issues.