Cornell Biological Field Station
The Cornell Biological Field Station (CBFS) program is internationally recognized for its contributions to the understanding of Great Lakes food webs and is a primary research site for field and experimental aquatic research at Cornell University. Education through the training of graduate and undergraduate students is a primary mission of the CBFS program, including the training of future Great Lakes scientists (both MS and PhD). Laboratory and classroom space, improved on-site living quarters, state-of-theart field and laboratory equipment, access by students to real time environmental Great Lakes data through remotely set buoys and acoustic gear, and opportunities for distance learning are required to meet current and future educational demands and needs. Bringing Great Lakes ecology to the classroom and involving primary and secondary students using state-of-the-art technology is a CBFS program desire that would promote respect for Great Lakes resources through knowledge.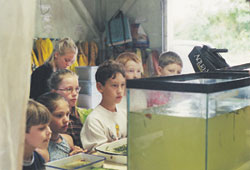 Our future: Elementary public school students learning about freshwater ecology
Priorities for Facility and Program Improvements for Fiscal Year 2004
Advance communication technology including networking of research and housing units.
Equip classroom with laboratory equipment, computers, sinks, and classroom furniture.
Purchase and install equipment for distance learning for outreach and training of college students.
Renovate on-site student housing. Some housing units have not been upgraded since the 1960s.
Hire an outreach specialist that would extend Great Lakes science and ecology to teachers and students in primary and secondary public schools.
Purchase accessory equipment for communication and networking with local public schools.
Provide students (primary and secondary students in public schools and college students) with access to real time environmental data collected from remotely operated buoys in Lake Ontario and Oneida Lake.
Undergraduate intern acquiring
research experience
CONTACT:
Edward L. Mills, Director
Cornell University Biological Field Station
900 Shackelton Point Rd.
Bridgeport, NY 13030
Phone: 315-633-9243
E-mail: elm5@cornell.edu
or visit the
Cornell Biological Field Station homepage
New York's Great Lakes Facilities Network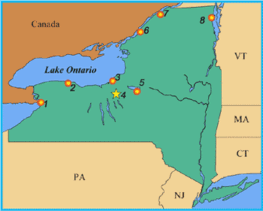 To learn more about the facilities of the GLRC network, their current research projects, research specialties, facilities, and needed upgrades, click on any location above