Sloan Indigenous Graduate Partnership
Sloan Indigenous Graduate Fellows
Avery S. Old Coyote
Avery S. Old Coyote belongs to the Apsáalooke people of the Crow Nation and to the Seliš people of the Flathead Nation. Avery was born and raised in what is now called Montana where he later earned a B.S. in Resource Conservation at the University of Montana's W.A. Franke College of Forestry and Conservation. He also earned an M.A. in Native American Studies at Montana State University. Currently, he is pursuing a PhD in Conservation Biology at SUNY-ESF. In his free time, Avery can often be found near water, adoring either a river, lake, or ocean. Professionally, he guides others seeking the thrills of the Flathead River in Western Montana. Academically, he strives to reciprocate the love and benefits provided to him by the river through studying novel ways to protect Indigenous waterways by utilizing culture. To that end, he researches the means by which humans can acknowledge the legal personhood of rivers, particularly the Flathead, Klamath, and Colorado.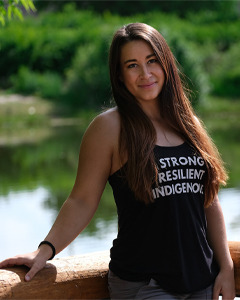 Mariah Gladstone
Oki, my name Mariah Gladstone. I am Amskaapi Pikuni, Kainai, and Tsalagi and was raised in Northwest Montana. I graduated from Columbia University with a degree in Environmental Engineering and returned home where I started an online cooking show called Indigikitchen. I am passionate about sustainability and completed a service term through Energy Corps where I helped write a Climate Action Plan for the City of Whitefish. My work has been recognized me as a "Champion for Change" through the Center for Native American Youth, a "Culture of Health Leader" through the Robert Wood Johnson Foundation, and a Grist 50 "Fixer." I am currently on the board of the Native Youth Food Sovereignty Alliance (NYFSA). I am pursuing my M.S. in Environmental Science with a concentration in Coupled Natural and Human Systems.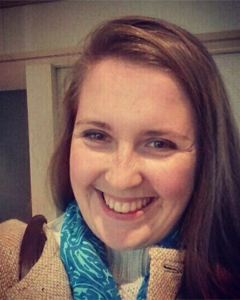 Susannah Howard
Bozho nikanek, Getsimnajeknwet ndeznekas. Bodewadmi kwe endow. Vermont ne dotchbya. Hello friends, my name is Susannah Howard, and I am a member of the Citizen Potawatomi Nation. I am from Thetford, Vermont located on the western bank of the Connecticut River. In May 2019, I graduated from Smith College (Northampton, Massachusetts) with a BA in Environmental Geosciences and certificate in Native American and Indigenous Studies. During my time at Smith, I had many incredible opportunities to focus on traditional ecological knowledge of Indigenous communities and its mobilization to address environmental problems, especially related to climate change adaptation, including the Citizen Potawatomi Leadership Program, Summer Undergraduate Research Fellowship (Geosciences, Smith College), Smith College's Internship at the Smithsonian Institution (National Air and Space Museum), REU on Sustainable Land and Water Resources (University of Minnesota), and Kahn Liberal Arts Fellowship on Food (Smith College). At SUNY ESF, I am pursuing a MS in Environmental Science, in Coupled Natural and Human Systems. I will be studying how the culturally important plants of the Potawatomi, like Manoomin (wild rice) and sugar maple are and will be impacted by climate change, and how these impacts might be mitigated through intertribal collaborations among the Potawatomi Nations in the future.
Dineh Judd
Navajo Nation
Northwest Indian College
M.S. in Environmental Science, Coupled Natural and Human Systems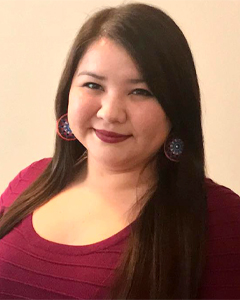 Biidaaban Moses Reinhardt
Boozhoo (Greetings), my name is Biidaaban Moses Reinhardt. I am an Anishinaabe Ojibwe woman, a citizen of the Sault Ste. Marie Tribe of Chippewa Indians, and am from the Upper Peninsula of Michigan. I received my Bachelor's degrees in Native American studies and physics from Northern Michigan University (NMU), and am currently pursuing a master's degree in sustainable construction at SUNY College of Environmental Science and Forestry in Syracuse, New York. My thesis research is focused on traditional ecological knowledge and experimental design in contemporary building materials in the Great Lakes Region. My previous research experience includes working as a team member on nanoparticle synthesis projects at Colorado School of Mines and University of Massachusetts Amherst, and conducting a case study on barriers to developing renewable energy systems within tribal communities as a McNair Scholar at NMU. My long term goal is to learn from our ancestors on how to adapt and make lasting change for future generations.
Bradley Thomas
My name is Bradley Thomas, I am a Snipe clan member of the Tuscarora Nation. I graduated from Canisius College of Buffalo NY in the Spring of 2016 with a B.A. in Communications Studies with a concentration in Public Relations. While in school I interned for the Clean Air Coalition of Western New York and the Tuscarora Environment Program of the Haudenosaunee Environmental Task Force. After school I worked as an Environmental Technician for the Tuscarora Environmental Program. Next, I took a position with the United States Fish and Wildlife Service as an Outreach Coordinator for the year of 2019 before coming to SUNY ESF to pursue my Masters in Forestry in the Sustainable Resource Management Department. My focus is on the application of treaty rights on public lands and incorporating cultural needs into resource management plans.
Funded Indigenous Graduate Opportunity
Integrating Indigenous and Scientific Knowledges for Environmental Sustainability
Additional Sloan Program Information
Tips on reaching out to potential advisors