SUNY ESF


Sloan Indigenous Graduate Partnership
The website is currently undergoing some major changes. We apologize for the inconvenience.
Integrating Indigenous and Scientific Knowledges for Environmental Sustainability
Are you interested in the integration of indigenous and scientific knowledges in environmental research?
Do you want a STEM career in service to land and culture?
The Center for Native Peoples and the Environment at the State University of New York's College of Environmental Science & Forestry is recruiting students for graduate study in diverse environmental sciences from ecology, sustainability, conservation biology to restoration and environmental engineering. As a member of the Sloan Indigenous Graduate Partnership, the program provides funding for full tution and stipends for Native American students pursuing MS and PhD degrees. Applications are open so please join us in this exciting initiative.
Learn more about the program from Dr. Robin Wall Kimmerer and Sloan Scholars:
Current Sloan Indigenous Graduate Fellows
Aaron Hagman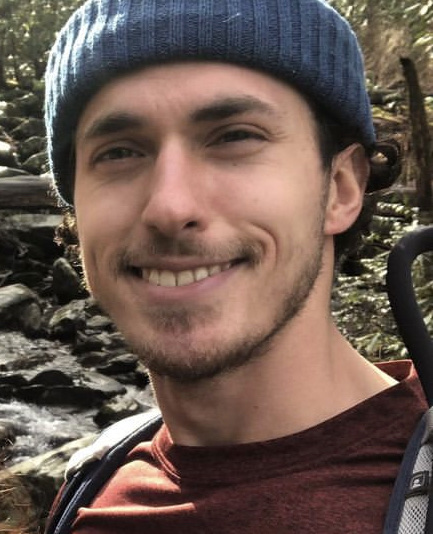 Aaron Hagman is a member of the Lumbee Tribe of North Carolina, the people of the black water. He also is from Michigan and is shaped equally by the waters of the Great Lakes and the swamps of coastal North Carolina. Aaron is currently pursuing a Master's of Science in Environmental and Forest Biology under the guidance of Dr. Gregory McGee.
In 2019 Aaron received his BS from Michigan State University in Environmental Studies and Community Sustainability with a minor in environmental economics. While at MSU he also served as a research assistant for the University's Cropping Systems Agronomy Lab. Following his undergrad Aaron went on to work for both the National Park Service as a forest health technician monitoring the impacts of high mortality events on northern hardwood forests, and the US Forest Service as a silviculture technician.
Aaron now is continuing his education to explore adaptive management of forest lands in the face of global climate change, and how climate change may contribute to cultural loss in south-eastern coastal tribes. Outside of his schooling Aaron has a passion for folk art, traditional green wood working, and bluegrass music. Aaron's goal after graduate school is to return to working for federal land management agencies where he can promote tribal co-management of public lands.
Erica A. Wood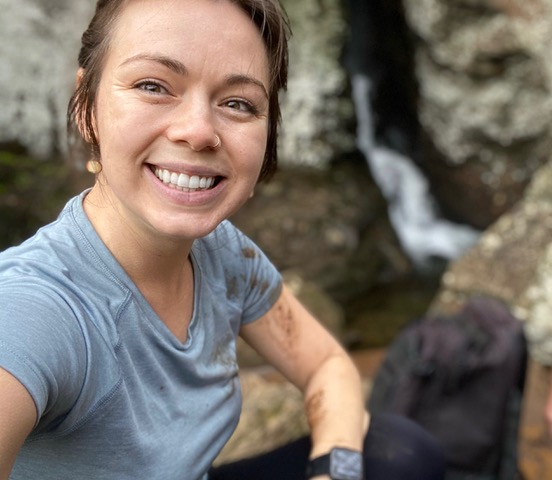 Erica Wood, Atmaguq, is Alaska Native Iñupiaq from the people of Fish River and the Native Village of White Mountain, Alaska. She is also Appalachian, of the mountains, and grew up in the deep South. She is a storyteller, artist, athlete and adventurer, and derives great strength from her ancestors and the rich traditions of her dual cultures. At SUNY ESF, Erica is pursuing a Master's of Science in Conservation Biology, focusing on ethnobotany. She holds a BA in International Studies with a focus on global development and food systems from Virginia Tech.
Erica has worked with food justice organizations up and down the East Coast. She taught gardening, managed a SNAP-focused farmers market, and advocated for equitable food policy at a nonprofit in North Central, Massachusetts. That experience led her to Boston, where she continued to work in the nonprofit sector on issues dealing with environmental justice and conservation. Part of her job included managing a multi-year river herring monitoring program and invasive plant management projects. In 2021 she completed a year-long fellowship with the Environmental Leadership Program (ELP), a national network that trains environmental and social change leaders. Most recently, Erica worked as an Assistant Farmer at Barrett's Mill Farm, a women-owned and operated organic vegetable farm in Concord, Massachusetts.
Erica attributes her respect and curiosity for the natural world to her childhood lived largely outdoors—and to her parents and beloved grandparents who each, in their own ways, shared their wisdom of the land. She enjoys celebrating her relationship with the land and non-human beings: foraging, fishing, farming, practicing traditional Inupiaq and Appalachian food preparation, kayaking, and walking in the woods. Erica relocated from Boston with her wonderful fiancé and cat, and is eager to build a community in Syracuse.
Cassandra Minerd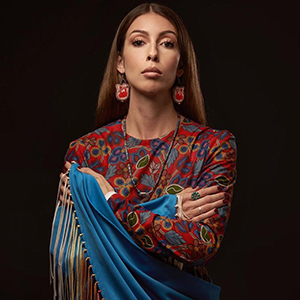 Sgé.noń. My name is Cassandra Minerd but I go by Bean. I am Onondaga Eel clan. I grew up and live on the Onondaga Nation. I come from a strong matriarch society as well as a strong matriarch family. My family holds strong titles within our confederacy. All of my teachings come from my late grandmother, Eel clan mother, Phoebe Hill, and my uncle is Tadodaho, Sidney Hill. I attended SUNY Brockport for my undergrad where I studied Recreation and Leisure studies. I graduated from Brockport in 2017. During my school winter and summer breaks I was involved with the Onondaga Nation Youth Group as a Youth Leader. My interest in being involved with environmental work increased during my time being a youth leader. My mentor, Hazel Powless, had our youth group be involved in many environmental programs and workshops where we created connections with students and staff from ESF as well as other environmental businesses. I was able to go to Native Earth Summer Program located in the Adirondacks where my statement I made at the end of the camp gave me an opportunity to go to NYC for the Climate Summit in 2019 where I was invited to be one of the members of the delegation to speak about Indigenous solutions to the Climate Crisis that was convened by the Nature Conservancy at the UN. Since then, I have been a part of many climate workshops that are held on the Nation. I made the big move of continuing my education at ESF where I am pursuing a Masters of Environmental Sciences. My goal is to study plants then use traditional knowledge and teachings to use native plants for healing and medicinal purposes. My other goal is also to learn ways to combat climate change to protect Mother Earth.
Dineh Judd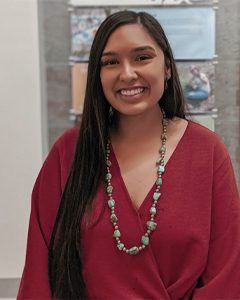 Navajo Nation
Northwest Indian College
M.S. in Environmental Science, Coupled Natural and Human Systems
Justin T. Herne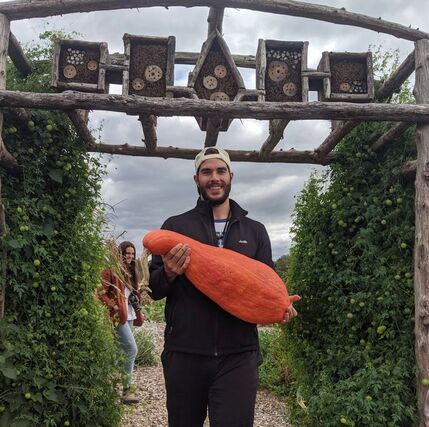 She:kon sewakwe:kon! My name is Justin T. Herne and I am a Sloan Indigenous Graduate Partnership student in the Environmental Biology Department. I am pursuing a master's degree in Aquatics & Fisheries Science. I work for SUNY ESF's Center for Native Peoples and the Environment as a graduate teaching assistant, where I currently provide assistance for Dr. Robin Wall Kimmerer's course Indigenous Issues and the Environment. Under the advice of Dr. Karin Limburg and Neil Patterson Jr., I am crafting my thesis around fisheries management and indigenous communities. As a member of the Mohawk Nation/ Mohawk Council of Akwesasne, I have longed to use my educational experiences and passion for fisheries to support indigenous communities and tribal sovereignty. I am a 2015 SUNY ESF alumni, where I majored in Aquatic & Fisheries Science and minored in Marine Science as an undergraduate.
Prior to graduate school, I served as a Fish and Wildlife Technician for the Hudson River Fisheries Unit out of NYSDEC's Region 3 for the past 3 years. My unit was responsible for surveying and managing the diadromous fish in the tidal Hudson River. This gave me great experience with fisheries management, the dark side of resource management, and optimal fisheries research experience. Additionally, I worked as a Field & Program Assistant for the non-profit seed organization Seedshed. While working for Seedshed, I was able to dive into the world of cross cultural partnerships and engage with different communities through seed saving, community garden support and seed rematriation. O:nen kí
Atah Cocker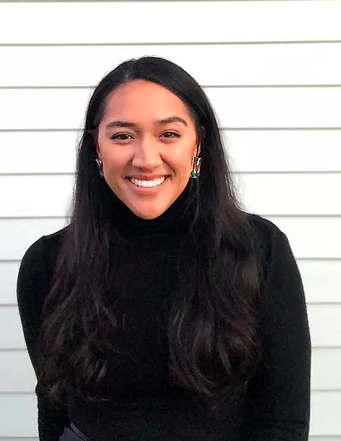 M.S. in Environmental Science, Water & Wetland Resource Studies
Spencer Lone Fight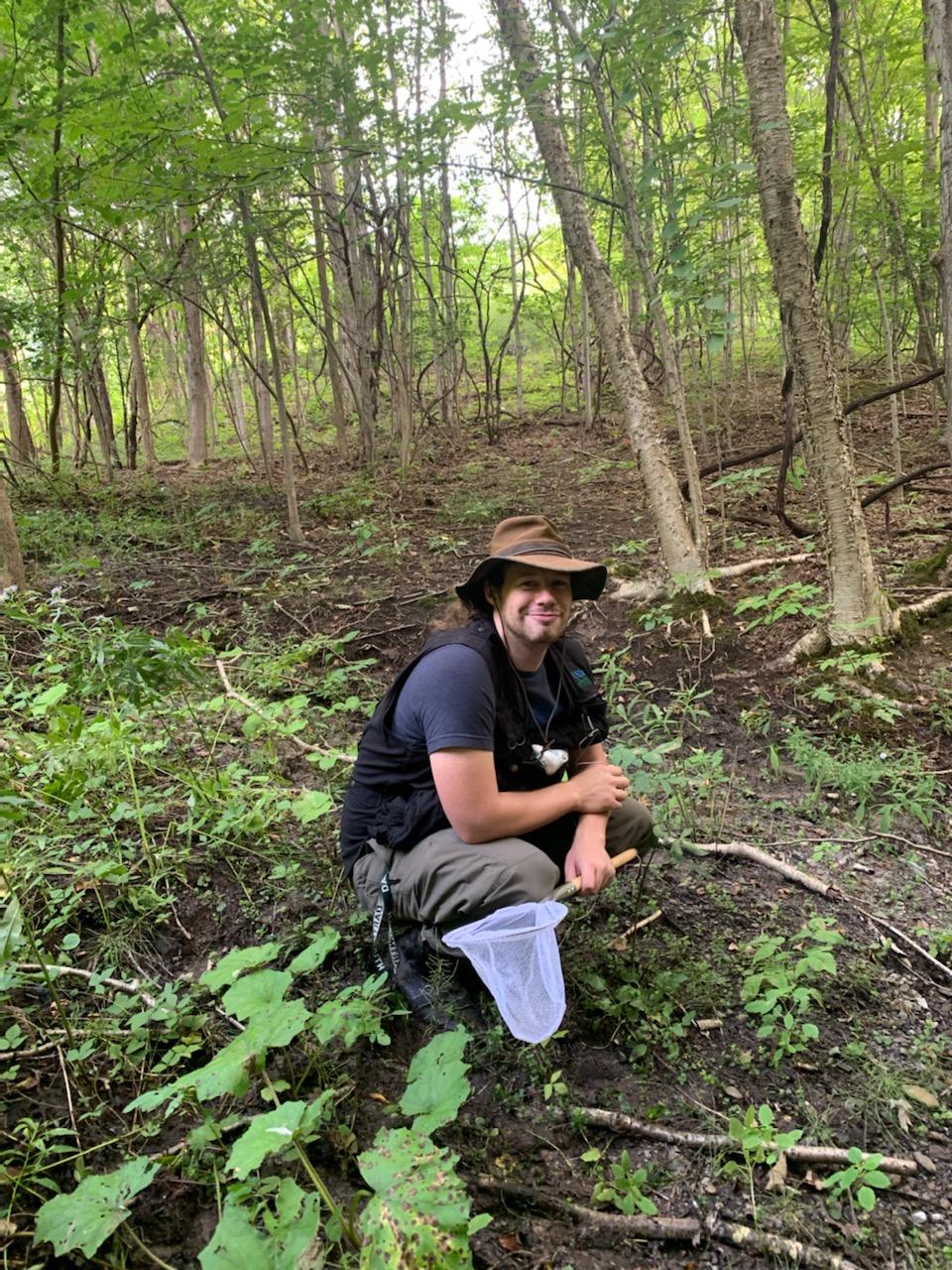 I am a citizen of the Mandan, Hidatsa, Arikara Nation, otherwise known as the Three Affiliated Tribes, on my mother's side and Muscogee Creek on my father's side. My mother is Lisa Lone Fight, and my father is William Harjo-Lone Fight. I have lived on the Sisseton-Wahpeton Reservation, the Wind River Reservation, Chickasaw Nation in Oklahoma, briefly on the Pima reservation, and the Tuscarora Indian Nation. I was a singer for the Wind River Reservation-based "Scout River" drum group, and I dance northern traditional style.
I am also a graduate of Dartmouth College, where I studied International Relations through the Government department and contemporary Indian Country through the Native American Studies program. During my time there I applied the precepts of international relations to the historical and contemporary situations of indigenous people in the United States. Creating detailed analyses were part and parcel of both programs, with my writing ranging from application of Foucaultian philosophy to everyday indigenous lives to military analysis of United States basing options in the Pacific.
I am continuing my education at SUNY ESF where I am pursuing a Masters of Professional Studies in Applied Ecology. Currently, my focus is on the management of invasive species, with special focus on the impact of invasive species on the cultural resources of Native Nations. My goal is to return to the regulatory agencies where I have previously worked and implement TEK-informed policies and work towards the prevention of further invasions and elevating land justice wherever possible.
Stephanie Morningstar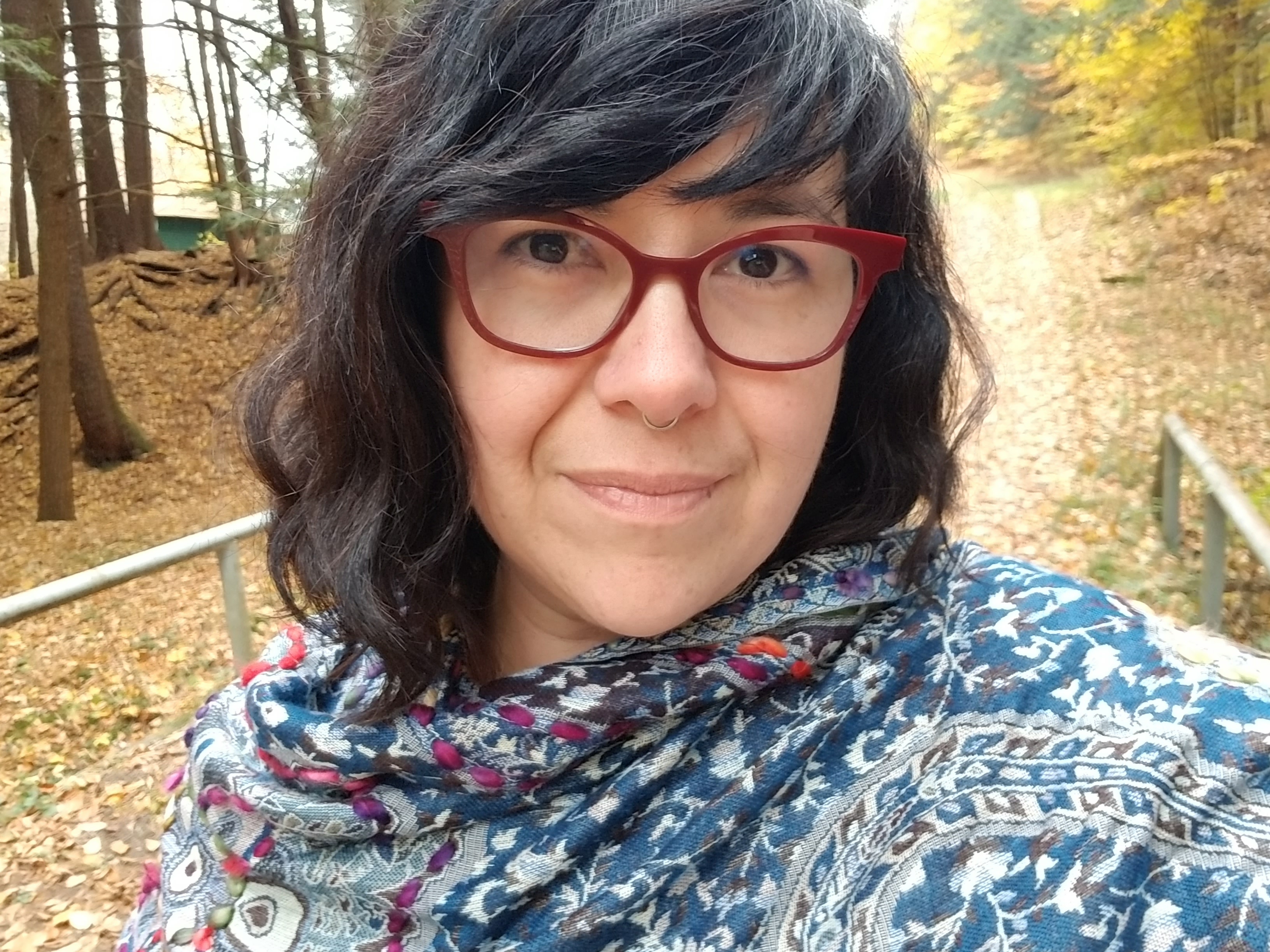 Stephanie Morningstar is Mohawk, Turtle clan with roots in Six Nations of the Grand River and Tyendinaga territories. A PhD student at SUNY ESF's Center for Native Peoples and the Environment, she is focusing her research on Biocultural Re-story-ation of culturally relevant lands. She is an herbalist, soil and seed steward, scholar, student, and Earth Worker dedicated to decolonizing and liberating minds, hearts, and land- one plant, person, ecosystem, and non-human being at a time. Stephanie is the Executive Director and Resources, Relationships, and Reciprocity Co-Director of the Northeast Farmers of Color Land Trust, an organization dedicated to advancing land access for Indigenous, Black, Latinx, Asian, and other land stewards of color. She grows medicines and food with and for her community at Sky World Apothecary & Farm; and teaches about the wonders of plant medicine at Seed, Soil, + Spirit School.
Sloan Indigenous Graduate Alumni
Susannah Howard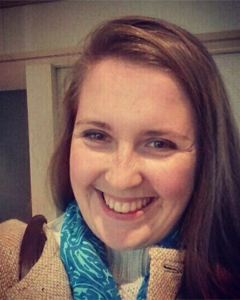 Bozho nikanek, Getsimnajeknwet ndeznekas. Bodewadmi kwe endow. Vermont ne dotchbya. Hello friends, my name is Susannah Howard, and I am a member of the Citizen Potawatomi Nation. I am from Thetford, Vermont located on the western bank of the Connecticut River. In May 2019, I graduated from Smith College (Northampton, Massachusetts) with a BA in Environmental Geosciences and certificate in Native American and Indigenous Studies. During my time at Smith, I had many incredible opportunities to focus on traditional ecological knowledge of Indigenous communities and its mobilization to address environmental problems, especially related to climate change adaptation, including the Citizen Potawatomi Leadership Program, Summer Undergraduate Research Fellowship (Geosciences, Smith College), Smith College's Internship at the Smithsonian Institution (National Air and Space Museum), REU on Sustainable Land and Water Resources (University of Minnesota), and Kahn Liberal Arts Fellowship on Food (Smith College). At SUNY ESF, I am pursuing a MS in Environmental Science, in Coupled Natural and Human Systems. I will be studying how the culturally important plants of the Potawatomi, like Manoomin (wild rice) and sugar maple are and will be impacted by climate change, and how these impacts might be mitigated through intertribal collaborations among the Potawatomi Nations in the future.
Bradley Thomas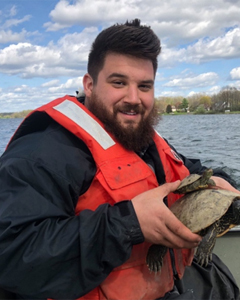 My name is Bradley Thomas, I am a Snipe clan member of the Tuscarora Nation. I graduated from Canisius College of Buffalo NY in the Spring of 2016 with a B.A. in Communications Studies with a concentration in Public Relations. While in school I interned for the Clean Air Coalition of Western New York and the Tuscarora Environment Program of the Haudenosaunee Environmental Task Force. After school I worked as an Environmental Technician for the Tuscarora Environmental Program. Next, I took a position with the United States Fish and Wildlife Service as an Outreach Coordinator for the year of 2019 before coming to SUNY ESF to pursue my Masters in Forestry in the Sustainable Resource Management Department. My focus is on the application of treaty rights on public lands and incorporating cultural needs into resource management plans.
Jade Morning Sky Little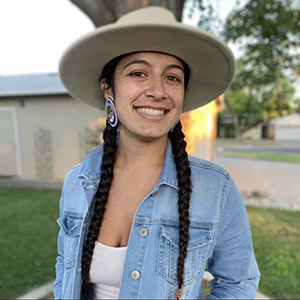 Oglala Lakota, Gabrielino (Tongva), Chicana
Anpetu waste (Good day). My name is Jade Morning Sky Little. I am Oglala Lakota from the Pine Ridge Indian Reservation in South Dakota, Gabrielino (Tongva) from California, and Chicana. I was raised in Palm Springs, CA near the Agua Caliente Indian Reservation. I received my Bachelor's of Science degree in Wildlife, Fish and Conservation Biology with a concentration in Wildlife Health at University of California Davis in 2019. Currently, I am pursuing a Master's of Science degree in Conservation Biology at SUNY ESF. Currently, I am a Sloan Indigenous Graduate Scholar and this program has provided me immense financial and cultural support in my academic pursuits at ESF.
First and foremost, I would like to acknowledge my place within my graduate research. My research will focus on the area of Fellows Falls, which resides on Onondaga ancestral lands. As an Oglala Lakota and Tongva woman, and as an Indigenous graduate student at SUNY ESF, it is very important for me to acknowledge the early and continuing caretakers of this land. Within this project, I will advocate my inclusion by sharing my identity to help convey the importance of Place-based Knowledge and to recognize those who came before me and the knowledge I will learn from this academic opportunity.
My research will document the historical ecology of the plant community at a local landscape and waterscape (i.e. Fellows Falls in Tully, NY) and I will analyze the current plant biota in order to construct a biocultural restoration plan that addresses the ecological and cultural goals. The purpose of this project is to not only address the biocultural management of Fellows Falls, but also the cultural ties to Fellows Falls, specifically, the Onondaga Nation. Fellows Falls is one of many areas of Onondaga ancestral lands that have been impacted by salt mining and there is significant displacement from this place. My thesis will not only help strengthen Indigenous methodologies and cultural knowledge within academic literature, but also help advocate for Onondaga connections to land and how these connections are fundamental and indispensable to the final decision of property ownership and the environmental management of Fellows Falls.
Wopila.
Kawainohiaakalani Navares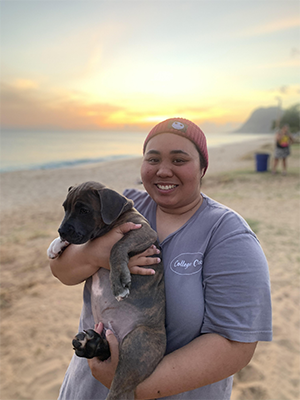 Aloha mai my name is Kawainohiaakalani Navares. I was born and raised on the Island of Oahu. I completed my undergrad at Humboldt State University graduating with a Bachelors of Science in Forestry and Soil Science, and a double minor in Geospatial Analysis and Indigenous Peoples, Natural Resource Use and the Environment. I started my graduate work at SUNY ESF in Forest Pathology and Mycology working under Thomas Horton. I have done a lot of work in restoration in the Hawaiian Islands, I worked with Kupu in the Koolau Mountains, removing invasive Manuka along the hillside, outreach teaching youth how to conduct Opae Ula population samples, restoring cultural sites, and educating people on the different cultural practices. I worked as a University of Hawaii, Hilo intern in the Spatial Data Analysis Lab monitoring the effect of topography on lava movement in the kilauea volcano. I was using the TEK of the area and combining it with the scientific data from the remote sensing monitoring, to create a volcanic eruption response and education system to help residents living near shield volcanoes, about evacuation and emergency preparedness.
Biidaaban Moses Reinhardt
Boozhoo (Greetings), my name is Biidaaban Moses Reinhardt. I am an Anishinaabe Ojibwe woman, a citizen of the Sault Ste. Marie Tribe of Chippewa Indians, and am from the Upper Peninsula of Michigan. I received my Bachelors degrees in Native American Studies and Physics from Northern Michigan University, and graduated from SUNY ESF with a Masters degree in Sustainable Construction in August 2020. My thesis research focused on traditional ecological knowledge and experimental design in contemporary building materials in the Great Lakes Region. After graduation, I was a Climate Justice Rural Fellow for MEJC Action in which I completed a media project highlighting environmental justice concerns for Michigan tribes. Currently, I work full-time as the Environmental Justice Organizer with We The People Michigan, where I am fighting for clean water and energy justice. Lastly, I am a freelance graphic designer with Williamson Creative Agency where I have led the creative concepts and graphic design for various organizations, events, and conferences such as the Native American Critical Issues Conference for five years with the Michigan Indian Education Council.
Mariah Gladstone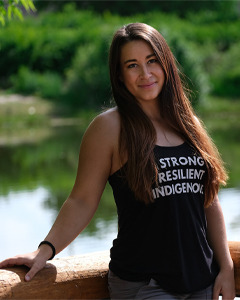 Oki, my name Mariah Gladstone. I am Amskaapi Pikuni, Kainai, and Tsalagi and was raised in Northwest Montana. I graduated from Columbia University with a degree in Environmental Engineering and returned home where I started an online cooking show called Indigikitchen. I am passionate about sustainability and completed a service term through Energy Corps where I helped write a Climate Action Plan for the City of Whitefish. My work has been recognized me as a "Champion for Change" through the Center for Native American Youth, a "Culture of Health Leader" through the Robert Wood Johnson Foundation, and a Grist 50 "Fixer." I am currently on the board of the Native Youth Food Sovereignty Alliance (NYFSA). I am pursuing my M.S. in Environmental Science with a concentration in Coupled Natural and Human Systems.
Frequently Asked Questions
Interested in the Sloan Foundation Indigenous Graduate Partnership at SUNY ESF? Here are answers to Frequently Asked Questions.
Questions? Interested in learning more? Please email us at cnpeinfo@esf.edu. CNPE staff will respond as quickly as possible.
The Sloan Indigenous Graduate Partnership (SIGP) is a scholarship program funded by the A.P. Sloan Foundation to support Indigenous (Native American, Alaskan Native, Native Hawaiian) graduate students pursuing degrees in science, technology, engineering or mathematics (STEM) with the intent of increasing the number of Indigenous Americans earning master's and doctoral degrees in STEM disciplines. For more information,
click here
.
You will become part of a prestigious nationwide network of Indigenous scholars, with the benefits of mentoring and community connection, in support of higher education in STEM. The benefits of participation in the SIGP include: tuition waiver from SUNY ESF, a stipend, health insurance, research experience, professional development opportunities, faculty mentorship, and networking with a community of
current and former SIGP awardees
.
Enrollment in an approved STEM field program, submission of an annual spending plan and expenditure report, submission of an academic report at the conclusion of every semester of enrollment, and timely completion of the graduate degree. SIGP scholars at SUNY ESF participate in a weekly seminar offering academic and professional development and enjoy a supportive mentoring environment with a lively cohort of other Sloan scholars.
Students of Native American, Alaskan Native or Native Hawaiian descent who meet SUNY ESF's graduate admissions criteria and want to pursue an M.S. or Ph.D. in a STEM (Science, Technology, Engineering and Math) field. Please reach out to CNPE staff with additional questions.
Yes. Masters students will receive a tuition waiver and a stipend of $18,000 per year of enrollment up to three years. PhD students receive the tuition waiver, a full Graduate Assistantship (teaching or research) at SUNY ESF during every semester of enrollment up to four years, and a total of $40,000 over the course of their program.
SUNY ESF accepts applications for both fall and spring semester matriculation. The official SUNY ESF deadline for fall semester applications is January 15, and November 1 for spring semester applicants. However, the deadline for the SIGP is more flexible. We encourage potential applicants to reach out to the CNPE in advance of submitting their completed applications.
Application information for all SUNY ESF graduate programs is available
here
. Please indicate on your application that you're interested in the SIGP. Additionally, please reach out to Dr. Robin Kimmerer at
rkimmer@esf.edu
and cc
cnpeinfo@esf.edu
so we can also discuss your specific areas of interest and guide you to the most appropriate graduate advisor.
The first criteria for selection is acceptance to the
SUNY ESF Graduate School
. Acceptance to ESF is based upon a number of factors, including undergraduate GPA, GRE scores, and relevant professional and life experience.
While there is a minimum GPA for admission, the graduate dean can exercise discretion with respect to individual applicants, and the GRE requirement can be waived upon request. SUNY ESF considers the whole person in making admissions decisions!
Additionally, all prospective applicants to the SIGP qualify for an application fee waiver. We strongly advise prospective applications to reach out to Dr. Robin Kimmerer with questions
Yes. Once you have been accepted to the Graduate School, you will be asked to complete a supplemental essay question. This essay, in addition to a phone interview with Dr. Kimmerer, will inform the selection process for Sloan scholars.
As a SIGP scholar at SUNY ESF, you will work closely with the staff and faculty affiliated with the Center for Native Peoples and the Environment (CNPE). The CNPE brings together a strong and diverse team of STEM faculty with experience in mentorship, research and teaching with Indigenous students. Affiliated faculty members contribute to the CNPE under the direction of indigenous scholars Dr. Robin Wall Kimmerer (Citizen Potawatomi; SUNY Distinguished Teaching Professor) and Assistant Director Neil Patterson (Tuscarora; Scientific Co-chair, Haudenosaunee Environmental Task Force)
Students entering the program may select from any of the 40 graduate STEM programs at ESF. Upon matriculation, they will participate in all of the Graduate Student Orientation programs offered by the College. In addition, all SIGP students will become part of the CNPE mentoring group, including faculty and staff mentors, peer mentors and Indigenous community partners. Sloan students will also enroll in a weekly Sloan seminar that provides social and cultural support, integration of Indigenous and scientific knowledges, leadership opportunities, academic skills support, and professional development experiences. The cohort experience will begin with a retreat at one of SUNY-ESF's Adirondack field stations to provide an initial cohesive experience for students and mentors. This retreat will introduce the ecological and cultural landscape which students will inhabit during the graduate program, and begin to cultivate a sense of place and belonging which supports student success. Finally, the SIGP program will facilitate ongoing cultural connection between students and the Onondaga Nation, located just a few miles from campus.
SUNY ESF is the nation's leading STEM institution devoted entirely to the science of the environment, from conservation biology, forest management, ecology, and conservation biotechnology to bioprocess engineering and sustainable energy solutions. Graduate students may enroll in one of 40 different programs of study (see next question for more details). In addition to the wide array of STEM courses available, the CNPE has developed a suite of courses specifically designed to meet our goal of attracting and supporting Indigenous students. ESF students also have free access to the entire course catalog at Syracuse University, which includes an Indigenous Studies program.
SUNY ESF offers more than 40 M.S. and Ph.D. programs in STEM fields. Eligible departments include: Chemistry, Environmental Biology (formerly known as Environmental and Forest Biology), Environmental Resource Engineering, Environmental Science, Sustainable Resources Management (formerly known as Forest and Natural Resources Management), and Chemical Engineering (formerly known as Paper and Bioprocess Engineering). For a complete listing of degree programs, please see
The Graduate School website
.
The mission of SUNY ESF's
Center for Native Peoples and the Environment
is to become a national leader in education, research and outreach that integrate the wisdom of indigenous knowledge and the tools of scientific knowledge, in service to sustainability. Building upon a decade of collaboration with indigenous groups for research and educational outreach, the CNPE was officially established eleven years ago. Since that time, the CNPE has grown considerably. We now offer a College-wide minor, eight courses, a graduate curriculum and have attracted more than $2 million in extramural grant support from both federal and philanthropic sources. We are actively involved in research, education and outreach. In 2018, the CNPE received a NYS legislative appropriation to serve as an environmental liaison between the NYS Department of Environmental Conservation and the Indigenous Nations in NY, creating additional opportunities for our students and collaborators.
Because Sloan Scholars are admitted in annual cohorts of 4-5 students, the community ranges from first year graduate students to those nearing degree completion. Students associated with the CNPE also come from ally communities and represent a wide range of interests and perspectives. We're proud of their achievements and career success. Among our Indigenous alumni are the manager of a tribal nursery, environmental educator for the National Park Service and tribes, a PhD student in forest management, a hydrologic engineer, coordinator for the Northeast Climate Science Center, an intern at the former White House Council on Environmental Quality, a Doris Duke Conservation Fellow, and a member of the EPA Tribal Science Forum.
In addition to SUNY ESF, other university members of the SIGP include: UNC-Asheville, University of Alaska-Fairbanks, University of Alaska-Anchorage, University of Arizona, University of Montana, Montana State University, Montana Tech, and Purdue University.
Founded in 1934 by industrialist Alfred P. Sloan Jr., the
Alfred P. Sloan Foundation
is a not-for-profit grantmaking institution that supports high quality, impartial scientific research; fosters a robust, diverse scientific workforce; strengthens public understanding and engagement with science; and promotes the health of the institutions of scientific endeavor.
Tips on reaching out to potential advisors
Successful admission to the Graduate School at SUNY ESF depends in part on identifying a graduate advisor—called a "Major Professor" in ESF lingo—who is willing to work with you throughout your graduate program. Thus, an essential part of applying for admission to SUNY ESF involves researching potential advisors and reaching out to several faculty members who seem like they might be a good fit as your Major Professor. It is essential that you make this connection, and come to an agreement with a potential advisor *BEFORE* submitting your ESF application. Your application will not be considered if you do not have a Major Professor who has agreed to work with you.
The process of identifying and connecting with potential advisors can be daunting. Here are a few tips.
First, find the program(s) that most closely aligns with your interests. This will require identifying both a department (for example, Environmental and Forest Biology) and an Area of Study (for example, Conservation Biology). Make sure that the type of degree you are seeking (PhD or MS) is available in the Area of Study you have selected.

Once you have located an Area of Study, skim through the bios of affiliated faculty members. Your MP must be affiliated with your chosen Area of Study. While skimming bios, ask yourself: does this professor's research projects sound like once I would want to work on?

After you have identified 2-3 potential Major Professors, it's time to reach out and introduce yourself. Remember, this email is most likely your first interaction with a prospective advisor. You should use a formal style, addressing the professor as "Dr. X." Key pieces of information to include about yourself include: your academic background, the name of the program you're interested in, any prior research or relevant professional experience, and a sentence or two about why you think Dr. X would be a good fit as your advisor.

In this email, you should clearly ask if Dr. X is accepting new advisees. You should also mention that you are applying to the SIGP, and that if accepted you would be funded through the SIGP. This is very important - many faculty members have limited funding for graduate students, and will be more likely to agree to work with you if you have access to funding through a different source. If the faculty member is unfamiliar with the SIGP, please direct them to contact the CNPE staff.

The best introductory emails will reflect your familiarity with Dr. X's work (for example, referring to their current research projects or past publications) and will also demonstrate that you have given considerable thought to your own goals and interests related to graduate study - the more specific you are able to be, the better. For example, it is preferable to write, "my summer internship with the US Forest Service has led me to be interested in researching tribal co-management of forests" than "I am interested in learning more about environmental management."

While this may seem like a lot of information, try to keep your introductory email brief. If you don't receive a response within 1-2 weeks, it is appropriate to send a follow-up email expressing your interest once again. If you don't receive a response to this 2nd email, consider reaching out to other prospective MPs.

Once you have received a positive response from a potential MP, you can set up a time to talk on the phone - or you can send a longer email with more details about your background and research interests, and more questions for your potential advisor. At this point, you should ask questions that will help you figure out if this potential MP is a "good fit." This is a very subjective determination, and will require you to reflect on what qualities are most important to you in an advisor. Are you most interested in alignment of research interests and opportunities? Or are the personal qualities of your advisor more important to you? Remember that your MP is someone with whom you will work closely over the course of several years!

At this point in the process, you may also want to speak with other current or former students who have worked with Dr. X. You can ask Dr. X to put you in touch with their advisees, or you can ask staff at the Center for Native Peoples and the Environment for their assistance.

Although the process of communicating with potential advisors is time consuming, you should try to speak with at least 2-3 potential MPs before coming to a decision about who you would like to work with. This person, and your relationship with them, will greatly impact your experience in graduate school. While it is possible to change advisors, this process can be time-consuming and stressful - it's definitely better to invest time and energy upfront to find someone with whom you're going to be able to work well.

Once you have decided on a potential MP who seems like the best fit, you should communicate that preference explicitly, and ask if it's ok that you list this person as your first choice MP in your graduate application.

Remember to thank all the faculty members you speak with for their time!

If you have more questions, please reach out to CNPE staff.
Program Photos