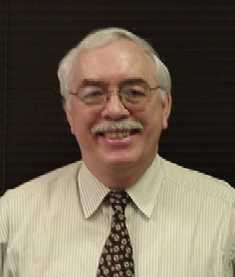 H. RALPH RAWLS Professor of Biomaterials

Head, Division of Biomaterials, Department of Restorative Dentistry, Univ. of Texas, Health Science Center at San Antonio Ph.D., Physical Chemistry, Institute of Molecular Biophysics, Florida State University . Research Career Development Award for Caries and Restorative Materials Research from the National Institute of Dental Research. Research Interests:

Current research interests include innovations in dental restorative resins; e.g., non-shrinking resins, radiopacifying additives, nanoparticle fillers, toughened structures; adhesion and surface effects of biomedical polymers; development of coatings for human skin and/or synthetic materials that provide protection as a barrier and/or microbe inhibition and biofilm reduction; and microencapsulated and controlled release systems for biomedical applications.

Selected Publications:

"Thermomechanical investigation of poly(methyl methacrylate) containing an organobismuth radiopacifying additive," Rawls, H.R., Granier, R.J., Smid, J., Cabasso, I., J. Biomed. Materials Res. 31, 339-343 (1996).

"Development of a new photoinitiation system for dental light-cure composite resins," Park, Y.-J., K.-H. Chae and H.R. Rawls, Dental Materials, 15, 120-127 (1999).

"Radiopacity of tantalum oxide nanoparticle filled resins," Chan, D.C.N., H.W. Titus, K.-H. Chung, H. Dixon, S.T. Wellinghoff and H.R. Rawls, Dental Materials , 15, 219-222 (1999).

"Fluoride ion binding and adsorption affinity of polyelectrolytes," Rawls, H.R., I. Cabasso, B.F. Zimmerman and K.B. Lescale, Colloids & Surfaces, 26, 98-100 (1987).

"Dental Materials Related to Prevention: Sustained Delivery of Fluoride and Other Therapeutic Agents," Rawls, H.R., Adv. Dent. Res., 5, 50-55 (1991).

"Cytotoxicity Evaluation of a Radiopaque Resin Additive - Triphenyl Bismuth," Rawls , H.R., M.V. Marshall, H.L. Cardenas, H.R. Bhagat and I. Cabasso, Dental Materials, 7, 8, 1-7 (1992).

"Esthetic materials: the role of active agent sustained-release. Symposium on Esthetic Restorative Materials," Rawls, H.R. and Norling, B.K., Am. Dent. Assoc ., Chicago, 130-135 (1993).

"Evaluation of fluoride-releasing dental materials using in vitro and in vivo demineralization models," Rawls, H.R., Adv. Dent. Res ., 9, 324-331 (1995).

"Low shrinkage resins from liquid crystal diacrylate monomers," Rawls, H.R., Wellinghoff, V.T., Norling, B.K., and Wellinghoff, S.T., Am. Chemical Soc. Polymer Preprints (1997).
( for more information: www.adrs.org and: www.uthscsa.edu/faculty/rawls.html )