Douglas G. Dellmore
Retired business entrepreneur supports ESF student research

Posted January 2013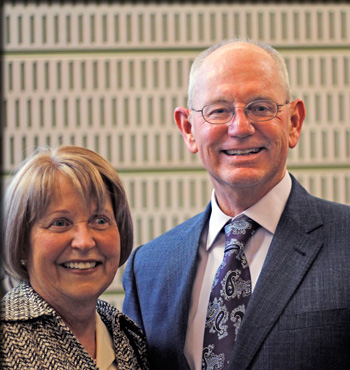 Combining business and environmental responsibility has been a lifelong mission for Douglas G. Dellmore '68.
Dellmore, a wood products engineering graduate, created several companies focused on producing environmentally friendly products and services during his career. Now he is generously supporting ESF's next generation of environmental innovators.
Knowing the benefits of an ESF education first hand, Douglas and his wife Dana began providing guidance and financial support to expand the ESF Honors Program in 2011.
"It's a focused way to try and assist students who are competitive and motivated to do the good things that are needed in the world," Dellmore said. The Dellmores believe that the special opportunities offered through the Honors Program can increase students' motivation to explore important concepts and undertake related research before entering the real world.
Their support has had an immediate, transformative impact on ESF students and the program as a whole. With the Dellmores' support, funding is now available to support student internships and help with the special costs associated with conducting thesis research.
"If you reward something, you get more of it," said Dellmore. ESF's Honors students, he observed, have an unusual degree of maturity and desire to excel and do something important.
In 2012, eight ESF undergraduate Honors students were funded to pursue internships at prestigious organizations in the U.S. and abroad. The Dellmores' financial support also enables these students to participate in national undergraduate research conferences to share the results of their work and to network with their peers from institutions across the country.
Before he retired as a successful international business entrepreneur, Dellmore established a company based on the technology and business of building and supporting seawater desalination plants for use on offshore drilling and production platforms worldwide. This technology is not only used to produce potable water for those working on the platforms, but also in oil production. Dellmore's company has contributed greatly to the efficient and economical production of oil in harsh offshore environments. The company is now owned and operated by ITT Industries as part of its fluids handling business group.
Dellmore also led a number of business ventures involved with a unique product - coconut fibers and pith of the coconut husk - grown in Sri Lanka and other southeast Asia countries. For many years, these products were underutilized byproducts of coconut production. Dellmore's company helped to greatly expand the production of activated carbon made from coconut shells. Activated carbon is used in numerous applications including water and wastewater purification, air and industrial fluids filtration along with chemical, biological and nuclear protection devices. Dellmore helped develop the U.S. markets for these coconut-based products and in turn helped improve the economy in Sri Lanka. He worked for more than 20 years developing products from coconut production byproducts.
He is the co-holder of a patent for the combination of coconut pith and sphagnum peat moss for use as a plant growing medium. Developed in collaboration with the Scotts Company of Columbus, Ohio, the process is used in the production of professional potting soils. Scotts now uses the coconut fiber pith material in some of its best known consumer products. Gardeners nationwide who use Scotts, Miracle Gro, Moisture Control Potting Soil, appreciate the special moisture holding properties of their potting soils thanks to coconut fiber pith.
Dellmore was presented with the ESF Alumni Association's Lifetime Achievement Award during 2012 December Convocation ceremonies.
ESF Alumni Have an Impact