Ronald J. Eby, Ph.D.
Renowned researcher

Posted January 2008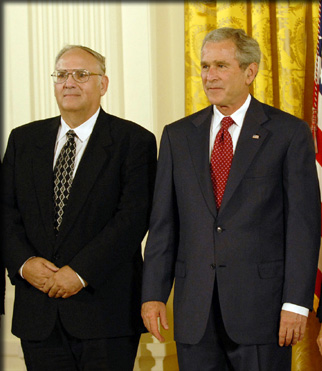 Dr. Ronald Eby, an ESF alumnus, is a renowned researcher who has helped safeguard the health of children worldwide by developing vaccines formulated specifically for children. He was recently honored for his work with the National Medal of Technology presented by President Bush.
Eby's work in the field began in 1965, when he enrolled at ESF as a chemistry major. He studied carbohydrate chemistry under the late Dr. Conrad Schuerch.
"I was interested in medicine, especially in medical research. I got hooked on carbohydrate chemistry because of the medical possibilities," Eby said.
Eby received three degrees from ESF, starting with a B.S. in 1969 and ending with a Ph. D. in 1974.
Upon leaving ESF, Eby went to work with Praxis Biologics in Rochester, N.Y., where he worked on a vaccine to fight Haemophilus influenzae. This work became the HIB-titer vaccine required for all children prior to enrolling in elementary school. The vaccine erased the disease from the population and saved the health industry millions of dollars in medical costs.
Next, Praxis targeted another disease of the young and geriatric populations, Streptococcus pneumoniae. Eby and his team went to work developing a vaccine, Prevnar, which would become the most efficacious vaccine ever developed. It has become a model for Wyeth (which acquired Praxis Biologicals) and other pharmaceutical companies, as the ideal system in engineering a vaccine. According to the World Health Organization, before the introduction of Prevnar, more than 1 million deaths of children under the age of 5 were blamed on the disease that Prevnar has all but eliminated.
Eby is also credited for developing the techniques vaccines use to be effective in babies since infants have immature immune systems.
For these advancements in pediatric medicine, Eby received the National Medal of Technology, the nation's highest honor for technological innovation. The award was bestowed by President Bush at the White House in July 2007.
Eby's team has received other honors for the Prevnar work, including the 2005 Discoverer's Award from the Pharmaceutical Research and Manufacturers of America and the 2003 Heroes of Chemistry Award from the American Chemical Society.
"Some might say we were lucky in discovering, scaling up and manufacturing the Prevnar vaccine," Eby said after the White House award ceremony. "But as the Roman philosopher Seneca said, 'Luck is what happens when preparation meets opportunity.'"
ESF Alumni Have an Impact