Scott Fonte
Director of aquaculture for Aqua Vita Farms

Posted January 2013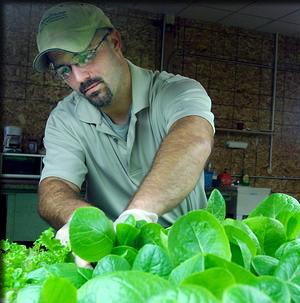 Scott Fonte ERE '02 was losing interest in his job and he was tired of being confined to an office every day. So he quit.
The departure from his cubicle job led Fonte to help start Aqua Vita Farms in Sherrill, N.Y., an aquaponic facility that provides fresh, local, sustainable produce and seafood year-round.
Aquaponics is a growing method that combines traditional hydroponic plant farming with fish farming. When the fish produce waste, the water is pumped through the planting area, delivering nutrients to the plants and cleaning the water in one step. The water is then returned to the fish-growing tank, where the process is repeated.
According to Fonte, the farm's director of aquaculture, the process is simple. "We feed the fish, the fish feed the plants, the plants clean the water," he said.
Along with reducing or diminishing the need for fertilizers, this method could be part of the solution to the world's food shortages, Fonte said.
"To address our global food needs, people need a protein source and we can't continue to harvest fish and seafood from the oceans at the rate we are," he said. "It's just not sustainable."
While brainstorming about how to create his aquaponic vision, Fonte happened to cross paths with a former roommate who was making a business plan for an aquaponic facility. With their collaboration in full swing, Aqua Vita Farms was established.
In May 2011, Fonte and his colleagues began work to transform a former Civil War-era manufacturing facility into the state-of-the-art growing operation in place today. Fonte said the system at Aqua Vita Farms is more sustainable than traditional recirculating aquaculture systems or hydroponic growing because of the drastic reduction in water usage and petrochemical inputs. Typical aquaculture requires that at least 10 percent of the water in each tank be replaced every day. The nutrient-rich water must be treated and discarded, which requires a high-energy input, he said. In typical hydroponic systems, petrochemical fertilizers or expensive organic alternatives are needed to grow plants, Fonte said.
"By coupling the hydroponic system with recirculating aquaponics, you allow the system to operate without mass water intake and outtake and you remove the need to use petrochemicals," he said. "The plants are also getting a more robust and organic food and nutrient source from which to grow."
Aqua Vita Farms uses blue gill sunfish because of their tolerance of cold water. The lettuce and other greens grown at the facility need to grow below 72 degrees, which is too cold for other common fish used in aquaculture, such as tilapia, Fonte said.
The facility is currently growing sweet basil, 11 varieties of lettuce and six types of greens, including sorrel, mizuna, arugula and Chinese spinach. The produce is sold wholesale to Carlo Massi & Son's Produce in Utica and Guitna's Produce at the CNY Regional Market, as well as to Turning Stone Casino in Verona. Fonte said customers are happy with the product because it's grown locally so it stays fresh longer than produce shipped from across the country.
"Most lettuce mixes that are consumed on a large scale aren't local, they are from California and Mexico," he said. "By time they get to the plate they are eight to 10 days old."
Fonte said his time at the College laid the groundwork for his current endeavor.
"Everything I learned in college, especially in the engineering program helped," he said. "They don't teach you facts, they teach you how to think and that's the mark of a good engineering department."
ESF Alumni Have an Impact