Mary Gifford
International Experience

Posted January 2013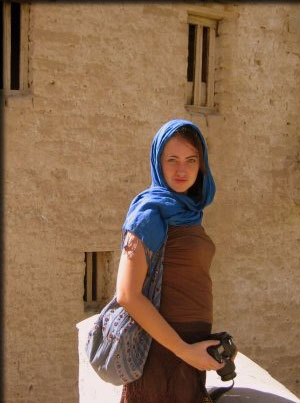 "Growing up, I romantically envisioned that I would become the next Jane Goodall, travel to Africa and study chimps all day," said Mary Gifford ERFEG '05.
That dream brought Gifford from her home outside Albany, N.Y., to ESF because her college search had shown her that faculty members at the College immerse themselves in science and apply their work to real-world problems. Once Gifford started her studies, her interests in engineering piloted her into ESF's Department of Environmental Resources and Forest Engineering.
"I not only learned scientific and environmental issues from great teachers, but had a lot of 'hands-on' education. ESF instilled into me a confidence that I could do things I never dreamed of," she said.
Gifford received the ESF Community Service Award and was twice the recipient of the ESF Maple Leaf Award in recognition of her service to the College community. She is a founding member of the ESF chapter of Engineers without Boarders and, as part of her work with that group, organized service trips to the Commonwealth of Dominica and Honduras.
She has also garnered impressive honors off campus: the Young Scientist Scholar from World Knowledge Dialogue and the Hans Bockler Stiftung Fellowship. She was listed among Notable Young Alumni by Forbes in 2009.
In just a few months after graduating from ESF, Gifford had begun working on domestic climate change policy with the United Nations. She has since traveled to more than 15 countries and she is attending two universities at the same time and teaching.
Her first job after college was working for the chairman of the Intergovernmental Panel on Climate Change (IPCC) for the United Nations in India, which gave Gifford the opportunity to travel. "I mostly presented papers I had written to conferences, but also attended the United Nation events like the Conference of Parties," she said. The Conference of Parties meets every two years, when all the signatories of the Kyoto Protocol meet to debate and discuss issues regarding climate change.
Gifford is currently back at school, working on her M.S. and Ph.D. at the same time from two universities on different continents. "I knew if I wanted to continue to work internationally, particularly with the United Nations, a Ph.D. from a foreign university was required," she said.
She is working on her M.S. through the University of California, Berkeley, and her Ph.D. thorough the Potsdam Institute for Climate Impact Research in Berlin, Germany. In her Ph.D. program, she has an opportunity to advise the chancellor of Germany and the European Union on climate change policy.
"I have been able to leverage my work to gain unique knowledge. I hope to be able to apply this knowledge to understand ways in which nations can work together in the future," Gifford said.
"I am currently working on ways funding can be channeled into countries in South Asia to fund green energy while providing much-needed income and social support for more than two billion people who make less than two dollars a day," she said in describing her thesis, which is titled, "The Partnership of Microfinance and Renewable Energy in Rural India."
"My favorite country has been India, mostly because it is so dramatically different than western countries," she said.
On top of writing her thesis, Gifford is teaching a class at Berkeley called Rural Energy Systems, in which students discuss the implementation and financing of energy projects in poor countries and she was recently an expert reviewer for the IPCC special report for renewable energy. When her higher education is finished, Gifford plans to work for an investment firm or social-venture business that focuses on funding green energy development in underdeveloped countries.
ESF Alumni Have an Impact