Scott Kasprowicz
Broke circumnavigation record - One stock helicopter, two guys, 15 countries, 24 time zones, 23,000 miles, in less than two weeks.

Posted December 2008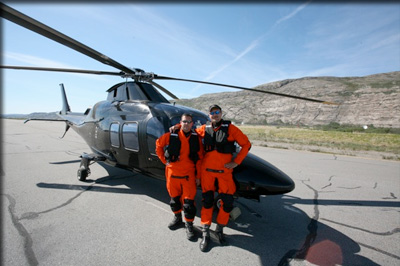 When he was a student at ESF, E. Scott Kasprowicz possessed a widely known love of flying but his studies kept him from getting a lot of airtime. Thirty years later, he made up for lost time when he broke the record for circumnavigating the earth by helicopter.
Kasprowicz, a 1978 graduate of the forestry program, and his co-pilot, Steve Sheik, completed their journey in 11 days, seven hours and two minutes, beating the old mark by nearly six days.
Plans for the flight began three years ago when Kasprowicz ordered the AgustaWestland 109 Grand helicopter from an Italian factory.
"I started looking at its capabilities in greater detail," Kasprowicz said. "And I realized that it was a wonderful platform for attempting some world records."
Kasprowicz and Sheik left New York City Aug. 7, 2008. They flew east, crossing the Atlantic Ocean, flew over Europe and Russia to Alaska and Canada, and then came back to NYC. Kasprowicz did most of the flying while Sheik handled the flight plan and navigating.
The pair flew 12 to 13 hours a day during the 14-day trip, resting only at night. The team had to stop more than 70 times to fuel the helicopter, with a typical stop lasting 10 to 30 minutes. An "overnight" stop was two hours.
Keeping his ESF spirit close to his heart, prior to the flight Kasprowicz said, "I will be wearing my ESF T-shirt under my flight suit and when we're not flying."
"Scott's love of flying was well established by the time he got to college," said classmate and friend Chris Sandstrom of Elbridge, N.Y. "The problem was a heavy class load kept us from getting a lot of airtime."
Sandstrom said Kasprowicz found a way to get more flying time and a way to beat Washington, D.C., area traffic by buying a helicopter.
Kasprowicz drew on his ESF education to prepare for the flight.
"Junior and senior year at ESF, most of the work that was done was on a team basis," he said in an interview with the Daily Orange, Syracuse University's newspaper. "I think preparation and the ability to reason was something we did, and that's very important in planning a mission like this."
Kasprowicz is the former deputy secretary of transportation for the Commonwealth of Virginia; co-founder of Nuride, Inc., which promotes ride sharing, and founder and former CEO of Texel Corporation, a worldwide technology services company. His first job after graduating ESF was as a procurement forester with Weyerhaeuser Company.
Kasprowicz established the E. Scott Kasprowicz Scholarship for landscape architecture students focusing on community design and planning. More information about Kasprowicz's record-breaking flight can be found here.
Syracuse University student Shayna Meliker conducted the Q&A session with Kasprowicz for The Daily Orange, SU's student-run newspaper.
On how he got into aviation: "It was my family history. I come from a family of aviators, both military and commercial pilots. I have flown since my teens. And I love to fly, very simply."
On what ESF was like 30 years ago: "It was a little microcosm in the midst of a university. We had the unique benefit of having a small, very cohesive group within our own little realm of Syracuse University. It was a great place."
On how ESF prepared him for his career: "Junior and senior year at ESF, most of the work that was done was on a team basis. I think preparation and the ability to reason was something we did, and that's very important in planning a mission like this."
On the most interesting place to fly over: "Flying through Siberia perhaps was the most significant part of the trip for me. I've flown everything on this trip before, except through Russia. There's no other way to describe it - it's just vast. It goes on seemingly forever, and it puts other large landmasses like Alaska in a different perspective. "
On seeing the world from a helicopter: "It's interesting, because it gives you a very unique perspective. The northern latitudes, which we covered in this mission, are remarkably unpopulated in comparison to the world in which we live. You could fly for many, many hours, and there's just no sign of human habitation on Earth."
On another world record attempt: "It was a great mission, and I would consider trying other records. I don't have anything else lined up yet, but I certainly wouldn't hesitate to jump back in a helicopter."
On what his family and friends thought: "I guess it's kind of keeping with the way I've lived. Taking a chance is kind of a characteristic I have. So I don't think it came as a great surprise, and they were very encouraging."
On what he ate while in flight: "We had a couple meals outside the helicopter. Mostly we ate granola bars, nuts, prepackaged fruit drinks and chocolate milk. The kind of things you'd normally take backpacking."
On the most memorable moment: "Touching down at La Guardia, having broken the record. Our fatigue at that point - it was just very difficult to stay awake. We were running on adrenaline. It was a beautiful day, and there was a crowd to greet us at 10 in the morning. Our goal was to do it in 13 days. We did it in 11.
Portions of this story were provided by The Daily Orange, Syracuse University's student newspaper.
ESF Alumni Have an Impact