Jeff Lyng
Colorado Governor's Energy Office

Posted May 2008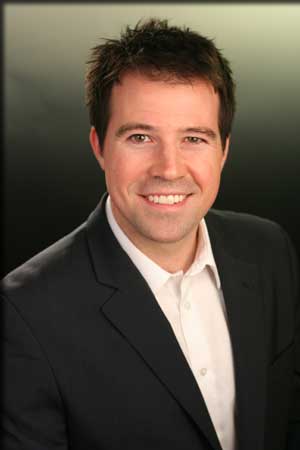 "Remember what you mother told you; You have to eat your energy efficiency vegetables before you have your renewable energy dessert."
This is the message ESF alumnus Jeff Lyng is imparting to the citizens of Colorado as part of his job in the Governor's Energy Office (GEO).
As the commercial building and solar program manager, Lyng's mission is to reduce the energy intensity of Colorado's built environment and to incorporate renewable distributed energy generation whenever possible.
Lyng has the right background for the task. As an undergraduate student at ESF, he studied systems ecology under Dr. Charles Hall. Learning about the severity of the energy problem in the United States helped Lyng find his calling.
"Charlie Hall played a huge role in shaping my perspective on energy consumption and educating me on the principles of energy return on investment (EROI)," he said. "I came out of ESF with a sense of urgency and a bias toward action."
His "ah-ha moment" came soon after graduation while tracking salmon migration along the Columbia River. It was here he saw the impact that hydroelectric dams have on the environment.
"We were facilitating the passage of salmon through the hydro dams and I realized that energy and demand is what's driving so much environmental destruction. "To have a bigger impact I had to plug in where I could be directly mitigating the need for electrical energy."
This revelation took him to the University of Colorado, where he earned his master's degree in building systems engineering and was project leader for the winning team in the 2005 U.S. Department of Energy Solar Decathlon.
During the Solar Decathlon, Lyng and his team designed, built and operated a house completely powered by the sun called the BioS(h)ip. The home served as a teaching tool for the public on alternative energy technologies.
"The Solar Decathlon was an extension of what I had learned at ESF," he said. "I started to think of a solar house like any other system with energy sources and sinks."
The CU victory and resulting attention brought him to the White House as a guest of First Lady Laura Bush for the 2006 State of the Union address at which President Bush declared our nation's oil addiction. Lyng also subsequently testified before the U.S. House of Representatives Subcommittee on Energy and met with U.S. Secretary of Energy Samuel W. Bodman.
After completing his master's thesis at CU on 'Implementing Solar Energy in the Colorado Production Home Market', Lyng went to work as an engineering consultant for Xcel Energy, the largest electric and gas company in Colorado and the fourth largest in the U.S.. There, Lyng provided technical consulting for the company's demand side management and solar programs including the design and implementation of a 10kW photovoltaic system at Coors Field.
At the Governor's Energy Office, part of Lyng's focus is on K-12 schools.
"Our goal is to impact every school in the state in the next three years," Lyng said. "This includes building new schools to high performance design standards, retrofitting existing schools through performance contracting and a concept we are calling 'Renewable Energy Secure Schools'".
Lyng is also working on statewide solar incentives for photovoltaics and solar hot water systems. "Currently, of 57 state utilities in Colorado, only two offer solar incentives," Lyng said. "The statewide solar program that we are implementing will encourage thousands of homeowners and small business owners to participate in Governor Ritter's New Energy Economy by harvesting the most abundant energy source, the sun."
ESF Alumni Have an Impact