Ana Maria Menezes
United Nations Consultant

Posted January 2013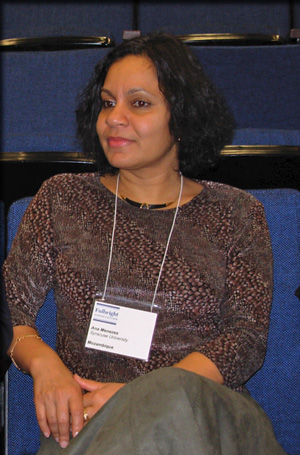 Growing up in Mozambique, Ana Maria Menezes decided she would find a career that allowed her to speak - and seek justice - for those whose voices are not heard by people in positions of power.
She thought a career in law would be the best way to accomplish her dream. Educational administrators in her native country, however, had other ideas and she was redirected into studies of agricultural engineering, a subject that had little appeal to her at the time. But her experiences had taught her to make the best of challenges and Menezes found she could help local communities by educating people about resource management policy and sustainable development.
She worked at Mozambique's Fisheries Research Institute, focusing on aquaculture, which can provide a livelihood for people in impoverished nations. Menezes continued her education with a master's degree from Auburn University then returned to Mozambique and worked for the Ministry of Agriculture and Rural Development, and as a planner and researcher for the Ministry of Environment. Eventually, her passion for policy issues led her back to school.
A Fulbright Scholarship brought her to ESF, where she earned her Ph.D. in environmental and natural resources in 2008. She focused on artisanal fisheries. At the same time, she studied public administration at the nationally ranked Maxwell School of Citizenship and Public Affairs at Syracuse University.
"It is nice to see, wherever I go around the world, how people react and congratulate me for being part of what they call 'the two greatest schools' when I say I did my Ph.D. in Syracuse at SUNY-ESF combined with a master's degree in public administration at the Maxwell School," Menezes said.
After graduation from ESF, Menezes headed to Washington, D.C., and a position with the United Nations' Food and Agricultural Organization, where she and her colleagues researched solutions to a potential global fish crisis. She has since returned to Mozambique, working as a consultant with organizations such as the University of Troms¿, doing fisheries program evaluations for Mozambique. With the University of Troms¿, she is contributing to a book on artisanal fisheries, poverty and sustainable livelihoods.
"I'm writing a chapter about Mozambique, on the economics of public goods and how these goods can assist people to rise above poverty in fishing communities," Menezes said. "This is based on my doctoral dissertation. I've also been working with the United Nations' (U.N.) Food and Agricultural Organization on aquaculture and governance in terms of employment. It is a global study and I'm responsible for the Southern Africa region. Moreover, I'm also writing manuals for artisanal fisheries on co-management and Best Practices for Mozambique."
At the same time, Menezes is a full-time consultant for the U.N. Environmental Programme, working on environmental mainstreaming and adaption to climate change. She describes her job as strengthening the environmental knowledge of decision-makers and planners, supporting the integration of environmental considerations in the development of governmental policy, and supporting the development of local environmental plans through the participatory processes.
"The best thing I got from ESF was improving my analytical skills and the exposure to different ways of looking at the same thing," Menezes said. "The interaction with other people and their experiences around the world is priceless if one wants not only to be a good researcher but to excel in all areas of his/her profession and as a human being."
ESF Alumni Have an Impact