Don Moore
Smithsonian National Zoo

Posted June 2010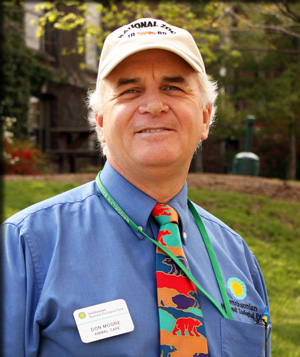 Don Moore (EFB, '76; Ph.D., 2001) thought he knew a major conservation problem when he saw one. Then he started working with Polar Bears International, an organization dedicated to stewardship of the world's largest land predator.
"I've worked on conservation problems that I thought were big and compared to this, they were small," said Moore, expressing his concern about global climate change and the effect it's having on the habitat of polar bears.
Moore is the associate director of animal care at the Smithsonian National Zoo in Washington, D.C., where he is responsible for creating conservation and animal-management plans for the zoo.
Animal care scientists are "the front line for getting information out to the public," he said. They design complex zoo habitats and provide interpretation and conservation education for zoo visitors.
Moore traces his conservationist roots to the dinner table where family and friends would converge and talk about different conservation issues - especially in the 1960s after the publication of Rachel Carson's "Silent Spring," the book that helped launch the environmental movement. He was also influenced by the number of ESF alumni in his family. A cousin and uncle both attended ESF, as did his sister and brother-in-law. "We all bleed green," he noted, quoting one of the College's signature sayings.
"I love the campus, the people and the conservation ethic of ESF," Moore said. "I think it's real important to be trained in different disciplines while you're here."
Although Moore returns to the Syracuse area only a couple times a year, he maintains ties with his classmates, including Michale Glennon (EFB, M.S. 1997; Ph.D. 2002), now a scientist with the Wildlife Conservation Society's Adirondack Program; and Brian Underwood (EFB, M.S. 1986; Ph.D. 1990), now an associate professor in the ESF Department of Environmental and Forest Biology.
"There's a lot of interaction among ESF alumni in the conservation community and I think ESF can be pretty proud of that," he said.
Moore's interest in conservation education spurred his interest in teaching people about the precarious state of the Arctic ecosystem.
Along with his duties at the National Zoo, he serves as a scientific advisor to Polar Bears International. PBI is a non-profit organization that works toward the worldwide conservation of the polar bear and its habitat through research, stewardship and education. He said focusing on polar bears - a species dramatically affected by climate change - helps highlight the need for conservation.
Convincing people that climate change is an environmental concern is more difficult than educating the public about past environmental issues because it's not as tangible, Moore said. "With poaching you can see the dead animals lying there." Climate change, he continued, is related to an increase in population, industrialization, people leaving their lights on, and millions of vehicles idling in traffic, among other things.
"Climate change is habitat destruction on a large scale," Moore said, "caused by people in the developed world using resources and affecting animals miles away."
"You can debate it all you want, but we have climate change and it's caused by humans," Moore said. In a sense, this also gives him hope. "If humans caused it, that means humans can fix it, because we're a smart species."
He offers simple ways for people to help save the Arctic ecosystem and in turn the polar bear. "Turn off lights and televisions. Reduce garbage and consumption, recycle, reduce your carbon footprint. Save energy and save polar bears."
ESF Alumni Have an Impact