Cariann Quick
Director of Government Relations, SUNY Student Assembly

Posted November 2009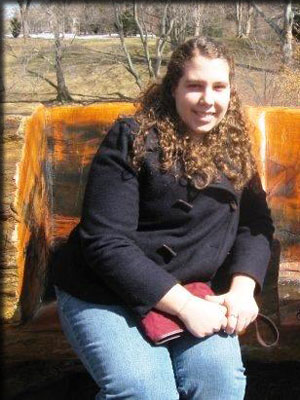 A stint on the provost's Student Advisory Council during her sophomore year at ESF started Cariann Quick '09 down a path of political activism that has led her just a few years later to the position of director of government relations for the SUNY Student Assembly.
As a member of the Advisory Council at ESF, Quick worked with her peers to provide student input to campus administrators, and it left her feeling good about the participatory process.
"Based on some of the improvements we made on campus - such as student evaluations of teachers, general education courses offered, and academic requirements - I felt they listened to us," she said. "That started my ESF involvement."
Quick, an environmental science major, went on to be elected president of the ESF Undergraduate Student Association during her senior year. She also was chosen to serve in the SUNY Student Assembly that year, spurred in part by the support she received from the ESF administration during her involvement in campus activities.
"They were there for me 100 percent of the way," she said. "I don't think it's that way on all SUNY campuses."
When the State University system faced significant budget cuts in 2008, Quick increased her involvement in the Student Assembly, which works on behalf of more than 435,000 students enrolled at the 64 SUNY campuses. Assembly representatives are elected by students to work on important issues such as tuition charges, annual budgets, textbook affordability, and transfer policies. As ESF's representative, Quick spearheaded several petitions and resolutions that were sent on to state legislators.
She also participated in SUNY Day, an annual event that provides SUNY campus presidents, students and other representatives an opportunity to gather in Albany to advocate for SUNY's budget request with the State Legislature as its members conduct their budget discussions for the upcoming fiscal year.
"The cuts caused me to play a more active role and make sure the student voice was heard," she said.
When Quick moved on to graduate school at the State University at Albany to study educational administration and policy studies in 2009, she was able to continue her involvement in SUNY?s Student Assembly at the same time. She currently serves in a leadership role as the organization's director of government relations, where she is instrumental in getting students involved in the politics that can shape their future.
"A major part of what I do is craft advocacy for students," she said. "I propose ideas on what we can do such as petitions, rallies and lobbying."
Quick and her colleagues are always thinking about new ways to mobilize students and to ensure that our government representatives in Albany know how students feel about important issues. The Student Assembly has even put a page on Facebook to provide a forum for students. "Facebook is a very effective tool to reach the students about advocacy efforts," Quick said.
ESF Alumni Have an Impact