Matt Rayo
Syracuse Common Councilor

Posted January 2013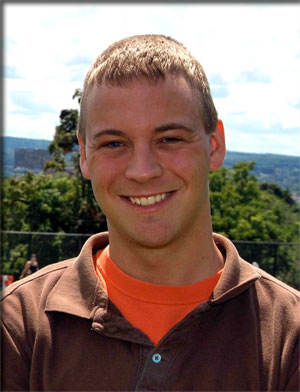 Just 18 months after he graduated from ESF, Matt Rayo EFB' 08 won his campaign for a city government seat on the Syracuse Common Council, becoming the youngest person in at least 50 years to be elected to the position.
As councilor, Rayo is responsible for listening to the concerns of his constituents, who are residents of the 1st District on the city's North Side, and working with appropriate government programs and officials to correct any problems. At 23 years old, Rayo is much younger than the average elected official, but he thinks many voters saw his relative youth as a positive factor.
"When I went door to door (during the campaign) and I was talking to people they were very excited to see a young person. Many people said that we need new blood," he said.
Rayo hopes to take what he learned at ESF and apply it in Syracuse. He wants to develop proposals to make the city more sustainable and environmentally conscious.
"As an ESF student, I think I can play a valuable role in moving the city in that direction," he said.
To make his dream of a green Syracuse a reality, Rayo wants to run all city vehicles on natural gas, similar to the way the region's Centro bus fleet operates. He also plans to advocate for more green space, such as parks and fields, within the city.
Rayo believes that going green would benefit the city economically as well, by generating business in the growing area of green technology. He has visions of Syracuse being recognized as a hub of sustainability.
"I think it's important that we attract businesses with a green focus. We need to move forward and make sure we are actively promoting our city to show that we have the jobs of the future," he said.
Dr. Douglas A. Morrison, a research associate in the Department of Forest and Natural Resources Management, taught Rayo in an Introduction to Sociology class and was impressed by the student's interest and focus during lectures.
"I would hope that he'll take the knowledge he got in the urban forestry area and continue to improve the environment of the city. I hope he can make Syracuse a greener city," Morrison said.
Morrison has big plans for his former student: "I'm hoping that someday he'll be É mayor," he said.
By Jessica Lynn Siart ES '12 (adapted from an article that originally ran in the Daily Orange, Syracuse University's student newspaper)
ESF Alumni Have an Impact