Wendy Andringa
Landscape architect thinks vertical with Green Walls

Posted July 2013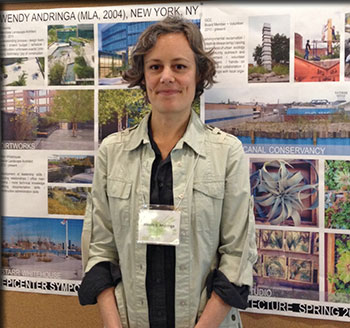 Wendy Andringa, a landscape architect, works at the forefront of public and residential projects in New York City and beyond but it was her interest in designing plantscapes in challenging growing conditions that led her to create Greenlab Studio.
Greenlab Studio is an experimental laboratory that designs, builds and tests green walls, which are basically vertical versions of the more widely used green roof concept. "I wanted to make things and test ideas that I had," Andringa said.
Conducting the research on green walls also helped keep her creative process fresh and active.
"When you're spending as much time as landscape architects do in the office doing drawings, it's good to get out of the office environment to keep your creativity active," she said.
Andringa (MLA, 2004) started Greenlab Studio in 2011 while working in Colorado. Because green walls are vertical structures, they present different challenges than those of traditional horizontal green roofs.
"Green walls are tricky," she said. "The technology is still kind of young and there is a high failure rate that I was curious about." Andringa began building modules and testing them, looking at issues such as drainage and how to get water to the plants. "There are a number of practical concerns," she noted.
When Andringa returned to New York City in 2012 to work as a senior landscape architect at Starr Whitehouse, she brought her research lab with her and expanded it to include more general design research.
"I think the (plantscape) research applies better in New York - there's more practical use," she said. "Colorado is so abundantly green, the beautiful landscape is all around you. What I'm doing applies more to urban environments."
At Starr Whitehouse, she is an associate landscape architect leading of team of designers in creative landscape projects. She is involved in design and development of modular green infrastructure strategies to help mitigate urban stormwater issues in New York City. She also teaches public workshops that create awareness of the need for stormwater mitigation through green walls and green roofs. During these workshops, participants build their own stormwater garden modules and learn how they contribute to retaining stormwater that would otherwise add to the combined sewer system that is contaminating our waterways.
During her time at ESF, Andringa had no idea she would branch off in the direction she eventually followed. " I knew I was going to work in New York City and I never thought I'd leave, but I'm so glad I did. I'm so glad I took that opportunity (to move to Colorado)," she said.
"Going out of your comfort zone puts you in a different mindset where you're willing to try different things," she said. "I was in a new environment with what seemed like unlimited space and resources so I just did it."
ESF Alumni Have an Impact