Holly Andersen
Reshaping a campus through sustainable construction

Posted February 2014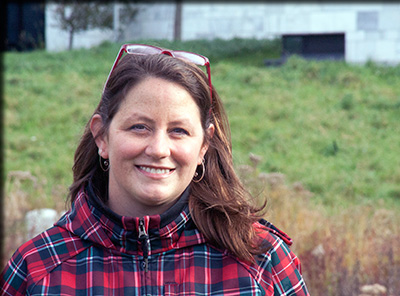 Being a woman in the construction field can be challenging, but 2001 ESF graduate Holly Andersen has a construction management position that she not only loves but that puts her professional know-how to the test.
As the sole construction project manager in Bennington College's lively planning office, Andersen has spent the last five years helping reshape the private liberal arts college's Vermont campus. In her role, she plans and oversees all projects involving capital construction, from blueprint, through the actual building process, to project completion and close out.
Recently Andersen helped Bennington College take a big step toward its long-range goal of carbon neutrality. Through a partnership with Efficiency Vermont, a nonprofit state energy organization, the college reduced its energy usage by 12.4 percent in two years ­- exceeding Efficient Vermont's Energy Leadership Challenge (a 7.5 percent reduction). For this, the college received a prestigious statewide energy efficiency award last September.
As part of Bennington's efforts to meet the Energy Leadership Challenge, Andersen worked with Efficiency Vermont to identify energy saving projects on campus. Among their recommendations was for the college to eliminate the use of number four heating oil, a dirty and inefficient energy source, in its biomass heating plant.
Andersen also worked with Efficiency Vermont in the construction of the newest building on campus, the Elizabeth Coleman Center for the Advancement of Public Action (CAPA), which employs many efficient technologies, including LED lighting, a building management system and geothermal heating.
For Andersen, meeting the Energy Leadership Challenge was an enjoyable and challenging process that involved working with every other office at the college.
"It was a group effort," she said, adding that the project design teams, the planning office, and the buildings and grounds staff were all instrumental in meeting the college's goals.
The challenges Andersen faced in the Efficiency Vermont initiative were similar to those she faces on a daily basis as a construction manager - such as weighing competing interests and developing solutions that please multiple constituencies.
Communicating face-to-face whenever possible and making sure that faculty and staff members are informed not only of a project's design intent but also when to expect disruptions to their normal routines - such as noisy construction activities - are some of strategies she likes to use, she said.
Andersen often applies what she learned at ESF when developing solutions such as these, she said.
"The skills I gained at ESF have been critical," she said. "My professors taught me the fundamentals of working with teams and the ability to communicate throughout a project."
Her advisors at ESF also helped her get an internship with Northeast Construction Company during the summer of 2000 that played a huge role in helping Andersen realize she wanted to dedicate her career to construction and planning.
The internship experience gave Andersen a sense of what it would be like to work in construction full-time, she said - everything from wearing work boots to interacting with other professional construction workers, designers, and owners.
She said these are aspects of the job she still thoroughly enjoys.
"I can't imagine having a more fun job," Andersen said. "I get to work with amazing people and help make Bennington better every day. On any given day I can go from a priority-setting meeting with the president, to uncovering a steam leak in a ditch, to a planning session with faculty and staff members, to inspecting work needed in a mechanical room or up on a roof. I love it. "
ESF Alumni Have an Impact