Dr. Nancy Mathews
Educational leader

Posted May 2014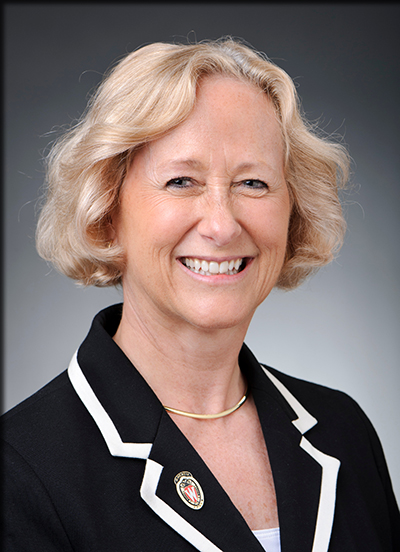 "I never forgot what it felt like to walk across the (ESF) Quad and know most of the people you saw," said Dr. Nancy Mathews, the new dean of the Rubenstein School of Environment and Natural Resources of at the University of Vermont (UVM). "I look back on that time with fondness and want to cultivate that spirit at UVM within my own school."
Mathews, a leading environmental scholar and educator, joins UVM from the University of Wisconsin-Madison where she served as director of the Morgridge Center for Public Service and a professor of environmental studies at the Gaylord Nelson Institute for Environmental Studies. The Morgridge Center is the university's hub for service, service-learning and community-based research.
"Clearly ESF had a huge influence on my career," said Mathews. "ESF gave me a feel for how a community could work together."
Mathews earned her master's degree ('82) and Ph.D. ('89) from ESF, studying under Dr. William Porter, the former director of the AEC who is now the Boone and Crockett Chair of Wildlife Conservation at Michigan State University. She is a nationally recognized wildlife biologist known for her work in deer behavior, genetics and chronic wasting disease and management of deer populations.
At UVM, Mathews will oversee academic programs and the research enterprise at the Rubenstein School, along with being responsible for the general focus of fundraising and development.
Mathews said she is a strong believer in interdisciplinary education.
"It's essential to have depth in your discipline, but the application of that knowledge needs to be interdisciplinary," Mathews said. "Students need strong communication skills and to be able to understand people different from themselves. They need a strong awareness of different cultural perspectives to work in a multicultural world."
Disciplinary knowledge is the foundation, but other skills such as conflict resolution, negotiation skills and cultural awareness will make a student successful, she said.
ESF Alumni Have an Impact