Michael Amadori
Entrepreneur makes, sells sustainable dog treats

Posted October 2014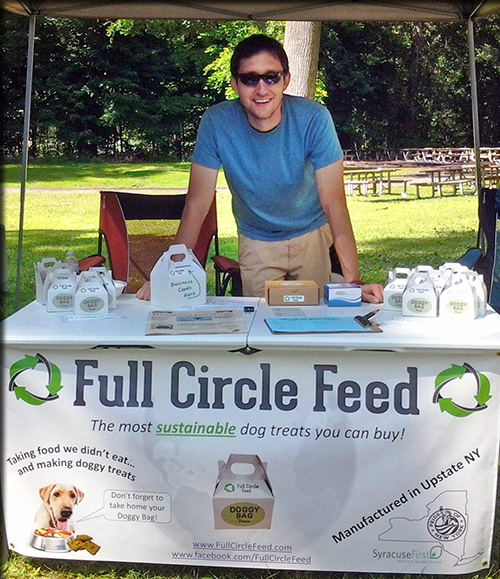 When Michael Amadori's dog devoured some of the fish-feed pellets Amadori had made under the auspices of his business, Full Circle Feed, the business took off in a new direction.
Amdadori developed Full Circle Feed for his master's thesis in ecological engineering at ESF. He created fish-feed pellets using food that had been leftover from a campus dining hall then fed the pellets to fish in an aquaponic system. Water from the fish tank was pumped through a gravel bed to nourish vegetable crops and then clean water returned to the fish tank. From a waste product, three value-added goods were created: fish, vegetables and feed pellets for chickens.
His thesis was developed into a business after winning a student business competition with the venture title "Zero-Waste Food Processing." A hybrid urban farm/processing facility was the original vision. Besides creating fish feed for an aquaponic system, the plan called for chickens to be raised on the pellets created from the food leftovers.
However, the appetite of Amadori's 13-year-old pug, Scooter, changed those plans.
"He's not a very picky eater, so of course he ate it," said Amadori, who then gave the pellets to the dogs of friends and family to try. Those dogs also loved the treats, and Doggy Bag Treats was born.
Made from leftovers from the buffet at the Turning Stone Casino in Verona, N.Y., Doggy Bag Treats is the first product offered by Full Circle Feed. Amadori participated in Startup Labs Syracuse's three-week program that provided seed capital, mentorship and technical support entrepreneurs to help the company solidify its business model and approach investors.
Amadori, who graduated from ESF with a master's degree in ecological engineering in 2012 began working with Turning Stone Casino because there's no place near the casino to compost excess food so it all ends up in a landfill. To recycle some of that food, Amadori drops off bins Sunday morning and as the buffet changes throughout the day, casino staff fills the bins with the food from the buffet. On Sunday night, Amadori picks up the food to turn it into treats.
"The treats are made from high-quality food leftovers," he said. "It was food that was prepared but not served."
Since beginning Doggy Bag Treats in 2013, Amadori has kept 2,300 pounds of food out of landfills and produced more than 1,000 pounds of treats from collecting food once per month. "My hope is to grow big enough to take all their food," he said.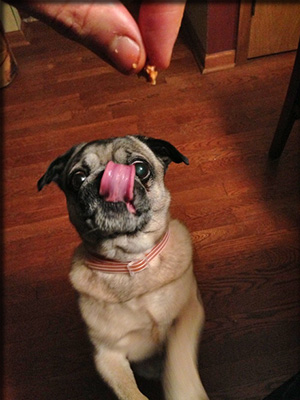 Production takes place at Madison Cortland ARC in Oneida. "I do all the food prep," Amadori said. "I sort out what's bad for dogs - grapes, onions, raisins, things like that. Then I grind it up, cook it, mix it with whole wheat flour and bake it." From there staff at the ARC weigh the treats and package them.
Before diving into the world of dog treats, Amadori researched what dogs can and can't eat. "I met with veterinarians and faculty from the Cornell Animal Health Diagnostic Center," he said. "I feel like I'm still a student, now I'm studying business along with animal health."
What Amadori learned is dogs can eat almost anything humans can eat. There are some foods that don't agree with a dog's digestive system though. "Grapes are a concern," he said. "And onions. No desserts are collected so there's no worry about chocolate or coffee."
"There aren't many people foods that are bad for dogs," he said.
"Ultimately, these treats are healthier than your conventional dog treats. In those, the ingredients are often are decreed not good enough to be used in hot dogs and include slaughterhouse byproducts, flour, cornmeal and soymeal that aren't human grade," he said. "Despite this being a recycled product, it's human-grade and fresh."
"The biggest challenge is getting the word out about the company," said Amadori. "I thought once I had this company I'd get a Facebook page and people were going to 'Like' me and things were just going to spread like wildfire but it takes time to build a following and get the word out. "
Doggy Bag Treats are available locally at a number of outlets in the Syracuse area or online at www.fullcirclefeed.com and can be found on Facebook at FullCircleFeed.
ESF Alumni Have an Impact