Alumna Launches Career with Saws and Llamas
Forest service job takes graduate deep into the Rocky Mountains

Posted August 2016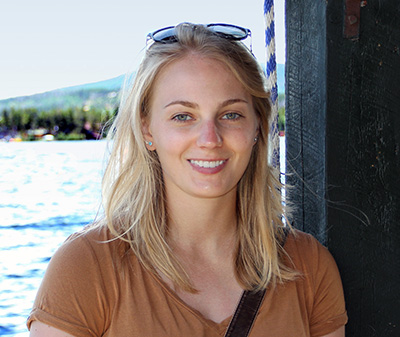 Lauren Bartl FNRM '15 thought she was headed to Colorado to spend the summer working indoors at visitors center when an injury to a co-worker nudged Bartl into a job that has her working outside and living in a tent for days at a time.
And she likes it.
"I like getting home and deserving my shower. I'm definitely in better shape than I was two months ago. It's kind of nice to know I can do all this work at this altitude," she said.
Bartl is a U.S. Forest Service (USFS) forestry/recreation technician based in Granby, Colorado, just west of Rocky Mountain National Park. She spends her days at altitudes around 9,000 feet, maintaining 320 miles of hiking trails - cutting fallen trees, clearing trails of debris and improving drainage. Damage caused to lodgepole pines by the mountain pine beetle is a particular problem.
Some of her days involve eight or nine miles of hiking with gear that includes chainsaws and crosscut saws, tools she familiarized herself with as a fan of the ESF Woodsmen's team. Other days involve heading out with her supervisor and a couple of llamas that carry supplies for a weeklong trip.
"I just realized manual labor makes you feel good," she said. "It's nice to know at the end of the day that you did something really good with taxpayer dollars."
Bartl's job is seasonal and will last into the fall. She said she became interested in federal employment thanks to an internship with the National Park Service (NPS) after her junior year at ESF. Immediately after she graduated, she spent a year in an AmeriCorps VISTA position at a food pantry in Danville, Virginia. The VISTA experience was an advantage when she applied to the USFS for work this summer.
Bartl arrived at ESF as a freshman from her hometown of Cincinnati, Ohio, because she knew she wanted to focus her education on the environment.
"I looked at a lot of colleges, and I knew that's what I wanted to do. But a lot of colleges don't have good environmental programs or it's just in one room," she said. "I showed up for an accepted students reception in a blizzard in mid-February. I knew what I was up against."
Ultimately, Bartl is thinking about returning to the natural interpretation work she did as an NPS intern.
"I really like to help people understand the place they're in," she said.
ESF Alumni Have an Impact