ESF Alum Honored by White House
Science teacher lauded for excellence

Posted February 2017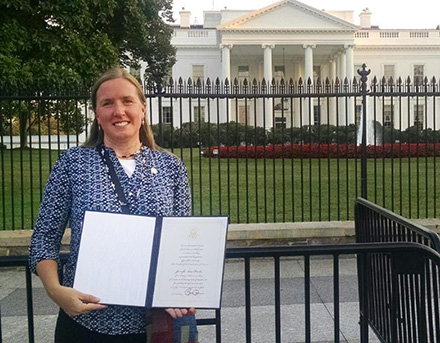 An ESF alumna was among 213 teachers nationwide recognized by the Obama administration for their efforts in teaching science and math.
Jennifer Fowler, B.S. '96, M.S. '97, M.P.S. '98, teaches science at South Middle School in Rapid City, South Dakota, and received the 2015 Presidential Award for Excellence in Mathematics and Science Teaching.
The award honors outstanding K-12 science and mathematics teachers. Winners were selected by a panel of distinguished scientists, mathematicians, and educators following a selection process at the state level.
In September 2016, winners enjoyed three days of festivities including an awards banquet and White House tour. Honorees also received a $10,000 award from the National Science Foundation to be used at their discretion.
"President Obama was out of the country during our visit," said Fowler, "but we were able to meet the Secretary of the Department of Energy and other science and technology advisors … We all felt their value and support for STEM education and the educators making it happen."
Fowler was nominated by a friend and past Presidential Award winner. The application process is rigorous and involves videotaping an engaging classroom lesson, submitting supplemental work and a 15-page narrative that connects the particular lesson with the teacher's understanding of the topic, the instructional strategies utilized, assessments administered and their involvement in professional development at the state and local levels.
"I'm now in my 18th year as a classroom teacher and I am excited to be with my students every day," she said. "I still love going to school and sharing science with my students."
Fowler's first job after ESF was as a naturalist at Custer State Park in South Dakota. While she cherished the two years working with thousands of visitors and school groups, she felt something was missing. "Instead of visiting a classroom for 45 minutes presenting animal adaptations to second graders, I craved more of a bond with students," she said.
The ESF influence is present in Fowler's classes every day. Her classroom shelves are filled with animal skulls, beaver chews, paper birch limbs, dried insects and a partial deer skeleton that was a "gift" from a student.
"The best thing about teaching science is that when there is a free moment, all I have to do is reach onto the shelf and I have an instant captive audience and a conversation starter that is priceless," she said.
Fowler's classroom motto is "Be Professional" which leads her students to have "great lab behavior."
"We do amazing hands-on, minds-on activities. I tell goofy yet stimulating stories and facts like Dr. (Larry) VanDruff and Dr. (Neil) Ringler did." Her lab stations are set up like those in Illick Hall. Fowler said such an arrangement is "the perfect way to expose students to many concepts at once."
Fowler's students keep lab notebooks as interactive journals filled with "great science by the end of the school year."
"When my advanced science class conducts their research on the grassy hill across from our school I am in my glory as I have students excited to choose topics to study like grasses, birds, meteorology, lichens and even scat, so I have the opportunity to teach them how to collect information and samples like professionals," she said.
"I was trained by the best and I am diligently passing on their information to share the legacy. I am forever a Stumpy at heart!"
ESF Alumni Have an Impact