Greg Boyer
Exemplary Researcher, Chemistry

Posted June 2009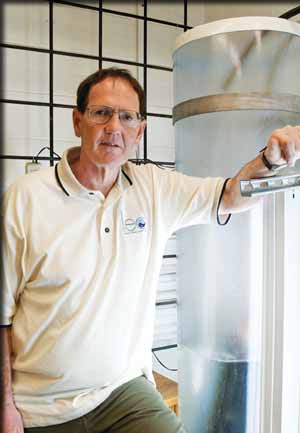 From New York's Lake Champlain to Lake Taihu in China, Dr. Gregory Boyer has been around the globe researching, monitoring and analyzing algae blooms.
Boyer, a biochemist in the College's Department of Chemistry and director of the Great Lakes Research Consortium, was appointed to a three-year term on the Council of Great Lakes Research Managers by the International Joint Commission.
The Council of Great Lakes Research Managers was established to assist the commission in the exercise of the powers and responsibilities assigned to it under the Great Lakes Water Quality agreement.
Boyer was also honored with SUNY-ESF's Exemplary Researcher Award in 2008-09. The award recognizes a current researcher who has exemplary research activity, an impressive publication record and active graduate or undergraduate student research programs.
Boyer has investigated algae blooms for more than three decades. He was ESF's principal investigator on a $3 million, five-year study to determine the best way to detect and respond to toxic algae blooms. He was among several researchers who went into high gear in 1999 in an effort to determine if toxic blue-green algae blooms were unique to Lake Champlain. He recently returned from China, where he is helping to set up automatic monitoring and remediation systems on a lake that had algae blooms and is the major source of drinking water for the nearby city of Wuxi.
Boyer's research also includes restoration of Great Lakes fish communities and implementation of the Great Lakes observing systems. He has been involved with an industry-based partnership to develop near-real-time water quality monitoring systems. The objectives of this program focus on the design, fabrication and testing of biosensors for drinking water protection. Sensors and monitoring systems are first tested in a pilot plant in the basement of Jahn Lab on campus, then field tested on board research ships or at ESF's Thousand Islands Biological Station. Boyer's lab also tests between 2,000 and 3,000 water samples from across the United States yearly.
Algal blooms can also present economic opportunities, said Boyer. Algal biomass - algae grown for biodiesel production and pharmaceutical uses - is being studied at ESF, and Boyer has maintained outdoor pools for research at the College's Lafayette Road Experimental Station. Algae can be used for biodiesel, and it can be grown naturally in ponds that are heated by the sun.
"We're working on making it economically viable to grow the algae outdoors through the Syracuse winter," he said. "It has some real economic potential."
Boyer notes bio-economics is a growing area as researchers investigate different bio-based energy alternatives and ways to make them cost effective. As for Boyer, "I'm looking at it because it's fun to grow things and I can play with all sorts of cool toys."
ESF Faculty Recognized for Excellence and Achievement