George Curry
Kennedy Distinguished Faculty Chair in Landscape Architecture

Posted July 2008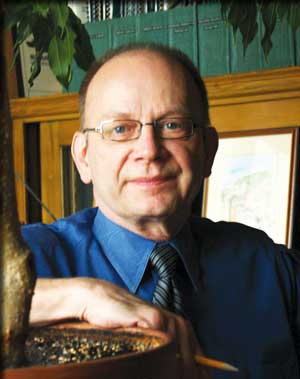 An "I survived George Curry's landscape architecture studio" T-shirt hanging in George Curry's office speaks volumes about his dedication to his students and their affinity for him.
As a licensed landscape architect and a specialist in urban design and historic preservation, Curry has spent more than 40 years teaching and inspiring LA students at the SUNY College of Environmental Science and Forestry.
That dedication earned him the 2008 New York Professor of the Year designation from the Carnegie Foundation for the Advancement of Teaching and the Council for Advancement and Support of Education (CASE). Curry was selected for the prestigious award from among nearly 300 top professors in the United States.
There were winners in 44 states, the District of Columbia and Guam. CASE assembled two preliminary panels of judges to select finalists. The Carnegie Foundation then convened the third and final panel, which selected four national winners. CASE and Carnegie select state winners from top entries resulting from the judging process. Curry was selected from faculty members nominated by colleges and universities throughout the country.
The Carnegie Foundation for the Advancement of Teaching was founded in 1905 by Andrew Carnegie "to do all things necessary to encourage, uphold and dignify the profession of teaching." The foundation is the only advanced-study center for teachers in the world and the third-oldest foundation in the nation.
"Professor Curry was a very instrumental figure in my life. He taught me that no problem was too big to solve, and he gave me the skills - and the confidence - to do it," said Howard "Bud" Ris, MLA'75, and president and CEO of the New England Aquarium in Boston, Mass.
Curry became interested in urban design while a graduate student at the University of Illinois in the 1960s. "I took an urban design studio where the whole semester was committed to designing a new town in the Chicago Forest Preserves and I thought, 'What a horrible idea,'" he said.
The next semester, Curry and a fellow MLA student from Michigan State University selected a neighborhood in Chicago, and developed a resource-based plan - building on what already existed in the area - to rehabilitate the neighborhood.
"This project was my first investigation into historic preservation and this approach made so much more sense," he said.
Curry has been instrumental in revitalizing a number of neighborhoods, including Syracuse's Armory Square. By the early 1980s, Armory Square had suffered through decades of decline and was marred by rundown and empty buildings and dirty and broken streets. Although the buildings were architecturally impressive, there were few businesses filling them.
In 1982, Curry partnered with local real estate developer Bob Doucette to revitalize Armory Square.
"We both love the urban environment and what we saw in a lot of cities was not happening here," Curry said. "There was no 24-hour downtown where people work, play and live."
They started with one building, the Labor Temple Building. Curry said they wanted "to show people this was a concept - the combination of retail, office and residential space - that could work in Syracuse."
From that building, a thriving downtown district has grown that rivals urban neighborhoods in other cities. Today Armory Square - with its restored buildings filled with restaurants, specialty shops, an art house, pubs, and residential living - is listed in the National Register of Historic Places.
Curry has also played a vital planning and design role in revitalizing other areas in Syracuse. He and Christine Capella Peters, with the New York State Historic Preservation Office, have played a leading role in development of the city of Syracuse Comprehensive Plan by completing five Component Plans through their Urban Design Studio.
Curry brings the same drive that helped restore a downtown neighborhood to the classroom. Since coming to ESF he has participated in the education of thousands of undergraduate and graduate students.
His students, especially those in his urban design studio, take on real problems and help design solutions for them. He has developed an extensive network of contacts with a variety of government agencies, non-profit organizations and the private sector. These contacts provide ESF students with opportunities for office visits and professional interactions, internships and often jobs.
To further engage students in the world around them, Curry helped develop ESF's pioneering "Off-Campus Program" that requires each landscape architecture student to spend a semester working in the field on a design project they propose and develop. The Off-Campus Program also brings an international dimension to the curriculum, since a majority of students choose to complete their design projects in other countries, with department faculty facilitating study abroad opportunities and travel arrangements for groups of students. Since its inception in 1970, more than 1,000 students have participated in the program, living and learning in more than 175 locations in more than 30 countries.
In 2007 Curry was named Landscape Architecture Educator of the Year by DesignIntelligence magazine. He was one of only eight educators from around the country to receive the honor. DesignIntelligence is the Design Futures Council's monthly publication.
Professor Curry holds the title of Kennedy Distinguished Faculty Chair in Landscape Architecture at ESF, and has been recognized as a State University of New York Distinguished Teaching Professor. He has been honored by groups as varied as ESF students and the SUNY Research Foundation. His involvement in cultural landscape preservation research with the National Park Service and the New York State Office of Parks, Recreation and Historic Preservation has been an important professional focus for the last eighteen years, while he continues his work to teach and inspire his undergraduate and graduate students at ESF.
ESF Faculty Recognized for Excellence and Achievement