Dr. James Gibbs
Distinguished teacher, honored researcher

Posted July 2007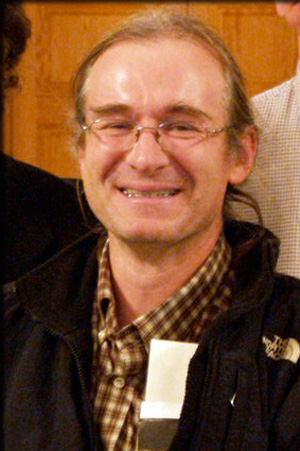 "The term superstar is overused, but in James' case it is true," said Dr. Donald Leopold of his colleague, Dr. James Gibbs.
Gibbs, an associate professor in ESF's Department of Environmental and Forest Biology, was recently honored with the college's Exemplary Research Award. He was honored in 2006-07 with an Excellence in Research and Scholarship award by the SUNY Research Foundation and with a College Foundation Award for Exceptional Achievement in Teaching by ESF. He has also received the Distinguished Teacher Award, voted on by the student body, twice in the last four years.
It was Gibbs' dedication in the classroom to more than 200 students each year, his accessibility to students, his extraordinary efforts to help students succeed, and his professional scholarly activities that earned him these special honors in both research and teaching.
His teaching style is highly valued by his students, as he teaches from personal experience.
"In his conservation classes he tells stories from all around the world," said Leopold. "You can listen to him forever."
Gibbs is at the forefront of biodiversity preservation and his work includes designing ecological monitoring programs for U.S. national parks, studying giant Galapagos tortoises, researching the ecology of endangered species, and investigating the preservation of turtle populations in New York.
There are similarities between the tortoises in the Galapagos Islands and the snapping turtles of Central New York, according to Gibbs.
"All turtles are somewhat the same," he said.
Many turtles don't start to reproduce until they are at least 10 years old.
"They put off reproduction to grow their shell so they can live for a long time, but they can't tolerate much mortality to the older individuals. We need to let them live long enough to reproduce."
In New York, turtles fall victim to over-collection as pets and to vehicles on the roadways. In the Galapagos, he said, it's poachers and being killed for food that decreases the tortoises' numbers.
Gibbs has been instrumental in finding ways to keep turtle populations strong. In New York, he is working with the state Department of Transportation to develop underpasses on roads where turtles are found.
"Turtles are surprisingly predictable," he said. "They live for decades in the same pond and travel the same routes."
In the Galapagos, Gibbs tells of the same tortoise that has lived under the same cactus for 30 years.
Gibbs has made 17 trips to the Galapagos, where he and colleague Steve Gulick are helping develop remote poaching sensors so park rangers can intercept poachers before they kill the tortoises.
Gibbs is also part of a team based at Yale University playing matchmaker for Lonesome George, a tortoise in Galapagos who is the last of his species. On his next trip to the islands, Gibbs and scientists from partnering universities plan to go hunting for relatives of Lonesome George with hopes they can eventually inspire George to go forth and multiply.
In addition to his work with turtles, Dr. Gibbs has studied the Kihansi spray toad, searched for pygmy rattlesnakes in the nearby Cicero swamp, partnered with Honeywell International to complete an ecological assessment for a planned wildlife area, and enjoyed working with his undergraduate and graduate students at SUNY-ESF.
ESF Faculty Recognized for Excellence and Achievement