Dr. David Kieber
Exemplary Researcher, Environmental Chemistry

Posted April 2007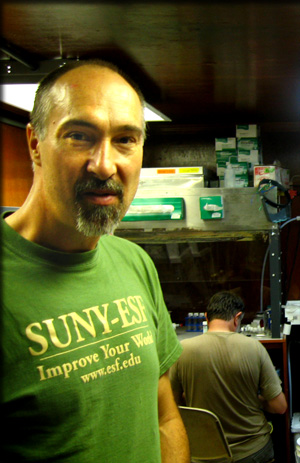 Dr. David J. Kieber, the professor who once described himself as a "land-locked oceanographer," has been honored with SUNY-ESF's Exemplary Researcher Award. The award recognizes a successful, currently active researcher with exemplary research activity, publication record and graduate/undergraduate student research programs.
"Dr. Kieber's achievements in environmental chemistry, chemical oceanography, marine ecosystems and atmospheric and aquatic environments serve as an excellent example of accomplishment in research and development of a mentor program for graduate students and post-doctoral scientists, said Dr. Neil H. Ringler, Vice Provost for Research.
Kieber, a marine chemist, has traveled to temperature extremes to conduct chemical oceanography research and its effects on climate. He spends considerable time in the field and has participated in 27 oceanographic cruises for a total of 434 sea days. He has served as chief scientist on three cruises with his research taking him to the Bermuda Biological Station, the Dauphin Island Sea Lab and Sapelo Island Marine Lab.
Including undergraduates in his program is important to Kieber. In 2005 Kieber led his fifth expedition to Antarctica to conduct research for two months aboard the Research Vessel Nathaniel B. Palmer (NBP). He and a team of ESF graduate students traveled to the South Pole region to take advantage of spring and early summer weather in the Southern Hemisphere. The team studied organic matter transformations in the aquatic environment, especially as they pertain to the global carbon and sulfur cycles.
To learn more about Dr. Kieber's exciting research projects in Bermuda and the Antarctic, check out the links below:
In the fall of 2006 Kieber took a team to Bermuda to study the influence of sunlight on chemical composition of oceanic-derived sea-salt particles in the lower atmosphere. Results from the study will improve understanding of the fundamental processes that control the chemistry of the lower atmosphere and related influence on Earth systems such as climate.
Kieber has made several important contributions to the field of environmental chemistry through his research. His studies of the photochemical production of biological substrates in natural waters led to an explosion of research by scientists around the world who are trying to understand the interactions of light, organic matter and food web dynamics in natural waters.
Kieber's work is supported by more than $1.44 million in grants from the National Science Foundation and the National Aeronautics and Space Administration.
ESF Faculty Recognized for Excellence and Achievement