Dr. Robin Kimmerer
Director, ESF Center for Native Peoples

Posted September 2007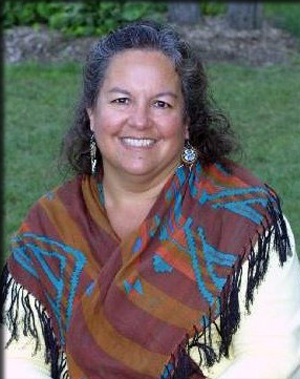 By teaching a subject she finds fascinating and intertwining it with her experiences as a scientist as well as her Native American heritage Dr. Robin Wall Kimmerer draws her students into the small yet expansive world of mosses.
Kimmerer not only gets her students interested and excited about her favorite subject, but the lay person as well. She received the John Burroughs Medal Award for her book, Gathering Moss: A Natural and Cultural History of Mosses. The award, given by the John Burroughs Association is based on literary quality, firsthand fieldwork, originality and scientific accuracy.
The book, a series of linked personal essays, describes how mosses live and how their lives are intertwined with the lives of countless other organisms.
Kimmerer has taught in the Environmental and Forest Biology Department since 1993 and is continually impressed by her students' enthusiasm and dedication. At some schools when students have to take botany classes, she said, they ask "why do I have to know this stuff? Here they're curious and want to know these things."
"Our students are the college's biggest asset. They really are dedicated to saving the world."
Kimmerer was recently honored for her ability to relate to her students receiving the ESF Foundation Award for Exceptional Achievement in Teaching. The award celebrates the accomplishments of ESF faculty and staff members who excel at the art of teaching. She has also received the Undergraduate Student Association's Distinguished Teaching Award twice and the Baobab Society's Faculty Member of the Year Award.
In both her writing and her teaching, Kimmerer draws on her experience as a scientist as well as her Native American heritage. She is part Potawatomi and she says her work is an effort to help her culture survive.
Kimmerer is the director of the newly established Center for Native Peoples and the Environment at ESF. The center focuses on developing connections between traditional ecological knowledge and western scientific approaches. The center is the only one of its kind in the Northeast.
She believes the path to achieving the center's goals is to integrate multicultural perspectives into courses across the broad spectrum of ESF's programs.
Kimmerer is active in efforts to broaden access to environmental science training for Native students, and to introduce the benefits of traditional ecological knowledge to the scientific community, in a way that respects and protects indigenous knowledge.
"What makes this center unique is the bridge between western, scientific knowledge and traditional ecological knowledge," she said. "This is a way to increase our ability to learn from each other and work together to solve environmental problems."
ESF Faculty Recognized for Excellence and Achievement