Dr. Robert Malmsheimer
ESF College Foundation Award for Exceptional Achievement in Teaching

Posted January 2013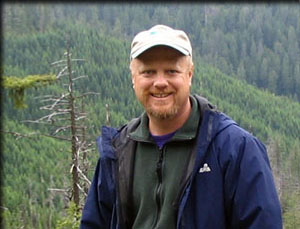 "It is faculty like you that make students like me and many others love their college experience."
"Although I only had one class with you, the impact you had on me far outreached the classroom. If it were not for you, I never would have looked into going to graduate school for public administration."
"You're an incredible inspiration to me, and an amazing professor/advisor to every student lucky enough to know you."
"My college career at ESF undoubtedly would have been a much different experience had you not been my advisor."
Words of thanks from students testify to the reasons why Dr. Robert Malmsheimer received The ESF College Foundation Award for Exceptional Achievement in Teaching.
Malmsheimer, associate professor in the Department of Forest and Natural Resources Management, teaches courses in natural resources and environmental law and policy. His relationship with ESF began years earlier, however, when he was an undergraduate in the Department of Landscape Architecture.
"I was not a good freehand sketcher," he explained, "and in 1986 there was one computer on the entire campus. We didn't see the computer revolution coming complete with computer assisted drawing." Thinking he would have a professional handicap, Malmsheimer decided to broaden his opportunities and attend law school.
Malmsheimer practiced law for six years before deciding the aspect he most enjoyed was learning new things on a daily basis and sharing that knowledge. He decided to expand on this interest and returned to ESF for his Ph.D. in forest resource management/policy and law. He stayed on campus to join the forest and natural resources management faculty.
Still licensed to practice law, Malmsheimer now teaches his students how to make the law work for the environment.
"The students at ESF are dedicated, interested and inspiring," said Malmsheimer, who teaches juniors, seniors and graduate students. "They're very good critical thinkers and you often have someone asking about something you never thought of. It makes the job exciting and interesting."
His students learn to understand the legal mechanisms that influence the way people interact with the environment.
"Unlike the 1970s where we had a lot of public support for regulatory mechanism to address environmental problems, we don't currently have that," he said. "We need to use other policy tools like information, incentives, cradle-to-grave product requirements to get people to act in a particular way in regard to the environment."
"My students' generation needs to be more creative and flexible to solve environmental problems," Malmsheimer said. "I think it's the most important thing to teach students. It's exciting and forces the students to think creatively and critically about the significant problems we have."
Malmsheimer credits his students' creative thinking for his Foundation Award.
"I say to my classes all the time, I am a better teacher due to feedback from students. Any techniques I use I have gotten from student suggestions. Over the last 12 years a lot of students have been interested in helping me improve my teaching. This is a reflection on their thoughtfulness as much as my ability."
ESF Faculty Recognized for Excellence and Achievement