Dr. Christopher Nomura
Exemplary Researcher

Posted June 2011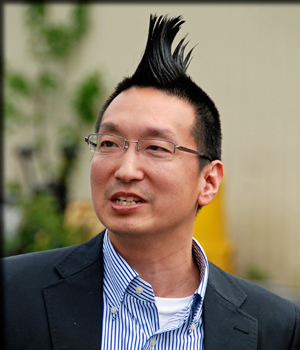 Solving problems in a bio-based manner is at the heart of the research done by Dr. Christopher Nomura and the Nomura Research Group. "What we try to do is look at what nature already does and we try to improve upon what nature is doing," Nomura said.
Nomura has been honored with SUNY-ESF's 2011 Exemplary Researcher Award. The award recognizes a successful, currently active researcher with exemplary research activity, publication record and graduate/undergraduate student research programs.
Since coming to ESF in April 2006, Nomura has secured $3.8 million in grant funding from numerous organizations including the National Science Foundation, Tokyo University of Science, U.S. Department of Energy, New York State Energy Research and Development Authority, and the U.S. Department of Agriculture McIntire-Stennis program.
Nomura, an assistant professor in ESF's Department of Chemistry, specializes in the fields of microbiology, biotechnology and molecular biology with special interest in using molecular techniques to improve the supply of precursors for bio-based products. He has submitted three notices of technology disclosure for patent applications.
Nomura first became interested in biochemistry as an undergrad at University of California - Santa Cruz where he learned about metabolic pathways and how sugars get converted to energy.
"One of the coolest things I learned É was there were microorganisms that take some of the precursors from these metabolic pathways and they can put them together and make something that is very akin to petroleum-based plastic," Nomura said.
Nomura did his post-doctorate work in Japan with one of the leading experts in the field, Professor Yoshiharu Doi at the Polymer Chemistry Laboratory at the RIKEN Institute. Professor Doi has been working on bio-based plastics for more than three decades. "I went to his lab to learn how these plastics were made and how they're characterized," said Nomura.
Now Nomura and his group - graduate and undergraduate students from various ESF departments, ESF faculty members, and collaborators from other colleges - continue research in related areas.
"We're making a lot of different products," he said. "We're making biodegradable plastics, biodiesel fuel-like molecules, and a lot of these molecules come from the same metabolic precursors or building blocks in the cell. It's just where can you push them to make the product that you want."
"We want to convert a sugar inside a bacterial cell into a sort of building block for plastics," Nomura said. "The easiest way to explain it is if you have some pieces and you want to make Lego blocks that you can link together. We want to take something that's unrelated to the Lego block initially, covert it into the Lego block and then piece it together inside of the bacteria and so that's what we're doing on the molecular level inside of the cell."
"Basically we're working with what I consider to be a biological Lego kit," he said.
Because the organism may not want to produce what Nomura wants, he's also working on ways to manipulate the pathways to force the organism to make the desired product.
Nomura is also working with fellow ESF researchers on new ways to produce biodiesel. Traditionally, biodiesel is made from vegetable oils or fats as is currently being done on the ESF campus using leftover cooking oil from the SU dining halls and butter from the New York State Fair's annual butter sculpture. Nomura is developing means to produce biodiesel from plant-based, non-food materials such as the plant stalks that also contain the necessary sugars. Because these materials are harder to break down, Nomura and his team are figuring out a process to break the material into sugars and then feed them to the microorgamisms to produce the desired product.
Originally from the West Coast, Nomura started out as a marine biologist studying elephant seals' immunology and physiology.
"People ask me, 'How could you give that up? You were doing all these cool things,'" Nomura said. "And I always tell people and students that National Geographic only shows you the most cool things on television, but when you're actually doing scientific research in a wild environment it can be very frustrating as a scientist."
His experience in that realm, which included watching study subjects die unexpectedly and getting caught in a beach sandstorm, led him to a realization: "I was not cut out for field work and I wanted to do something that had a little more reproducibility so I went into the lab."
When considering teaching positions, Nomura said it was ESF's environmental focus that caught his attention. "Because I was working with plastics that were biodegradable I thought that this would be a really great fit for me in terms of my research and maybe also in terms of student interest and engagement in the type of work that I do."
ESF Faculty Recognized for Excellence and Achievement