Dr. Lindi Quackenbush
ESF College Foundation Award for Exceptional Achievement in Teaching winner

Posted July 2010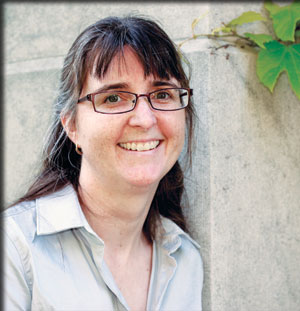 Dr. Lindi Quackenbush's decision to come to ESF for her own education eventually lead her to receive one of the College's highest honors for teaching others: the 2010 ESF College Foundation Award for Exceptional Achievement in Teaching. The award was bestowed to recognize her creativity as a teacher and her contributions to the professional engineering community. Her dedication to students, good humor, patience and professional expertise were all recognized.
"I was really pleased," Quackenbush said of the award. "Did I expect the award? No. Do I put everything I have into teaching? Yes. And it's nice to be recognized."
Concern about the environment is the common thread running through people on the campus, she said. "Nobody ends up at ESF because they didn't know what they wanted to do when they grew up," Quackenbush said. "There are different interpretations about it but everyone cares about the environment. People choose to be here."
Quackenbush earned her master's degree and Ph.D. in remote sensing and image processing from ESF (1998, 2004) and is now an assistant professor in the Department of Environmental Resources Engineering. She continues to spend a significant amount of time in the lab working with students. For the surveying courses that she teaches, "in labs" translates to "outside surveying campus."
Her presence during lab sessions keeps students motivated and enthusiastic about their studies. "By providing an optimistic learning environment, Dr. Quackenbush encourages students to excel in the field of study," said junior Jessica Haerter.
Being nearby while her students practice their surveying skills gives Quackenbush an opportunity to indulge her enjoyment of the outdoors and it has given her plenty of experience in surveying the 12 acres of ESF's Syracuse campus. "I know the campus like the back of my hand," she said. For students, this means there are no shortcuts.
"Students sometimes think they can slip something in," Quackenbush said, "but I know exactly how many trees are on the Quad." After the derecho in 1998 that wiped out half the trees on the Quad, she said, students tried to use previous year's maps as a guide to their work. "It didn't work so much," she said smiling.
Dr. Charles Kroll, chair of ERE, is pleased to see Quackenbush receive the Foundation award. Kroll and Quackenbush co-taught a course in engineering planning and design during the spring 2009 semester. "Lindi is creative in developing new activities to help our students, and had an incredibly good eye for detail, which is an extremely important yet challenging skill to develop," he said.
Quackenbush was also the recipient of the Distinguished Faculty Advisor award presented by the Undergraduate Student Association (USA). The award is given to faculty providers of academic and social support.
"As an advisee, I have received enough guidance to steer me in the correct direction without being overwhelmed or babied," said Laura Calandra, ERFEG '09 and current master's student. "I feel more confident in my academic abilities as a result of knowing her, both because she is an influential female in the engineering field and how she approaches her obligations."
Quackenbush's obligations include research collaborations with fellow ESF researchers on ways to eradicate invasive species.
Remote sensing and image processing can be used to see where an infestation has been or "ideally where it's going to go," she said. Quackenbush has teamed with Dr. Stephen Teale, associate professor in the Department of Environmental and Forest Biology, to study the Sirex woodwasps that have the potential to cause considerable damage to the pine plantations in the southern United States. "It's been hugely devastating in southern hemisphere," she said. She has also worked on projects concerning the emerald ash borer and Asian longhorn beetle.
A native of Melbourne, Australia, Quackenbush is familiar with invasive species as that continent has battled both invasive plants and animals - such as rabbits and blackberry bushes - for decades.
Quackenbush is also working on teaching the next generation of environmental engineers. She is co-principal investigator on a K-12 proposal through NASA to get National Science Foundation (NSF) fellows into high schools.
"It all ties into STEM (science, technology, engineering, math)," she said (adding "If you're doing any NASA work you need to know your acronyms."). Her motivation for working on the project is twofold. "I really enjoy teaching, and getting graduate students involved teaching at all levels is good. Also it's a subtle sales pitch to recruit students to my field."
As online mapping applications continue to rise in popularity, Quackenbush sees great potential to introduce high school students to remote sensing and the use of imagery in research.
"Google Earth made imagery more available to people, but they don't realize that there's more to it than they see," she said. "I want to see people research GIS itself."
ESF Faculty Recognized for Excellence and Achievement