Dr. Kimberly Schulz
Exemplary Researcher

Posted May 2012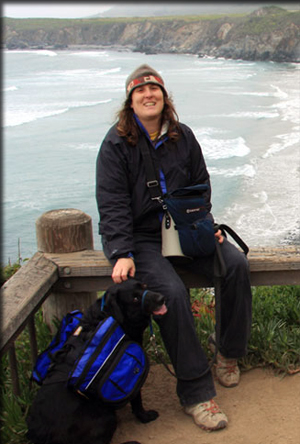 Dr. Kimberly Schulz discovered her affinity for aquatic science during a visit to the Sinai Desert.
At 15, Schulz traveled to the Sinai Desert with a friend whose father worked for an Israeli environmental agency. Schulz spent the summer at a biological field station learning how to dive off the coast of Sharm el-Sheikh.
"You could stick your head in the water and there?d be anemones with clown fish. It was like 'Finding Nemo' and that was cool enough," said Schulz. Then she had a thought and it got even better: "I watched the scientists and realized, "Oh that could be an actual job! You could have a job being an aquatic scientist. OK, I want to do that.'"
Schulz, a limnologist in ESF's Department of Environmental and Forest Biology, has been honored with the College's 2012 Exemplary Researcher Award. The award recognizes a successful, currently active researcher with exemplary research activity, publication record and graduate/undergraduate student research programs.
Since coming to ESF in April 2000, Schulz has been instrumental in securing significant grant funding including $300,000 through the National Science Foundation (NSF) Early-Concept Grants for Exploratory Research program. She played a pivotal role in securing a $1.47 million grant to extensively renovate wet labs in Illick Hall and cyber-infrastructure for aquatic science research, and has had additional research projects funded by NSF and many other agencies.
Schulz has numerous collaborations with faculty across the College and at other institutions. She has a successful mentoring program, with her students winning awards including National Oceanic and Atmospheric Administration National Estuarine Research Reserve Graduate Fellowships, the Garden Club of American Wetlands Award and Environmental Protection Agency Star Graduate Fellowships.
Schulz attended Cornell University with the goal of becoming a marine scientist. She studied oceanography along with interdisciplinary coursework in chemistry, biology and physics. Between her sophomore and junior years she participated in the Sea Education Association Program (SEA) at Woods Hole, Mass. There she spent six weeks at Woods Hole followed by six weeks on the open sea.
"I got a sense of open water oceanography and what it's like to live at sea for long periods of time," she said. Upon returning she took a course in limnology and discovered an equal interest in studying fresh water and its aquatic ecosystems.
"I looked at limnology and it's all the same concepts," she said.
"Oceanography," she explained, "is big science. You have to have huge grants with huge amounts of money and lots of people involved. It's really exciting, but you're a little cog in a big wheel."
After Cornell, Schulz went to the University of Michigan for graduate school. There she studied non-native species in the Great Lakes and how they affected the Great Lakes' food web, adding freshwater credentials to her marine experience.
"Limnology," she said, "is a little under funded but has history of solving real environmental problems, like reducing phosphorus and detergents that help reduce harmful algal blooms in lakes. I liked that as one investigator I got to do more things."
The ability to apply the science to real-world problems is also rewarding for Schulz. "I can give people the information, and options and there's a real possibility for people to make decisions to solve problems," she said.
Being able to provide solutions will become increasingly important as water-related problems move to the forefront.
"Fresh water resources are critically imperiled," Schulz said. "Even in the United States if you go to Arizona or places that are more arid, water's really limiting where people can live. In some places in the world they're fighting wars over water," she said.
"There's a critical need to understand the basic science of ground water and lakes and rivers but also to convey that science so people can manage those resources effectively," she said.
Teaching at ESF provides the optimum environment to not only apply the science to real-world problems, but also train the next crop of scientists. "I like the idea that ESF is a specialized school where students are excited about the environment," said Schulz. ?They all want to save the world and make a difference and that's refreshing."
The College provides a balance between research and teaching that Schulz finds appealing. "The students are interested in learning and the institution is supporting people to obtain excellence in both teaching and research."
ESF Faculty Recognized for Excellence and Achievement