Ken Tiss
ESF College Foundation Award for Exceptional Achievement in Teaching winner

Posted July 2009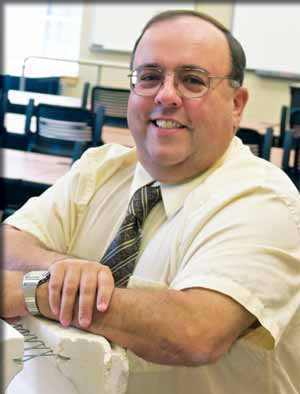 As a teen-ager growing up in Central New York, Ken Tiss routinely sat down with the service manuals his dad used as a Caterpillar heavy equipment mechanic and updated them so the senior Tiss would have the most up-to-date information available.
The elder Tiss was employed with a company that helped construct the 183 miles of Interstate 81 that run through New York, and his son took a role in ensuring that the working man had the knowledge he needed to get the job done.
"I probably could've worked on the equipment myself," Tiss said.
Today, Tiss passes on similar knowledge to his students in ESF's Department of Sustainable Construction Management and Engineering. His students often get hands-on experience when they visit construction sites, go out in the field to evaluate buildings for renovations or build houses for Habitat for Humanity.
His dedication to his students led Tiss to be honored with the 2008-09 ESF College Foundation Award for Exceptional Achievement in Teaching. He was also cited for his innovation in curriculum development and his role as an outstanding student advisor.
"Over the 22 years Ken has been employed at ESF, he has developed courses and a curriculum such that his students are well-trained to enter the work force and excel at their careers," said Dr. Susan Anagnost, chair of the SCME department.
Tiss has taught courses in construction management at ESF for 20 years. He is also an ESF alumnus, having earned his bachelor's and master's degrees at the College. He is currently pursing a Ph.D. at ESF and expects to complete that degree in 2009.
In recent years, Tiss has added OSHA safety training to his program, along with the opportunity for students to take the Associate Constructor Examination, the first step to becoming a Certified Professional Constructor. At the completion of the program's construction safety course, students are issued a 30-hour OSHA training safety certificate.
"This is only possible because Ken is an accredited OSHA instructor for construction safety and is willing to go the extra mile by maintaining his accreditation in order to provide this for his students," said Anagnost.
Tiss makes sure his students work on real-world problems. He is the principal investigator on a project to evaluate the 88,000-square-foot Center of Progress building at the New York State Fairgrounds and is involving his students in that research. The students are putting together a projected budget and timeline for renovations and updates needed and ideas about how to do them sustainably and within budget constraints.
"I think the students appreciate doing something that's not purely textbook," Tiss said. "They're still using their academics but in a real-world application."
Tiss also hopes to use the construction of ESF's planned Gateway Building as a teaching tool to give students an understanding of budgets, scheduling, blueprints and new sustainable products. "It's a chance for our students to go out and see new products used and how they're installed," he said.
This hands-on approach is appreciated by Tiss' students.
"Being the type of student that comprehends information better from real-world applications, Mr. Tiss' background and first-hand knowledge was instrumental in my success in his classes," wrote Don Clark, in a letter that supported Tiss' nomination for the teaching award. Clark, CMWPE '06, graduated summa cum laude.
Throughout the academic year, Tiss typically takes student members of the Associated General Contractors (AGC) Chapter to visit construction sites and to compete in management competitions.
"The influence that these experiences have on ESF's students is very significant, as in many cases it enables them to make better career-oriented decisions," said Eric P. Robert, a 2000 graduate of ESF who is now an associate professor at SUNY Delhi.
Tiss said his father helped him to make some of his own career-oriented decisions. The nature of his job kept the elder Tiss on the road a lot and he did not want any of his five children to have to work as hard as he did. To that end, every winter he visited ESF and put Ken's name on the list of prospective students who would receive admissions material in the mail.
"All that ESF material was sent to the house, and I think that's really neat when I ended up coming here for construction management," Tiss said. "I really do owe it all to him."
ESF Faculty Recognized for Excellence and Achievement