April Karen Baptiste
Ph.D. Candidate, Fulbright scholar, ESF

Posted May 2007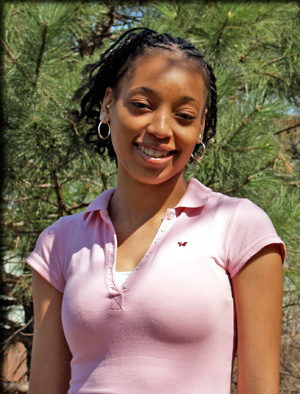 April Karen Baptiste hopes her Ph.D. dissertation will act as a catalyst for change in her home country.
Baptiste, a Fulbright scholar at ESF, hails from Trinidad and Tobago where oil and gas are a major export. Her dissertation research focused on three rural communities there, examining the influence oil and gas activity have on the livelihoods of rural communities surrounding the Nariva Swamp, and the level of environmental awareness and concern among the local villagers. She is helping to formulate policies that will strike a balance between the use of natural resources and the quality of life for the local people.
Because oil and gas drilling takes place inside and adjacent to the area wetlands, Baptiste said she looked at how the communities are reacting to this drilling. In general, she said, people don't want to see drilling in the wetlands, but they are more accepting of the drilling taking place next to the wetlands because that will bring economic development.
The villagers are aware of the potential dangers of the drilling and they are pro-environment, she said.
Agriculture is a major part of the economy and the wetlands are used not only for farming, but also fishing, hunting and reforestation programs. Much of the villagers' livelihood is connected to the wetlands. Livelihood, she noted, takes into consideration the full range of things that the villagers do to increase their quality of life, such as social activities, sports, cultural events and ecotourism.
"I'm not against oil and gas development. I think it can be done in an optimal manner," she said.
Baptiste hopes her research acts as a stepping-stone for environmental policy development in Trinidad to strike a balance between quality of life and extracting the available oil and gas. She is writing her dissertation as a manuscript so community leaders can take the information and relate it to the people most involved.
"The leaders can say 'These are the results of the girl that came to town.'" Her dissertation, which she hopes to publish in both the United States and Caribbean, will include a number of recommendations for how the resources can be managed.
Baptiste said many things contributed to her success at ESF from her parents and her faith to her major advisors Dr. Richard C. Smardon and Dr. Brenda J. Nordesntam.
After graduating from ESF in 2008, Baptiste wants to return to Trinidad to work in the government sector with one of the ministries -- environment, planning or community development -- and develop policy for rural development.
After that, she has a larger goal in mind: "The U.N. -- that's my dream job -- to work on international rural development issues."
ESF Students Make their Mark