Lynne Beatty
Marine resources workshop participant

Posted November 2009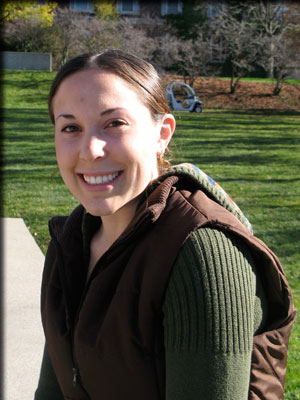 A flooded field and some unfortunate tadpoles sparked an interest in environmental processes that has lead Lynne Beaty to some impressive accomplishments as a student at ESF.
Beaty, a senior environmental and forest biology major was one of only 15 undergraduate students nationwide selected to participate in a 2010 Marine Resources Population Dynamics Workshop sponsored by the National Marine Fisheries Service.
The weeklong workshop, over winter break at the Mote Tropical Research Laboratory on Summerland Key, Fla., included coursework, fieldwork and social activities. The participating students explored the dynamics of marine populations through two case studies. The program covered all student expenses for travel, housing, and related materials.
Beaty studied the balancing and restoring of populations with sea turtles at the Turtle Hospital in Marathon, Fla. The group also visited a bluefin tuna processing plant where they looked at harvest management.
Beaty was pleased with the workshop. "They made it very applicable," she said. "I was concerned it would be all math and theory, but we did role playing and had mock board and town meetings where people represented the fishermen and trawlers and it showed how complicated the issues are."
"My classes here made me well-prepared for the workshop," Beaty said. "I would definitely recommend people with an interest in fish take it."
For Beaty, the road to the Florida Keys started in her father's alfalfa field. As a child, she saw what happened when a nearby marsh overflowed into the field. When the field was underwater, the frogs and then the tadpoles would appear. But once the field dried up, the tadpoles would die.
"I wasn't blaming my dad for that," Beaty said with a laugh. "It's just the way things are, but it sparked an interest in seeing the complete process."
That inquisitive spirit led her to ESF. "I thought, "Why go to a big school with tons of majors, when I can go to a specialized college and get individualized attention?' It's the best decision I've made," she said.
Beaty has taken full advantage of what ESF offers. During the summer of 2009, she was one of two Cranberry Lake Undergraduate Research Fellows. Under the guidance of Dr. Jacqueline Frair and Dr. Martin Schlaepfer, Beaty spent her days at the College's biological station in the Adirondacks, studying the effects of trail systems on salamander populations. She is still analyzing the data she collected during her research project
The Cranberry Lake fellowship provided practical experience beyond the hands-on fieldwork. As part of the fellowship, Beaty had to submit a resume and write a project proposal. "It was great practice and a great experience," she said.
Beaty is now working to pass on the knowledge she has gained at ESF to underclassmen. She serves as a teaching assistant for zoology, wildlife technique, and comparative vertebrate anatomy classes
"It's a great way to meet other students and help them," Beaty said. "This is a small community and you'd think you know everybody, but you don't." Getting involved with campus programs is one way to expand social circles, she said.
Beaty received the Chancellor's Award for Student Excellence which is given to a student who excels both in academic achievement and the areas of leadership, athletics, community service, creative and performing arts or career achievement. Beaty is an officer in ESF's Honor Society, and helps to plan campus Coffee Haus events where students can come for a cup of joe and take in the talents of their classmates during open-mic sessions. She's also involved in ESF's Earth Week celebrations, where she teaches tie dying, a campus fashion staple.
"You would think it (tie-dying) would be a requirement before you can get into ESF," she joked.
ESF Students Make their Mark